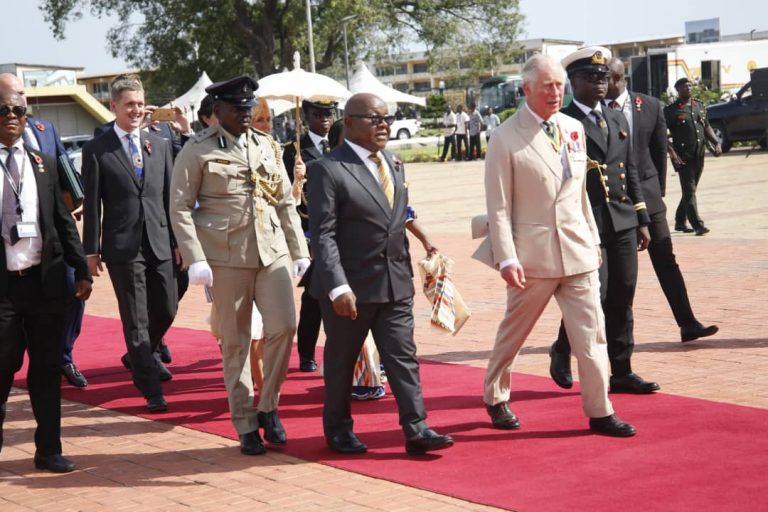 Photos: Prince Charles, Camilla arrive in Ghana
The Prince of Wales and the Duchess of Cornwall have arrived in, Accra, Ghana to a colourful reception.
Their Royal Highnesses, as part of a historic tour of three African countries will spend four days in Ghana (November 2-6) as part of the visit.
The Prince of Wales – the eldest child of Queen Elizabeth II and heir apparent to the British throne – and his wife Camilla, the Duchess of Cornwall are both embarking on a tour of Africa to deepen the British Monarch's historical ties with its former colonies, including Ghana.
Prince Charles, who has been Duke of Cornwall and Duke of Rothesay since 1952, first visited Ghana in March 1977 to attend the Golden Jubilee of Achimota School, formerly 'The Prince of Wales College,' and a durbar in his honour in Kumasi by His Majesty Otumfuo Nana Opoku Ware II.
On arrival, Their Royal Highnesses were welcomed at Jubilee House by His Excellency President Nana Akufo-Addo and Her Excellency First Lady Rebecca Akufo-Addo."
The Royal family will later attend a State Banquet organised by the Presidency in their honour, celebrating the ties between the UK and Ghana. It will be attended by senior dignitaries, a number of British Ghanaians, as well as prominent figures from business, arts, culture and media.
The Prince will also attend a meeting with Ghanaian and International business leaders to discuss sustainable practices in Ghana's cocoa industry and key environmental issues. His Royal Highness will visit the Christiansborg Castle, once a Danish and then British, slave fort, which was until a few years ago the seat of Ghana's Government after independence, to discuss the future restoration and reuse of the area, as part of a major redevelopment of Accra's waterfront, conceived by the Ghanaian Government with the architect Sir David Adjaye. 
Their Royal Highnesses will also visit Kumasi to meet His Majesty Otumfuo Osei Tutu II, the Asantehene at the Manhyia palace. The Prince and The Duchess will then attend a traditional durbar or procession at the palace with the Asantehene and local chiefs.
Their Royal Highnesses will also visit the Kwame Nkrumah University of Science and Technology in the Ashanti region.
It is yet to be confirmed if the Prince of Wales' visit to the university will go ahead or be cancelled due to the shutdown of the university.
source: starrfmonline