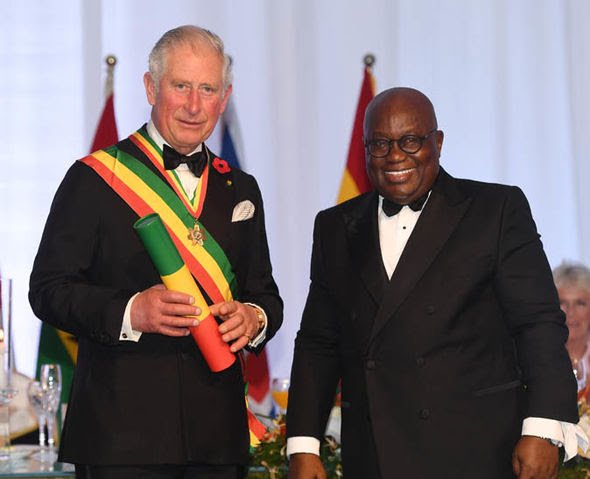 Prince Charles gets Ghana's Star honour
The visiting Prince of Wales, Charles, has been presented with the Companion of the Order of the Star of Ghana.
President Nana Addo Dankwa Akufo-Addo presented the highest honour of Ghana on Monday night during a state dinner.
President Akufo-Addo decorated Prince Charles with the honorary division to mark the final day of the Royal Visit to Ghana.
The State Banquet was organised by the Presidency to celebrate the ties between the UK and Ghana.
It was attended by senior dignitaries, a number of British, Ghanaians as well as prominent figures from business, arts, culture and the media.
After the decoration, Prince Charles hit the dance floor to move to favourite highlife music.
Camilla, Duchess of Cornwall danced with President Akufo-Addo while the Prince of Wales danced with First Lady Rebecca.
Former First Lady Nana Konadu Agyemang Rawlings at some point during the dance handed over 'clapping' Papa J [Former President Jerry John Rawlings] to Mama Rebecca [Mrs Akufo-Addo], and Mama Rebecca handed over President Akufo-Addo to Camilla and Samira Bawumia in the absence of Vice President Bawumia tackled Iain Walker, the British High Commissioner, and Speaker Mike Ocquaye chose his comfort zone in his better half and while Nana Konadu challenged Prince Charles on the dance floor to one of Daddy Lumba's favourites.
Watch the dance below
source: graphic online