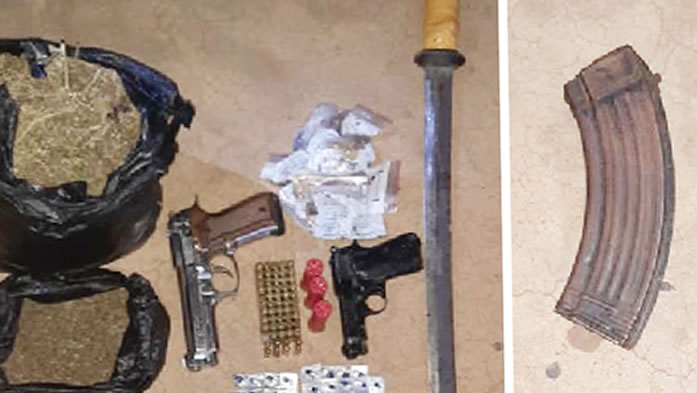 'Provision' shop owner busted with weapons, narcotics
A grocery shop owner at Banvim, a neighbourhood in Tamale, is in the grips of the Tamale Police for unlawful possession of  firearms and narcotic drugs 
The 30-year old suspect was picked up by the Northern Regional Unit of the Drugs Law Enforcement Unit (DLEU) of the Ghana Police Service (GPS).
The suspect was arrested on November 24, 2020, around 8:30 p.m. when personnel of the DLEU of the Northern Regional Police received a tip-off on his activities.
According to the police, Hamza Ziblim had been using his shop as a decoy to sell narcotic drugs, including cannabis and tramadol as well as hoard firearms illegally.
A search conducted by personnel of the DLEU during the arrest of the suspect in his shop revealed weapons and ammunitions, including, three empty AK 47 assault rifle magazines concealed in a polythene bag; one silver and brown-coated pistol, make Blow F2 loaded with two live rounds of ammunition (7.65mm) concealed in a black polythene bag.
The Northern Regional Crime Officer, Superintendent of Police, Mr Bernard Baba Ananga, told the Daily Graphic that the police also retrieved a one-metre long sword.
"Also found in the shop were two tablets of Tramadol 120 milligrams (mg),17 tablets of Tramadol 50mg and a number of dried leaves suspected to be cannabis, all concealed in a white polythene bag.
On the day of his arrest, the team of police officers met Ziblim in his shop, showed him their search warrant before combing through the shop to find the weapons, ammunitions and drugs.
Having failed to provide any legal proof for possessing the items, he was arrested and charged with illegal possession of narcotic drugs and firearms.
Supt Mr Ananga stated that the suspect claimed ownership of all the exhibits and stated that the silver-coated pistol was supplied to him by one Saddick, while the AK 47 magazines were obtained from one Mohammed in Tamale.
The regional crime officer said the operation by the police was part of efforts to rid the metropolis and entire region of criminal elements.