Publicity stunts: Controversial Ghanaian entertainers who go far
Ghana's entertainment industry is driven mainly by attention. Therefore, many believe a well-executed stunt could yield tremendous results to boost one's career recognition and social capital.
Publicity stunts are used by many, including politicians, businesses, athletes, and entertainers worldwide, to boost their appeal.
It is a means to attract people's attention to an upcoming event, movie, concert or work of art. Hence, entertainers capitalize on it to court controversy and milk the media blitz associated with it.
While admitting that stunts are part of showbiz and not ethically wrong, several entertainers have gone overboard in their quest to use controversy to sell their arts.
Not all of these stunts have yielded positive results.
In some cases, it backfired, landing the actors with court sanctions, while others have had their careers terminated prematurely by a wrong move.
In recent times, the entertainment industry has seen a lot of publicity stunts, some not too pleasant and others successfully executed.
Not long ago, musician Feli Nuna has been spotted skimpily covered in bathroom towels several times in public. This generated discussions about how far artistes go to attract attention.
Consequently, The Ghana Report has compiled a list of entertainers considered to have hit below the belt with obnoxious stunts.
—————————————————————————————————————————————————————————-
Earlier in May 2022, Feli Nuna surprised her fans when she began a media tour with only a bathroom towel wrapped around her body.
The singer is usually covered in a bathroom towel from under her armpit to the knee and another wrapped on her head, all in the name of promoting her new single titled, 'Towel'.
Feli, who smashed music charts with her 'Afro Magic' single in 2017, compliments her new look with sneakers and sunglasses as she goes about in town.
Many have criticized her approach on mainstream and social media, but Daavi Diva, as she is popularly known in showbiz, insists it is her own way of courting attention to herself and her craft since she has been off the music scene for a while.
Lord Paper is perhaps the principal artiste to fall within this category of people who crossed the line.
On the back of frustrations in breaking into the music scene, the Afrobeats singer drew unfavourable attention in 2016 when he released a sexually explicit music video for his song 'Awurama'.
The musician was captured in intense foreplay and X-rated acts that could have easily given him a pass mark for an adult movie industry audition in the US.
He accomplished this with a lady identified as Nana Yaa.
The video was greeted with a huge backlash from Ghanaians which collapsed his budding music career before it blossomed.
Even though Lord Paper explained that he only wanted the video to look like they were actually having sex, the criticisms dented his brand. He was tagged as a bad boy, a tag he has suffered until now even though he claims to have recently encountered Christ.
The self-acclaimed 'Dancehall King' is widely known to thrive on controversy.
From public feuds to verbal attacks on other artistes, the highly opinionated musician manages to always find himself in the headlines, with his fellow musician Sarkodie stating that he brought some energy into the industry.
In 2018, Shatta Wale proposed to his then-girlfriend, Shatta Michy, whiles performing on stage at the launch of his 'Reign' album, which witnessed a mammoth crowd in attendance.
Later, Shatta Michy claimed the proposal was not real and likely staged to create some buzz around the album launch.
The same year, Shatta Wale was alleged to have 'mistakenly' released a nude video of himself in a swimming pool.
This happened when he moved to his new East Legon mansion and wanted the whole world to know.
In 2019, the controversial artiste again recorded himself together with an unknown man believed to be from his Shatta Movement camp in an oral sex act with a girl.
Even though the video was alleged to have been leaked inadvertently, others in the showbiz industry allege that it was a strategic move by the crafty musician to divert attention from his break-up with Shatta Michy.
Fast forward to 18 October 2021, there was a news report that unidentified gunmen had shot Shatta Wale in East Legon, which later turned out to be untrue.
Rather, he did that to expose a prophecy that had been made earlier.
Bishop Stephen Kwesi Appiah had prophesied a year earlier on a local radio station that Shatta Wale would be killed on 18 October, just as South African reggae legend Lucky Dube.
Some music connoisseurs believe the stunt was rather intended to precede an upcoming album after connecting the dots.
In 2015, the budding artiste, Wisa Greid, exposed his genitals while performing at a concert.
He was later dragged to court by the state for indecent exposure.
In his defence, the 'Ekiki Me' hitmaker said in court that he pulled out his genitals to increase his popularity.
According to him, what he showed on stage was an artificial penis.
He explained that he did not do it in the spur of the moment, but rather it was something he planned on doing before his performance that day.
That single act got him stripped of several shows and endorsement deals.
Currently, his music career has taken a nosedive.
Nayas and Apostle John Prah
In November 2018, social media went haywire over wedding pictures of Kumawood actress Gladys Mensah Boaku, popularly known as Nayas, and actor Apostle John Prah.
News circulated that both had tied the knot in a secret ceremony, and Nayas went about wearing a wedding ring afterwards.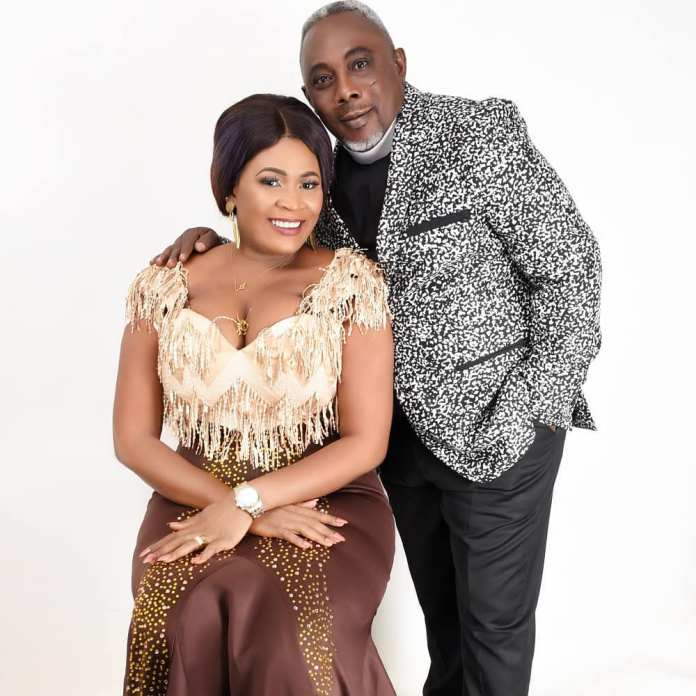 Initially, Apostle John Prah, a married man, took the media buzz lightly, as be believed it was just a publicity stunt.
However, it started getting out of hand as Nayas portrayed the wedding as real.
To protect his marriage, Apostle John Prah, who obviously was not enjoying the bad publicity, and the extent it had gone probably because of the backlash from the public, quickly let the cat out of the bag to debunk the story.
He was emphatic that he was happily married and had no romantic relationship with Nayas.
The pictures were later said to have been for the promotion of a new movie produced by Nayas.
Victoria Lebene and Kofi Adjorlolo
After fueling the impression that actress Victoria Lebene and veteran actor Kofi Adjorlolo were in a serious relationship leading to marriage, the media reported that the two had ended their relationship because Victoria's parents were not in support of the union. It all turned out to be a hoax as broadcaster Abeiku Santana confirmed that it was his idea and his agenda to push the actress into the limelight.
To further confirm that there was no amorous relationship between the two, Adjorlolo broke his silence after Lebene got married.
On why he didn't show up at Victoria Lebene's wedding, Adjorlolo disclosed that even though she invited him, he was busy attending to other important matters.
"Victoria Lebene is just a friend, and we were not dating. If you are famous, everything about you is made public. For two years, I never spoke about it because there is no truth in it," he stressed.
In 2019, the Ruftown Record Label signee, Wendy Shay, and her manager, Bullet, in their quest to promote a song, 'Ghana boys', released an audio where it seemed they were caught in bed by Bullet's fiance.
It further fueled the allegation that they both were in a sexual relationship.
However, it turned out to be a deception.
Wendy Shay and Bullet later confirmed that they did that to promote the song.
Which other entertainers do you think you should be on the list? Kindly comment below.