Yields: 8 slices Prep Time: 10 mins Cook Time: 35 mins Total Time: 45 mins
Quick Gluten-Free Almond Flour Bread Recipe
Almond Bread Ingredients
Like it is in many baked goods, this gluten-free almond flour bread recipe has 2 sets of ingredients; wet and dry ingredients:
Wet Ingredients: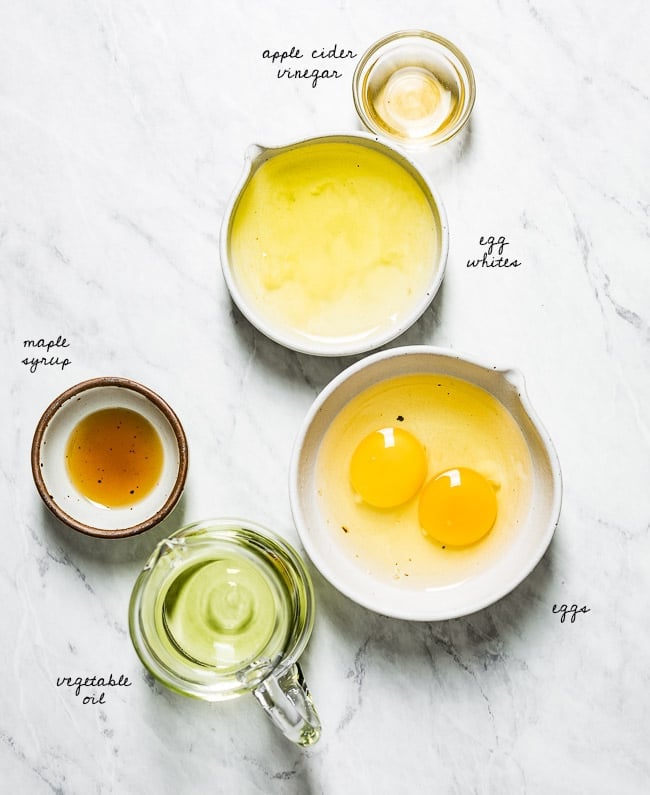 Vegetable Oil – I used grapeseed oil, but any mild-flavored oil, such as extra virgin olive oil, coconut oil, or avocado oil, will do.
Large Eggs, plus Egg Whites – The combination of whole eggs and egg whites create a light-textured bread.
Apple Cider Vinegar – Subtly sweet, the acid in ACV activates the baking soda and brings balance to the flavor.
Liquid Sweetener – Although completely optional, any of your favorite liquid sweeteners will do. I prefer maple syrup, but you can use honey or agave if that's all you have on hand.
Dry Ingredients: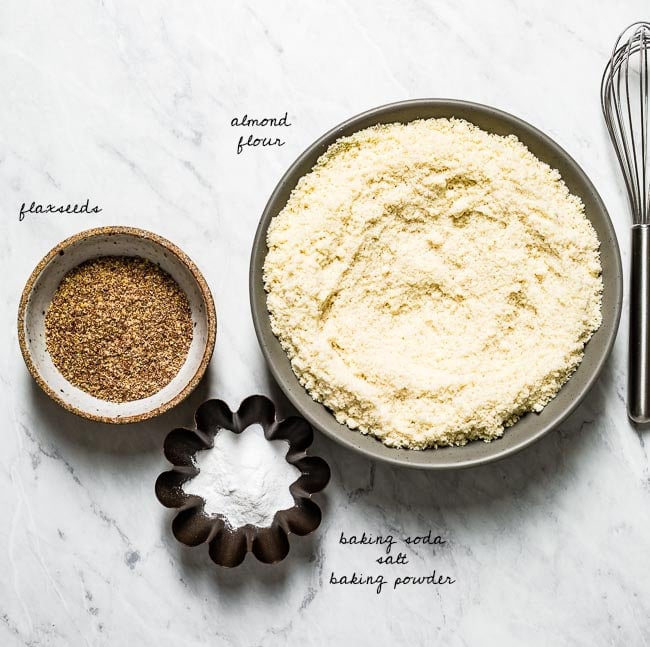 Blanched Almond Flour – I highly recommend blanched almond flour (made from ground almonds) over an almond meal (which is almond flour with the skins still on) more so for its light golden color, but you can use them both interchangeably. If you have the time you can easily make your own almond flour (made with grinding almonds in a high-powered blender (like Vitamix) or a food processor).
If you want to make this recipe using almond flour, my favorite brand is Blue Diamond (affiliate link). I love that it tastes great and has almost no odor, which is usually an issue with most packaged almond flours sold in stores.
If you want to use almond meals (affiliate link), my favorite brand is Barney.
Ground Flaxseeds – There are two options – regular Flaxseed or Golden Flaxseed. Either one can be used, however, regular flax seeds will give you specks throughout your gluten-free loaf, whereas golden flaxseed creates a more neutral-colored bread.
Baking Soda – The leavening agent reacts with the apple cider vinegar, giving you both lift and that beautiful golden hue.
Baking Powder – A bit more lift never hurt any low carb gluten-free bread recipe. To make this a paleo bread, you can use 1/4 teaspoon of baking soda with 1/2 teaspoon of cream of tartar as a substitute for 1 teaspoon of baking powder.
Fine Sea Salt – I specify fine sea salt since it dissolves easily into the batter. If you do not have fine sea salt on hand, you can also use the same amount of kosher salt.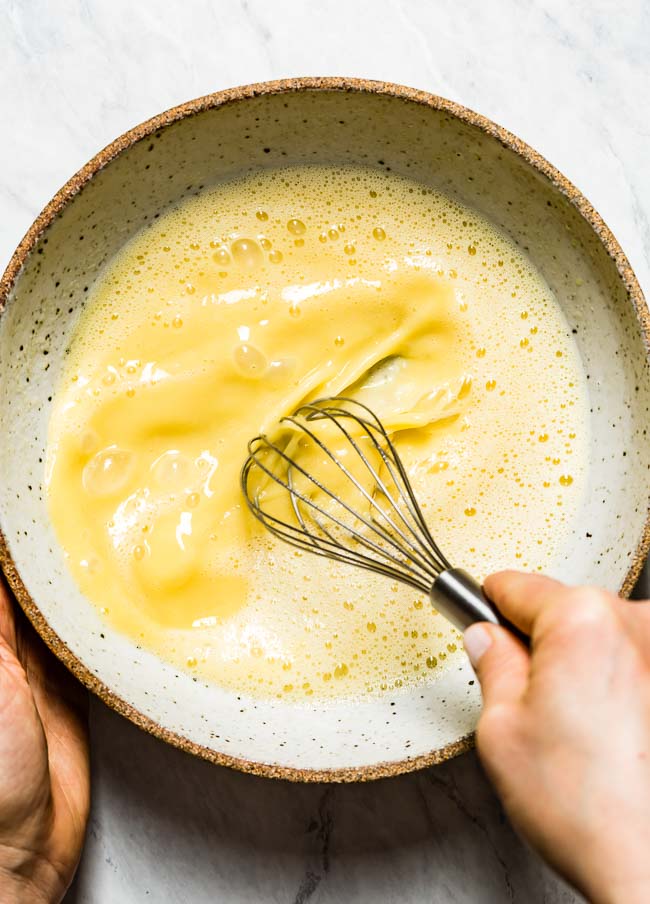 How to make bread with almond flour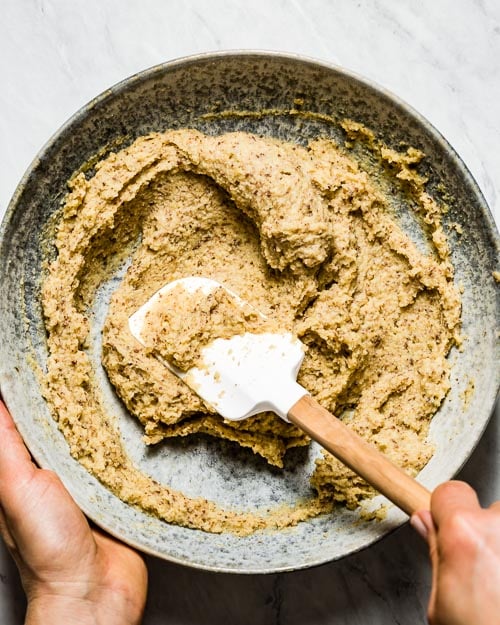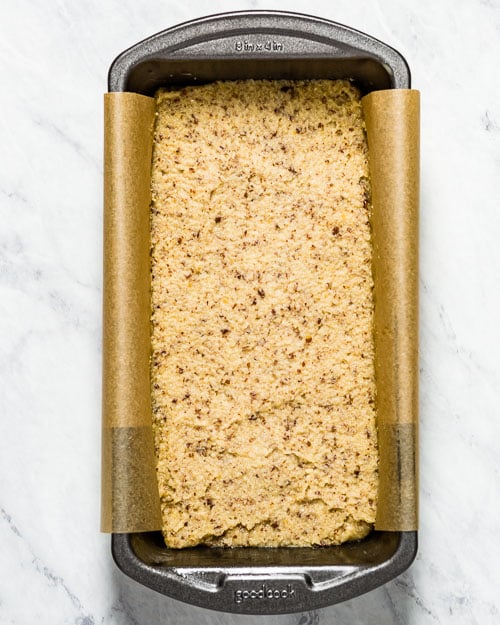 To make this Gluten-Free Almond Flour Bread, simply:
Whisk together the wet ingredients. Add the oil, eggs, egg whites, apple cider vinegar and liquid sweetener to a medium bowl. Thoroughly mix all the ingredients together until smooth and emulsified (see PRO TIP below).
Mix together the dry ingredients. In a larger bowl, add the almond flour, flaxseed, baking soda, baking powder, and salt. Mix together until well combined and create a slight well in the center.
Pour the wet ingredients into the dry ingredients. Fold together gently until just combined. Transfer to the prepared loaf pan (more on that below) and smooth the top.
Bake. For 35 minutes, or until the loaf is golden brown, springs back to the touch and a toothpick inserted in the center comes out clean. Allow to cool for 10 minutes in the pan, then transfer to a cooling rack to cool completely.
Serve. Slice and serve. A few of my favorite options include slicing the loaf like sandwich bread and placing a few slices of roasted turkey, lettuce, and mashed avocado between two slices.
How To Serve:
Go ahead, slice your almond flour loaf and enjoy it right away. Here are a few ideas to get you started:
Make avocado toast: Spread it with a thick layer of my avocado dressing and sprinkle it with bagel seasoning for a low-carb breakfast.
Use it to make a sandwich: Layer it with baked turkey bacon, tomato, and lettuce for a keto BLT.
Serve in place of toast with a layer of cream cheese (or peanut butter) and your favorite jam.
Expert Tips:
Mix it well: Thoroughly mixing the wet ingredients until emulsified is important as it helps the bread bake to the right texture. When the wet ingredients become one smooth mixture and slightly thickened, you know it's ready! Be sure to watch the quick how-to video below to see what it looks like.
Use room temperature ingredients: As it is with most baked goods, it is important to have your ingredients at room temperature for the best results.