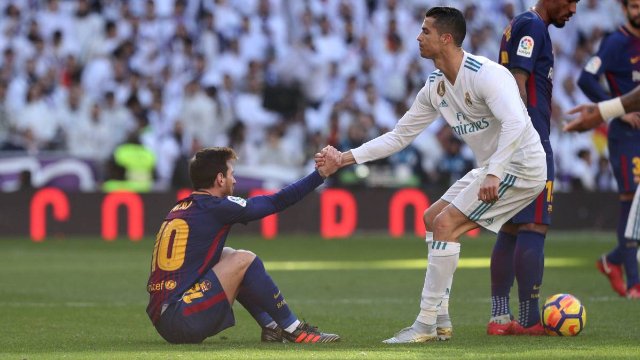 Ronaldo challenges Messi to join him in Italy
Cristiano Ronaldo has challenged Lionel Messi to leave Barcelona and join him in Serie A to prove his influence in another league.
Ronaldo told La Gazzetta dello Sport that he left his comfort zone by joining Juventus in the summer, and has laid down the gauntlet to Messi to follow his example.
"Maybe [Messi] misses me," Ronaldo said. "I've played in England, Spain, Italy, Portugal and with the national team while he's always been in Spain. Maybe he needs me more. For me, life is a challenge and I like it and I like making people happy.
"I'd like it if he came to Italy one day. He should do like me and accept the challenge. But if he's happy there then I respect that: he's a fantastic footballer, a great lad, but I'm not missing anything here. This is my new life and I'm happy.
"This is not a contest between me and Messi — I just do my job and I've been successful in each club I've played in and this is the most important thing. I don't like being compared with others, it's not fair. The numbers do the talking and if you see the statistics, you'll see. I've tried to bring success to every club I've played in and the national team and I don't have anything to prove.
"I've even changed my life and left my comfort zone, accepting this challenge which has gone well. I believed in myself and proved to the people that I'm still an incredible footballer."
Ronaldo and Messi had shared the Ballon d'Or between them for a decade before Luka Modric broke their duopoly last week, with Messi also finishing ahead of Ronaldo in the ESPN FC 100.
The Juventus forward plans on winning the Ballon d'Or again next year, and said he was disappointed not to be recognised for his efforts in 2018.
"I think I deserve to win it every year, that's what I work for, but if I don't win it, it's not the end of the world," he said. "I respect the decision. I did everything I could to win it on the field and the numbers don't lie, but don't go thinking that I'm unhappy if I don't win it.
"I've got fantastic friends, I play in one of the best clubs and you think I go home and cry? Of course I'm disappointed, but life goes on and I will just work even harder. So congratulations to Modric, he deserves it, but we'll see next year and I will do everything I can to win it again, understood?"
Victory in the Champions League with Juventus would boost his chances, but he said the Bianconeri "must not make an obsession" out of Europe's elite club competition, and that Real Madrid's hunt for the Decima only succeeded when they managed to be more relaxed about it.
He achieved that in a side which included Marcelo, and while he says Juve do not need to add any new players this winter, he would make an exception for the full-back.
"Marcelo is a great player and we open the doors to any top players, and Marcelo is one of these," he said.
Source: ESPN