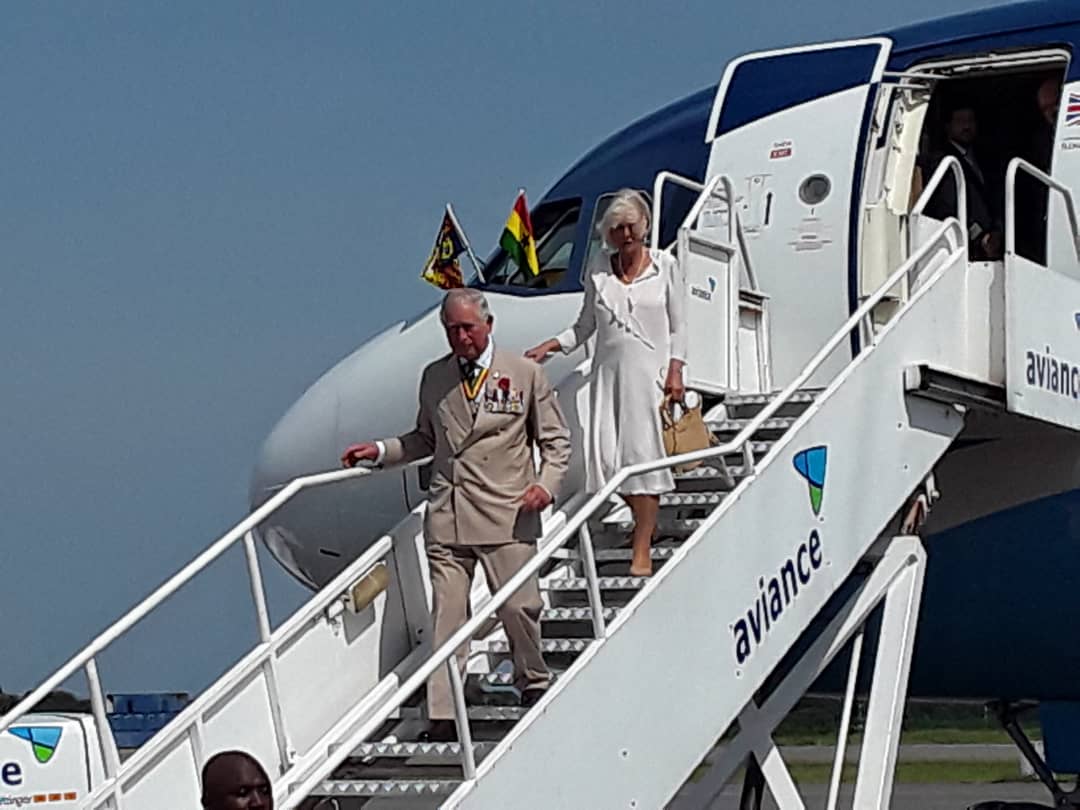 Royal visit confirms importance of Ghana-UK relations – Akufo-Addo
President Addo Dankwa Akufo-Addo has met the Duke and Duchess of Cornwall at the Jubilee House, noting the visit by the Royals underscores the importance of the relations between Ghana and the United Kingdom.
Prince Charles and the Duchess, Camilla, arrived in Accra on Friday to begin a five-day visit that will seek to improve bilateral ties between both countries.
"It's a big honour for us to receive you in Ghana… Your coming here shows that you attach a great deal of importance to your relations with Ghana. So we are very happy to have you here. I am sure these five days that you are going to be here will be a memorable time for both of you," said President Akufo-Addo, at the seat of the Presidency.
The Duke and Duchess were met at the Kotoka International Airport by the Speaker of Parliament Prof. Mike Ocquaye and other top Ghanaian government officials. The visit by the British Royals is part of their tour of three West African countries: The Gambia, Ghana and Nigeria.
Prince Charles and his wife have already been to The Gambia and will continue to Nigeria after their Ghana visit.
Prince Charles of Wales first visited Ghana since 1977.
"We know the relations between our two countries go back centuries. Some of them were happy, some of them not so happy. But we are in the happier period now. So many of our values are influenced by British traditions and institutional arrangements and a lot of the people who are living in your place are doing well; they are well treated. It's a relationship that we value," Nana Akufo-Addo said.
On Saturday, the Prince and Dutchess will visit Kumasi to meet His Majesty Otumfuo Osei Tutu II the Ashantehene at the Manhyia Palace and will attend a traditional procession with the Ashantehene and local chiefs.
Additionally, the pair will visit the Christiansborg Castle, a once British-owned slave fort, which served as a seat of Ghana's government for decades.
Prince Charles will meet with local policymakers to discuss renovations and reuse of the historic landmark, which will be in part of redevelopment efforts of Accra's waterfront. The waterfront was conceived by David Adjaye, the principal architect who crafted the design for Ghana's future national cathedral.
Who else
Prince Charles will meet with a number of British Ghanaians in the business, arts, culture and media industries.
He will also meet with key players in Ghana's cocoa industry where he will discuss innovative ways to sustain one of the country's most profitable resources.
Meanwhile, the Duchess, who is President of the Women of the World Festival, will attend an event featuring Ghana's top female leaders.
Prior to Prince Charles and Camilla's visit to Ghana, President Akufo-Addo said that he looks forward to meeting them both and "we look forward to receiving him, as his visit will renew and strengthen the bonds of friendship between the United Kingdom and Ghana."
source: Myjoyonline