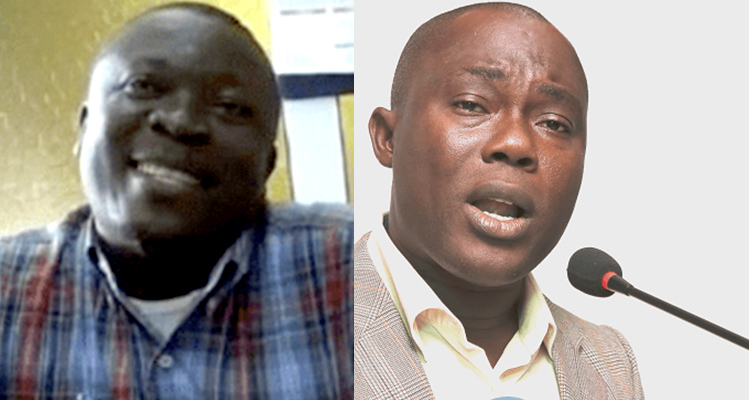 Sex for grades: University of Ghana suspends Gyampo, Butakor without pay
The University of Ghana (UG) has handed down sanctions to two lecturers – Professor Ransford Gyampo and Dr Paul Butakor – for sexual misconduct.
A disciplinary committee set up to investigate the lecturers following a BBC documentary titled 'Sex for Grades', found them guilty of the separate roles they played in compromising situations with a supposed female student.
"In line with statute 46(2) of the University of Ghana Statutes, as amended, and regulation 15.0 of the Code of Conduct for Academic Staff of the University of Ghana, the Disciplinary Committee recommended a six-month suspension without pay for Professor Gyampo and a four-month suspension without pay for Dr Butakor. The suspensions take effect from January 1, 2020," a statement released by Director of Public Affairs of the University of Ghana, Stella Amoa, indicated on Monday.
In addition, the two are required to undergo appropriate training on the University of Ghana Sexual Harassment and Misconduct Policy as well as the Code of Conduct for Academic Staff of the University of Ghana.
They will also be required to receive a positive assessment after the training, before returning to the lecture halls. An annual assessment for a period of five years have also been slapped on them
The committee which was chaired by Justice Vida Akoto-Bamfo, a retired Supreme Court Judge, conducted the probe into the incident.
The duo were found to have flouted "the relevant provisions on misconduct in the University of Ghana Statutes and the Code of Conduct for Academic Senior Members.
Professor Gyampo and Dr Paul Kwame Butakor were interdicted after they were caught in the undercover documentary staged by BBC reporters who posed as journalists.
The BBC said Prof Gyampo made "numerous inappropriate demands" from the reporter.
The secret video recordings also captured Prof Gyampo allegedly proposing marriage to the investigative journalist in exchange for academic favours.
Prof Gyampo also allegedly asked for a kiss from the reporter in an excerpt of the documentary published on BBC Somalia's Twitter handle.
For Dr Butakor, his offence was soliciting for sex and was captured in the video in inappropriate situations with the "student" by asking to be her "side boy".
He, however, denied the claims after being contacted via email by the BBC