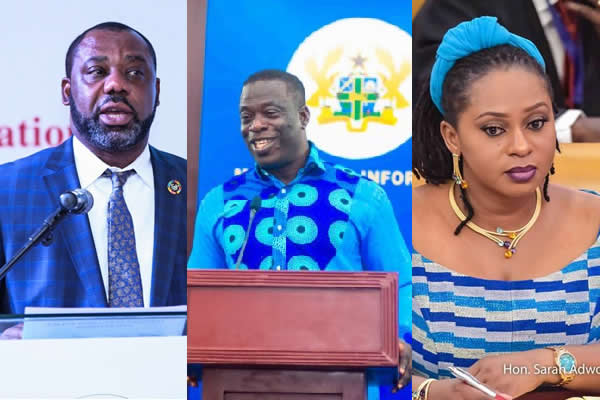 Social media erupts in 'anger, sadness,disappointment' over GETFUND scholarship saga
Ghanaians have taken to social media barely 24-hours expressing anger and sadness after it emerged government scholarships were distributed without regard to due process.
The Auditor-General, in the report, has slammed the GETFUND for "unlawfully' dishing out more than $4.7million in scholarship to persons who are not anything close to needy students in the country.
Document: How GETFUND granted MPs, politicians, others $4.7m in scholarships as brilliant but needy students suffered
A former Director of the Ghana Integrity Initiative (GII), Vitus Azeem in an interview monitored on Starrfm by theghanareport.com has described the situation as ridiculous.
He believes "people who are in the position to pay for their education…whether in Ghana or outside Ghana should not be given scholarships. "
"We need to have clear-cut criteria in order to determine who should benefit from it. We need to investigate this and those sanctions those who use their position to benefit from the scholarship." he charged.
Mr. Azeem, however, made an exception to cases where the courses are either not available in the country or the courses are so important that we cannot do without it.
Social Media reactions
Herrr, this country is rotten to the core! Scholarships meant for the poor are now being distributed to Ministers. Which sane society tolerates this foolishness! #Ghana pic.twitter.com/AT81wEOiCA

— #Kwame 🇬🇭🇬🇭🇬🇭 (@ricword4u) February 24, 2020
GETFund had that coming.
But this is extra disturbing. This list isn't even for relatives and children of family friends of government officials but this time they themselves got the scholarship. Adwoa Safo you be MP wey your popee dey do robot, ibi $24k you no fit pay?

— Ab. (@AbeikuLytle) February 24, 2020
GETFUND and MoE what are they taking us for? You release a press to insult the intelligence of Ghanaians the more. They have denied several students or deserving ones this scholarship rather awarding ministers and government officials who have the capacity to fund their studies. pic.twitter.com/7CyMSan21B

— 𝑬𝒇𝒐 𝒀𝒂𝒐 (@_Efo_Yao) February 24, 2020
Unintelligent but greedy students

GetFund fraudsters

GetFund Scandal #GetfundFraud #GetfundScandal pic.twitter.com/pIvKdTN2Bf

— Baba Mohammed 🇬🇭🇬🇭🇬🇭 (@Dorsty1R) February 24, 2020
Leaders are awarding GETFund scholarships to themselves whiles the actual folks who needed this were ignored.

This country de3 noo 🤦🏽‍♂️ #CitiCBS @Citi973 pic.twitter.com/JqnnBkTsP9

— EL-DAD (@ChristDeKing) February 24, 2020
@benkoku @NAkufoAddo Heads should roll at the Getfund. Deep rot in that institution. Illegal beneficiaries should be surcharged. How can Adjoa Sarfo be a needy student. #citicbs

— Gentleman (@Decardi_Nelson) February 24, 2020
I listened to him on tv3 and this man to be sincere is one of the most useless MP in parliament. He is not sensible at all. They are talking about GETFUND for a particular purpose stated by law and he is talking about capacity building. https://t.co/IwM03QGJva

— 𝑬𝒇𝒐 𝒀𝒂𝒐 (@_Efo_Yao) February 24, 2020
Persons involved response to the said report
Reacting to the said report, in a press release, the Education Minister has explained the circumstances that led to him receiving the scholarship.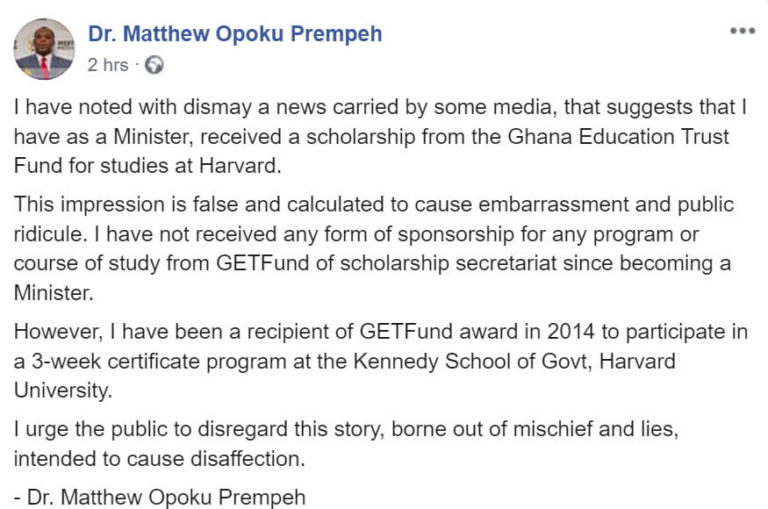 Also, quick to clear the air is the Executive Secretary of NaCCA, Dr Prince Armah, in a press release said, "he was needy when he applied and obtained the GETfund scholarship which enabled him to embark on his PhD abroad."

Photo: Dr. Prince Armah
According to him, the scholarship predates his time at the government agency.
"That I believe that the scholarship scheme we have is best used to support needy students, as I was then, in order to give them a chance to contribute to the task of nation-building, as I have done every day since my studies, " he noted in a Facebook post.
Read below details of the NaCCA boss statement