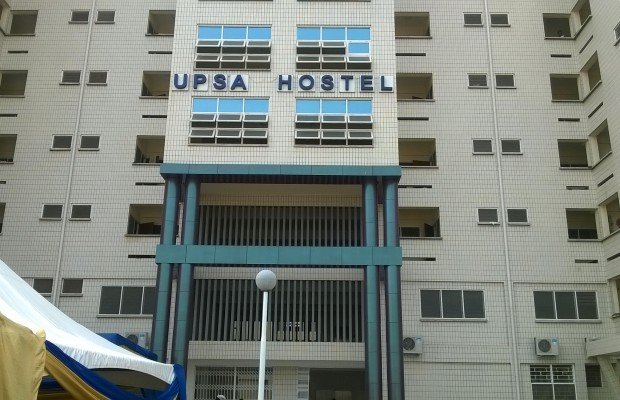 Social media users divided over UPSA threesome, lesbianism
Some social media users are irritated about the dismissal of two female students from a hostel of the University of Professional Studies, Accra (UPSA), for allegedly engaging in "threesome sexual activity" with a non-resident student as well as "lesbianism".
A notice from the management of the university circulating on social media stated that the students engaged in the act during the second batch of the 2020/2021 academic year's second semester.
According to the school, the said females fondled each other during their sexual escapade and engaged in some form of lesbianism which violated the school's code of conduct for students.
"Engaging in acts of lesbianism is contrary to Section 1.28.11(g) of the Student Handbook of the University of Professional Studies, Accra; 2018 and Schedule G 8.3 (23) of the Statute of the University.
"They have since been dismissed from UPSA Hostel awaiting further sanctions from Management," the notice indicated.
The dismissal of the students has sparked a debate on social media, as some users believe it is discriminatory to expel the students based on their sexual preference.
Below are some comments :
"Oh, how? And those who were having heterosexual relationships are still in the hostel?🙄🙄 What sort of discrimination is this?" a user wrote.
See reactions below:
Because the new statistics says the girls are more than the guys n)r you start dey do threesome for UPSA.

— Sweet Israel (@SweetIsrael_) November 24, 2021
Per the UPSA letter it appears they've details of what really happened. My question how did they know all those details?

— Hermann_atsu (@hermann_atsu) November 24, 2021
The old men and women at UPSA should realize that if three people are engaged in a threesome – 1 gentleman and 2 ladies, it doesn't necessarily make the the 2 ladies lesbians because they 'touched' each other.

This punishment is dangerous

— Kwaku Asante (@kwakuasanteb) November 24, 2021
Some people had threesome and they've been expelled?? Ah their own body too
UPSA be shs ampa

— 𝕵𝖍𝖚𝖓𝖊𝖆🇬🇭✨( New Account) (@jhu_nea_) November 24, 2021
Go to group studies, you go dey do threesome. Herh UPSA 💔😂

— Sweet Israel (@SweetIsrael_) November 24, 2021
They had a threesome and you've sacked them? ah UPSA be shs anaa

— G L I T C H (@KWESITHEGLITCH) November 24, 2021
Threesome paa?! UPSA students doing the most 🤕

— MELCHIZEDECK AKOTO-BAMFO (@MELCHIZEDECKAK2) November 24, 2021
There're only 2 secondary schools in Ghana. Presec Legon and UPSA.

Know this and have peace 👍

— BroMo Gh 👑 ⭐⭐ (@king_elorm) November 23, 2021
Threesome in UPSA 😂😂 chale Ghana we dey

— OBODAN🇬🇭🇳🇬🐦 (@KwekuTod) November 24, 2021
UPSA na mission school?

— Ego Over You 💭 (@badasspmf) November 24, 2021
Ah just threesome you expelled them, what if it was 5some😹😹😹😹😹UPSA u no try koraaa

— pretty Naturewaa (@naturewaaa) November 24, 2021
wey me upsa only assignment then slides adey get herh https://t.co/iYjo5t9WBr

— briamah. (@deelore7) November 24, 2021
How is three fully grown adults having sex become a problem?
Is UPSA too a university or SHS boarding house? 🤷🏿♂️🤷🏿♂️🤷🏿♂️🤷🏿♂️🤷🏿♂️

— 🦇𝙉𝙊𝙆𝙏𝙐𝙍𝙉𝘼𝙇 🦇 (@IamZadok_) November 24, 2021
UPSA rejects supisupi..hmm

— Yaw A. Abban (@YAbbanx) November 24, 2021
How that dey concern UPSA? Anaa dem do am for UPSA premises

— Nungua Drizzy (@Nungua_Drizzy) November 24, 2021
This UPSA news is getting picked up by media very quickly.

Looks like we're going for another narrative round table….

— Joe 🇬🇭(🇺🇸) – ジョセフ (@jakuuire) November 24, 2021
UPSA fuo paaaa 3 some k3k3 u sack dem Legon fuo mpo gye tre wo balcony😹😹😹😹😹

— Show Me Brezz❤🥲 (@ShowMeBrezz) November 24, 2021
The UPSA news headlines no be clear ooo or I dey lie?

— Faith Abena Bonney💖❤️ (@AbenaBonney2) November 24, 2021
Buh the girls dem force😹 the thick girl she get brezz waa😹if she dey here make she dm😹😹😹as UPSA sack am ago do connection give am for Oxford university😹😹❤

— Show Me Brezz❤🥲 (@ShowMeBrezz) November 24, 2021