SPECIAL REPORT: The Okada angels of death- The Big Debate (part 1)-
An election looms in four months with campaign promises from politicians being the top of the Agenda.
One such promise has caught the attention of some Ghanaians; the pledge to legalise motorcycles as a form of commercial transport generally referred to as okada, a name borrowed from our neighbouring big brother, Nigeria.
The Okada legalisation promise came from the opposition candidate, former President Mahama contesting again on the ticket of the National Democratic Congress and under whose leadership, it passed the law to out-law Okada business in the election year of 2012.
And rightly so, Ghanaians as typical of us have been hooked on to the Okada debate with varying opinions for and against Okada business.
Some analysts have questioned the basis for the change in thought by Mahama, as to the decision to regulate okada now. The question some are asking, what has changed since 2012.
Others such as the Vice-President of Imani, Kofi Bentil, have supported the idea for the regularisation and regulation of the okada because of its potential.
A capital city and many other cities around the world generally places where everyone is in a hurry. The downside of being in a hurry is that people tend to move slowly – in other words, traffic.
How do you move through stagnant traffic? Motorcycles, popularly known as 'Okada'.
Theghanareport.com  has since March 2020  undertaken extensive research on this subject to understand the controversies surrounding the illegal use of motorcycles and the status quo of a lax law spurring illegality.
History of Okada
Okada is the name of a defunct Nigerian airline doing domestic flights in that sprawling African country.
Back in the '80s, it was noted for its speedy service delivery. And so motorcycles were named after Okada Airline then owned by Nigerian millionaire, Mr Gabriel Egbinedion.
The millionaire named the airline after his hometown, Okada village in Edo State.
Okada is a hugely popular business in Nigeria, and an infamous one too as the Federal State of Lagos has observed. In February 2020, the state embarked on a major clampdown. Not a single okada remained on the streets.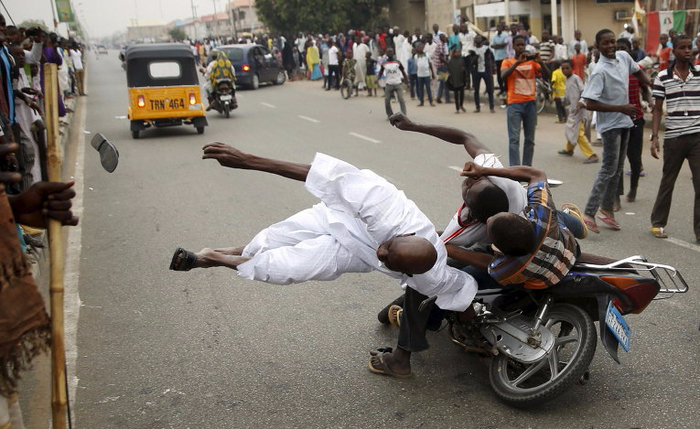 Okada in Ghana
Ghana loses $4.8bn just by staying in traffic, a figure suggested by a KNUST senior lecturer, Jonathan Annan, in his 2017 study on road transport congestion management.
This figure means congestion is at least eight times more expensive than the government's Free SHS policy.
Okada riders promise patrons a fast ride around congested towns and cities. It saves money and time. But doctors are worried, it does not save lives.
Some 30 critically injured accident victims were rushed into the Accident, Emergency and Orthopaedic Department at the Korle Bu Teaching Hospital (KBTH) in three consecutive days in December 2019.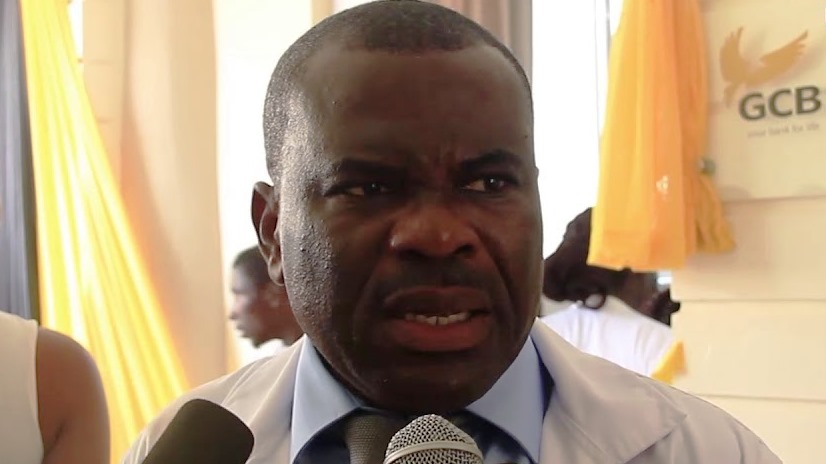 Head of the Department, Dr Frederick Kwarteng, told theghanareport.com, "20 of them were all okada-related injuries."
On that Christmas eve, Dr Kwarteng and his team were locked inside a theatre room trying to save the lives of people who took a 'dangerous' Okada ride.
The National Road Safety Authority (NRSA) has explained why Okada rides are dangerous.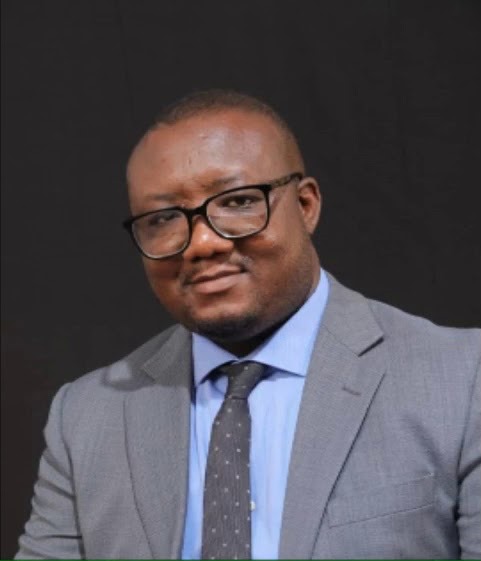 Head of Regulations, Inspection and Compliance, Kwame Koduah Atuahene, observed that the riders routinely flout traffic regulations, do not wear protective gear or give their passenger one to wear. And their love for manoeuvring tight spaces and sharp corners often results in reckless driving.
Citing 2019 provisional figures, he said, "it is obvious that out of every three deaths, one is motorcycle related. If you look at the data in the last 10 years…it has gone up by 400%".
Superintendent Alexander Obeng who is the Head of Education Research and Training at the Motor Transport and Traffic Directorate (MTTD) of the Ghana Police Service also told the theghanareport.com, "of 100 deaths you are likely to attribute 33 to motorcycles."
While the police talks data, Korle-Bu Teaching Hospital has tried shock. In December 2019, right after recording 20 cases of okada-related accidents, the hospital took to its official social media pages to publish the damage done in an Okada accident.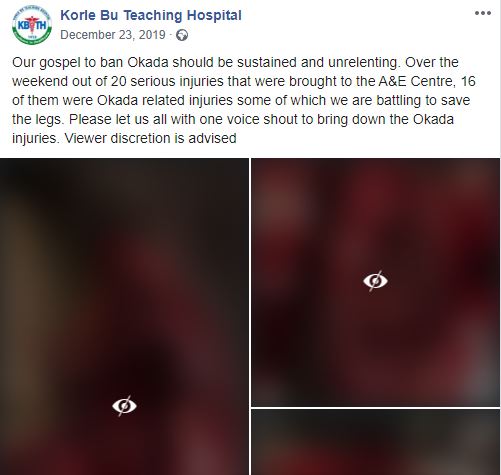 It called the campaign against okada, the "gospel" and 55-year-old Amina Amadu knows this gospel too well.
The Okada angels of death
At about 9:00 pm on November 10, 2018, her only son was crushed to death in a motorcycle accident at the Neoplan Station area close to the Kwame Nkrumah Interchange in Accra.
Her 25-year-old son, who was working with his motorcycle, had picked a woman. The two had no crash helmets despite the claim that Tawfiq Ibrahim is safety conscious.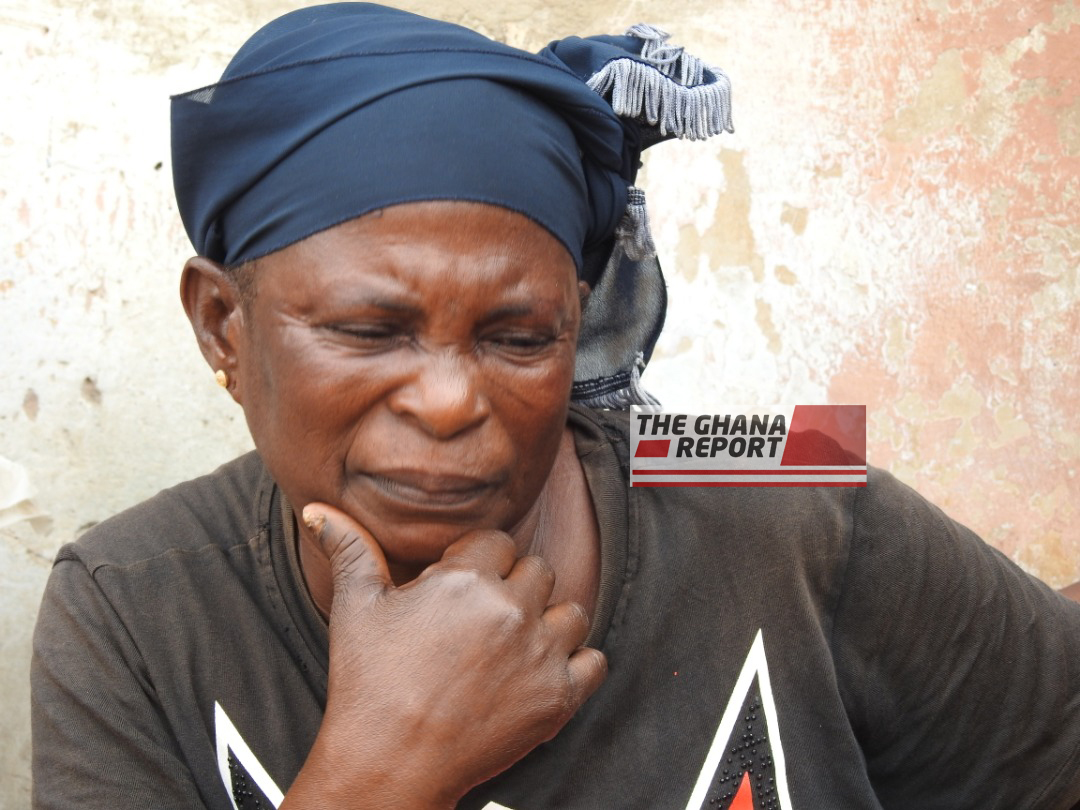 When theghanareport.com visited Amina's home in the densely populated New Town settlement, her younger sister Hawa Amadu, who assists a tomato retailer at Agbobloshie, joined in the interview which turned out to be a tough conversation.
Unable to speak because of sorrow, Amina only interjected once a while as Hawa took over the conversation to narrate the incident on behalf of her sister.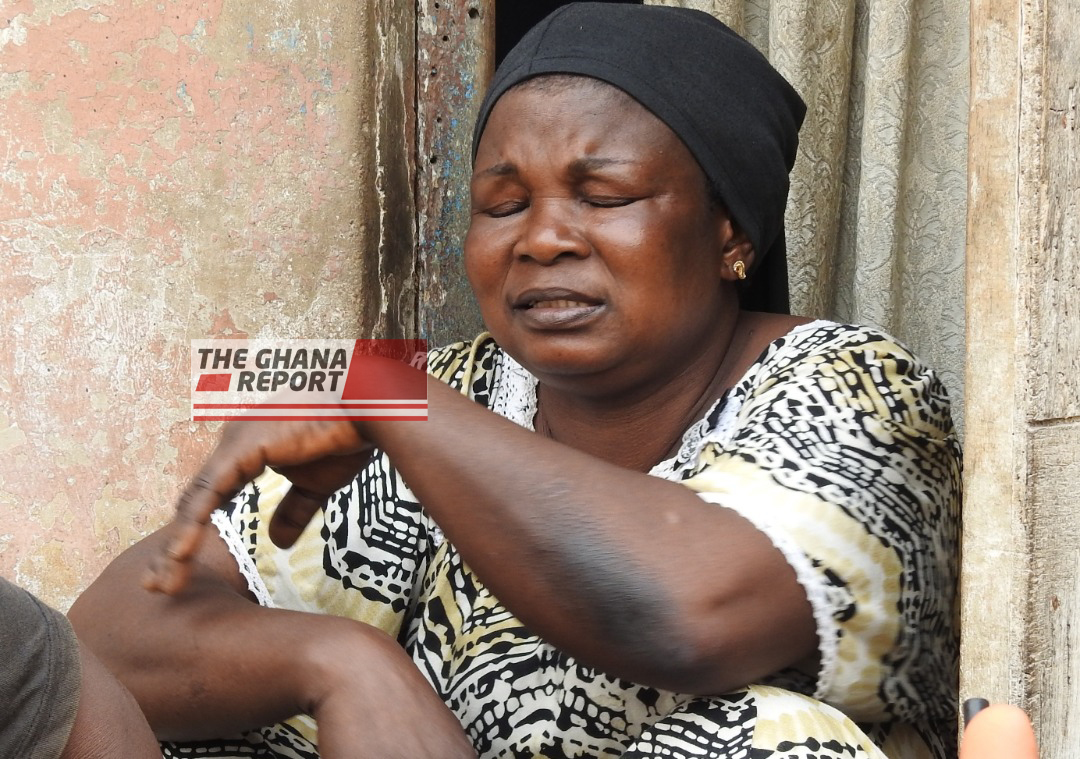 Tawfiq came to his mother's home one Saturday night in to use the washroom. After that, he returned to do his work.
His mother said he was expected to return that night and leave the motorcycle in her relatively safe compound with the keys.
He didn't.
And so when on Sunday morning, the nail on the wall for Tawfiq's keys was empty and the motorbike not at the usual parking spot on the compound, the family found it strange.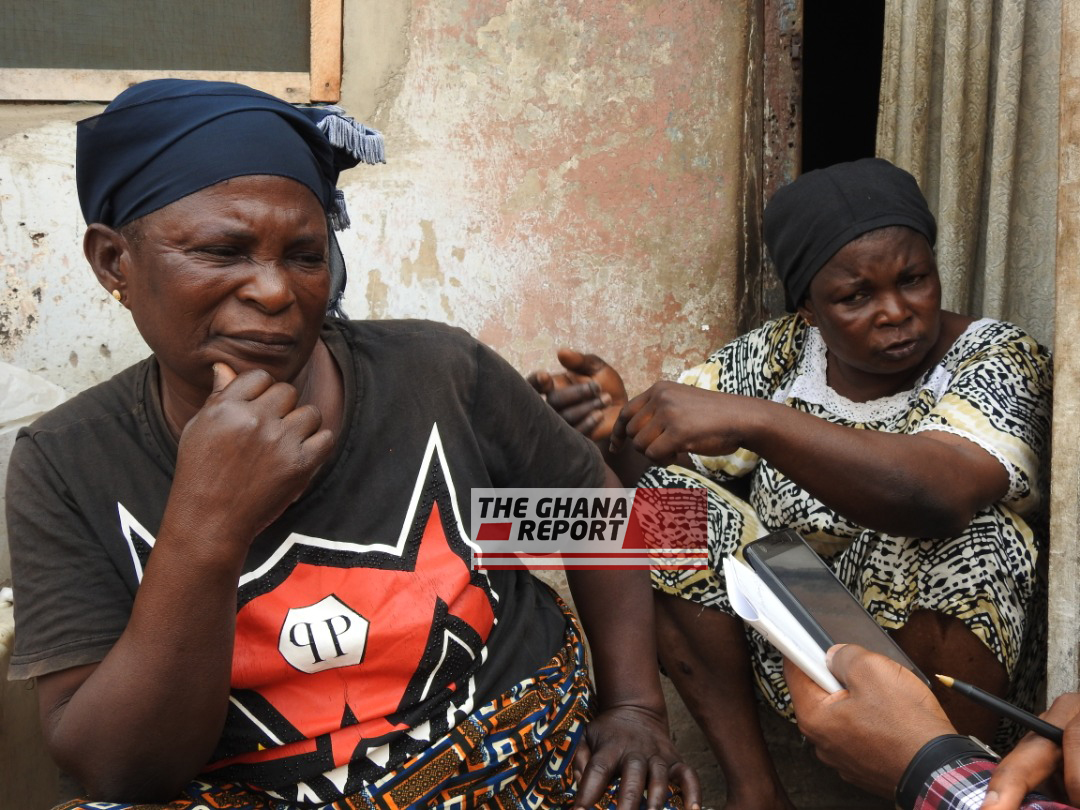 Amina and Tawfiq's aunt searched the house but could not find the keys and Tawfiq was not present either. Later in the day, the women proceeded to Tawfiq's other residence at Nima. His wife said she hadn't been home since the previous day.
"When we got back home, I went to the area in the neighbourhood where Tawfiq and the other okada riders usually converge at Newton. When I got there, two persons became jittery after they saw me; they started contemplating on what to say.
"I asked what the matter was and they told me Tawfiq was involved in an accident the previous night and sent to the Korle-Bu Teaching Hospital," Hawa said.
She rushed home to inform Amina and together, they arranged for a vehicle. They headed straight to the premier health facility in the country.
After enquiries, officials informed them at the accident centre that Tawfiq had died before arrival.
Amina and Hawa blacked out.
"…., the news was devastating. It hit me like a hammer blow. We got revived later," Hawa said.
Tawfiq during his last night ride with a female passenger crashed into a truck. His passenger in one loud, noisy crash fell unconscious.
Without helmets, the two suffered severe head injuries.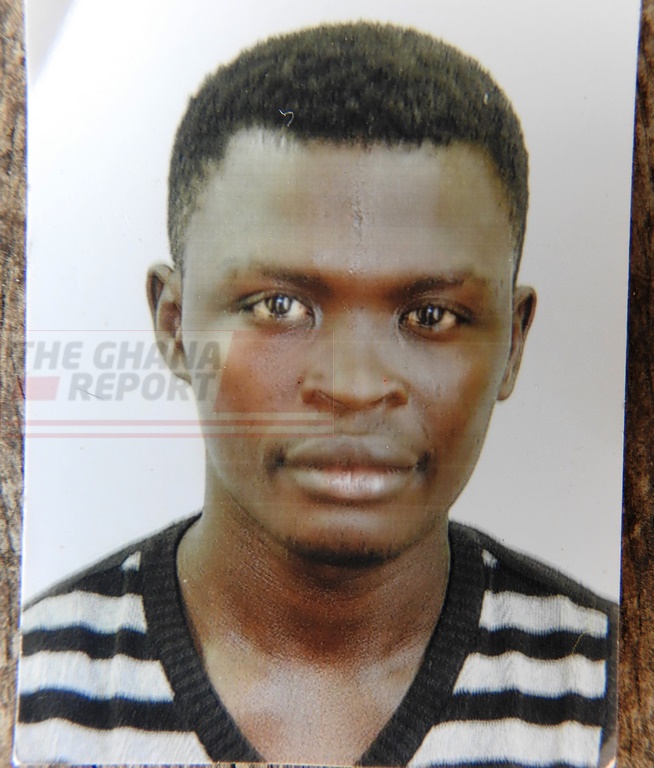 "His head had split into two. Ei! Mmmmmm…stop, stop! His teeth were broken into pieces. There was a fracture on one arm," Hawa described the corpse.
Nafisa Shaibu, popularly known as Kande, who is a childhood friend of Tawfiq, witnessed the moment the woman approached Tawfiq to patronise what would be his last ride.
She observed: "His skull was split open and his face was disfigured. You could see the contents of the skull. The bandages used to wrap his head were soaked in blood".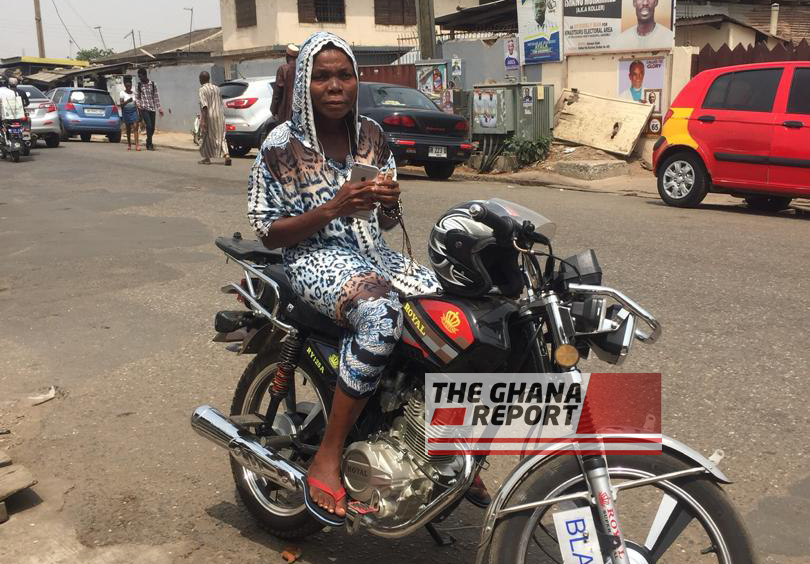 His mother, Amina, after the initial emotional breakdown, interjected: "the whole thing was very unbearable and difficult for me to accept." She did not speak again for the rest of the interview.
The family buried Tawfiq in Accra the following day, Monday, per Islamic tradition. His female passenger after an initial coma also died on admission and was buried two days later after Tawfiq's funeral.
Tawfiq's motorcycle, mobile phones, money, and the purse of Tawfiq's passenger vanished on the night of the accident. Ruthless thieves took them from the blood-stained accident scene within seconds.
What has been left is a statistic. Tawfiq is one of the 732 fatalities from motorcycles, tricycles and rickshaw deaths recorded in 2019 by the MTTD.
And Tawfiq also left behind his wife and his three-year-old son.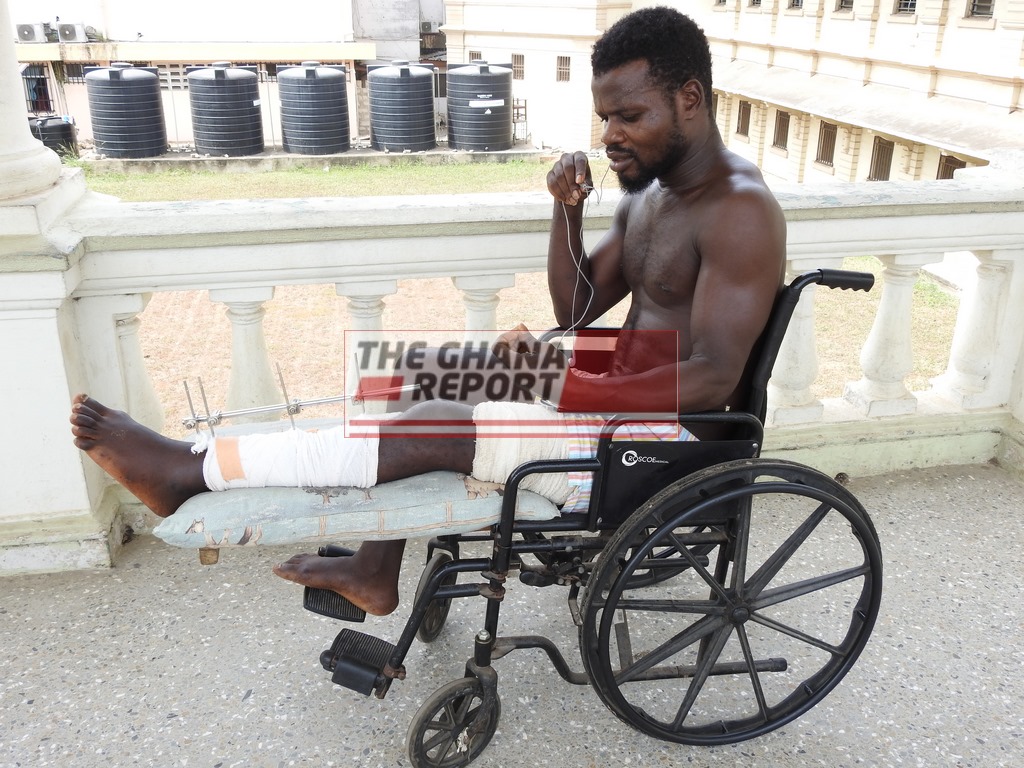 Theophilus Annang thankfully missed the fatalities statistic section. The 33-year old taxi driver, however, ended up in the injuries section.
Remember how the Korle-Bu specialist had revealed the horror of treating critically injured accident victims on December 22, 23 and 24 of 2019?
Theophilus joined the list two days later – on Boxing Day – December 26, 2019.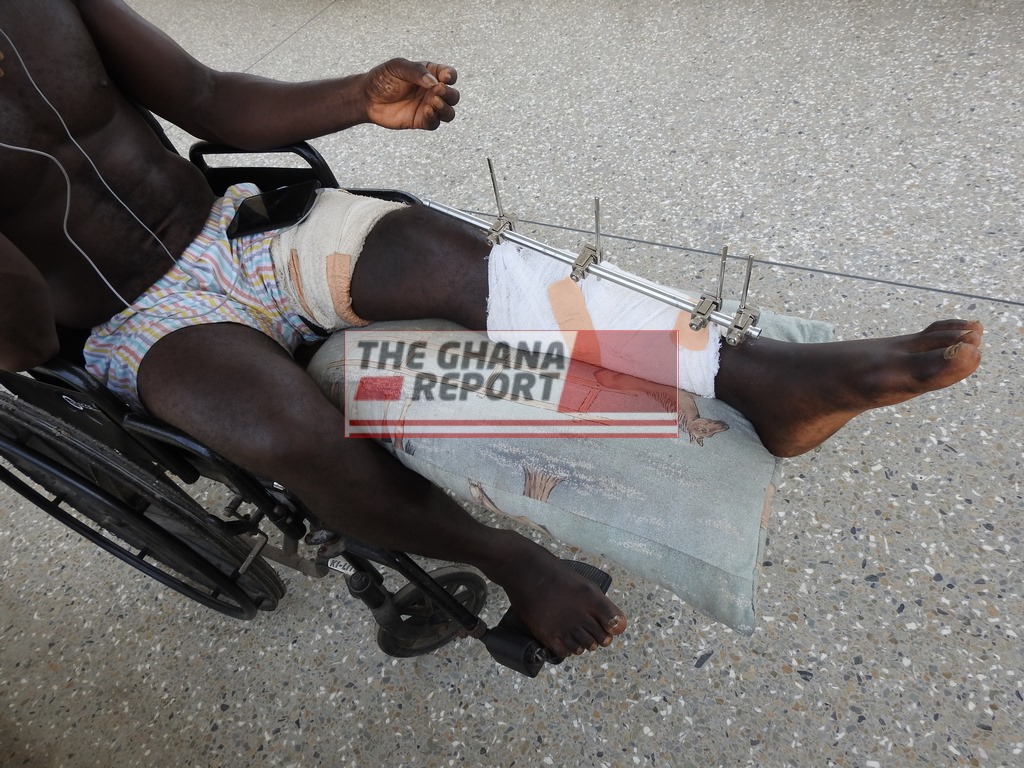 The part-time carpenter who lives at Chorkor, Chemuenaa in Accra had a reason to be happy that fateful day.
"We were going on a health walk to mark the victory of the assemblyman for Chorkor called Theophilus Quaye," he said in a tone that reflected his agony.
Mr Annang explained that he was part of the team directing traffic for the triumphant group of supporters, amidst drumming and singing.
The walk started from Chemuenaa, through Korle Gonno. Then they would have used the Korle-Bu road and returned to Chorkor Chemuenaa, Mr Annang recounted.
The motor rider was from Jamestown heading towards Chemuenaa.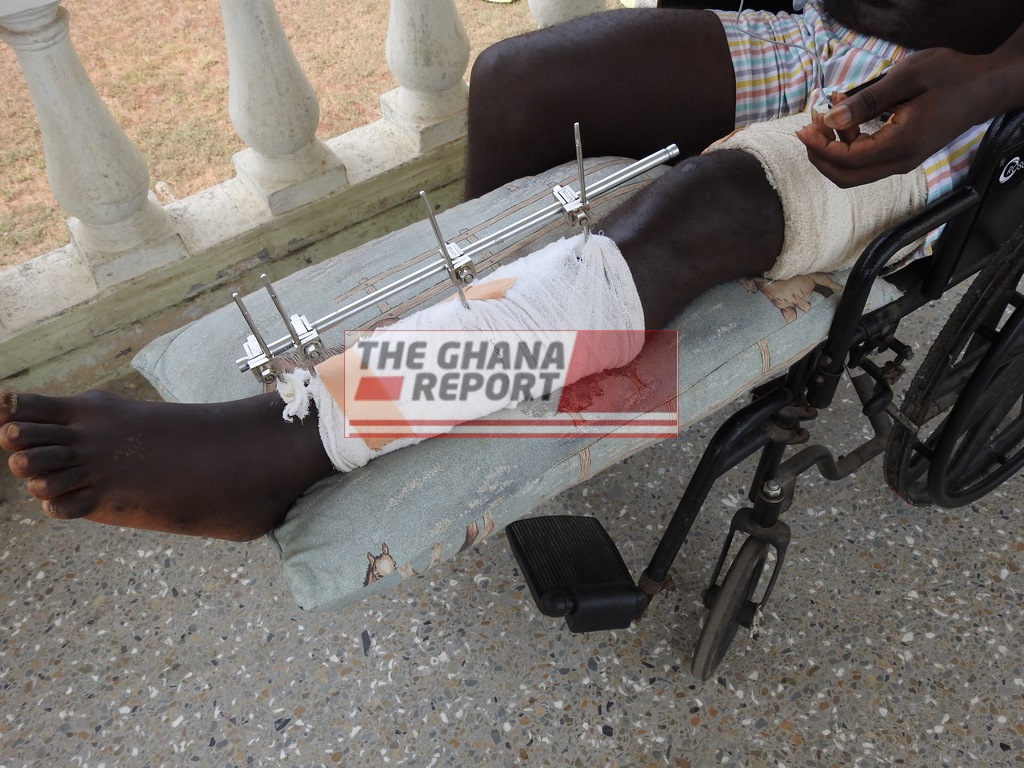 At a few metres away from the famous White House, close to the Nanka Bruce School, Theophilus was talking with one of the ladies participating in the walk.
From his blindside, the motorcycle hit the two of them. They fell flat on the street.
"All I heard was the rider saying 'agoo'. By then, I had already been knocked as well as the lady with me," he noted.
As he tried to get up to join his colleagues, he felt numbness in his left leg.
"It was strange, and I told my friends I couldn't feel my legs. All they said was that I should stop the jokes. I made another attempt to walk, but my leg had become heavier than normal. That was when I realised that I have a fracture."
Four men who were part of the walk came to his aid. Two on each side, they lifted him with his leg hanging. A taxi was stopped and gently he was placed in the back seat and rushed to the Emergency Unit of the Korle Bu Teaching hospital.
He bled continuously until the nurses provided first aid a few minutes after arrival.
"He was on top speed. He didn't have any passenger, and no one knows where he was going," Theophilus recounted. "Whiles my friends were making an effort to put me in the taxi, he ran away with the motorbike".
According to a report from another rider at the scene, the "the okada rider who knocked me had gone to drink three bottles of Darling Lemon, an alcoholic drink".
Mr Annang underwent an orthopaedic surgery costing GHC2,000. A few days later he got transferred to the Orthopaedic Ward of the Korle-Bu Teaching hospital.
External fixation was placed on his leg to keep the fractured bones stabilised and to align the bone fragments. The device is adjusted externally to ensure the bones remain in an optimal position during the healing process. This device is opted when the skin over the fracture is damaged and in some cases, where a Plaster of Paris (POP) cast would not allow proper alignment of the fracture.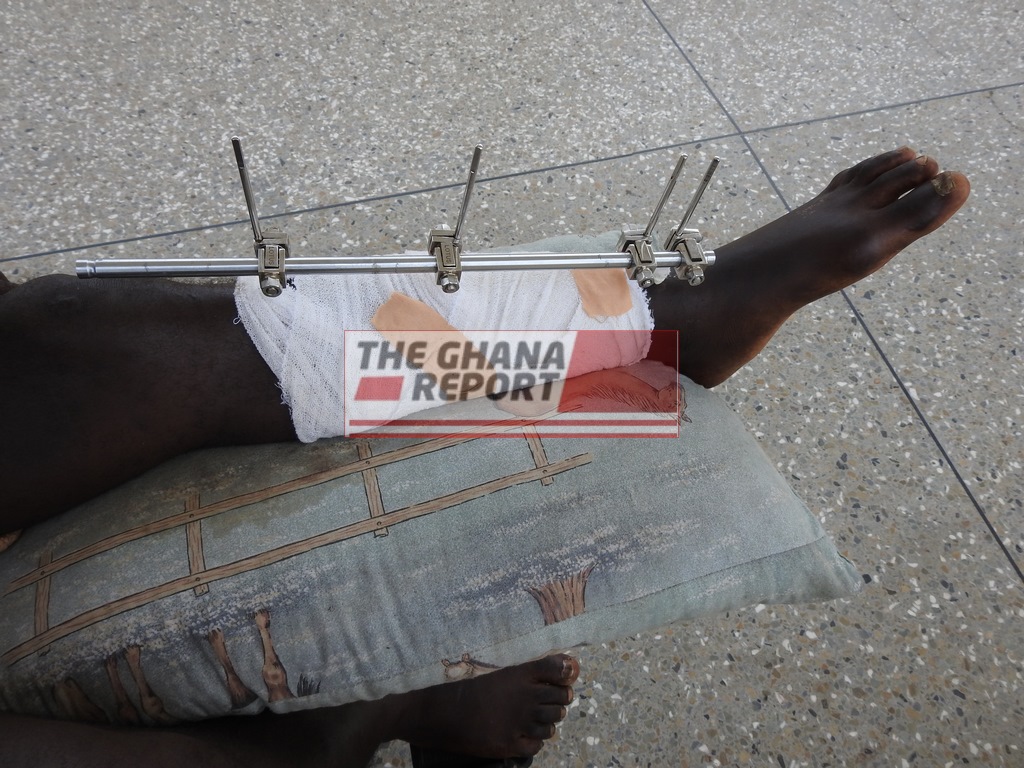 In his case, it was a fracture involving the tibia and fibula bones of the leg. The device is to be worn for three to six months, depending on the severity of the fracture, and healing response.
With excellent clinical management and active physiotherapy, the affected leg can resume normal function just like it was before. But this may take between six months to one year; a doctor explained the condition Mr Annang.
The cost of his medical bill is estimated to be about GHC 9,000 for the five-week period he had been at the hospital. He was yet to be declared fit and discharged to continue recovery home.
"This has disturbed me so much," he lamented to theghanareport.com as he shook his head in disbelief.
"At least for nothing at all, I get GHS100 daily" at work, he said, but now he is rendered incapacitated. He will have to depend on family and friends for survival.
If his estimate of making 100 cedis daily in his taxi work is anything to go by, he would have lost at least GHC 32, 300 for the estimated one-year period needed for a full recovery.
Accidents and casualties outlook
Data collated from the Korle-Bu Accident and Emergency (A&E) Unit from January 2017 to June 2019 showed that there are 88 Okada-related accidents every month.
That's 2,563 accidents.
During the duration, 59 persons have died while 20 others amputated.
The statistics for a two-and-half-year period showed that majority of the accident victims were active and productive persons with ages between 18 and 37. All the deaths were males.
From the MTTD statistics, 2019 proved to be a year of escalated injuries and fatalities. At least 732 people were killed in accidents involving motorbikes, tricycles, handcart and motor tricycles.
That's to say nearly 16% of those who were involved in 4,643 total motorcycle accidents in 2019 die.
Those who do not die join a list of 3,474 casualties from the same number of 2019 accidents.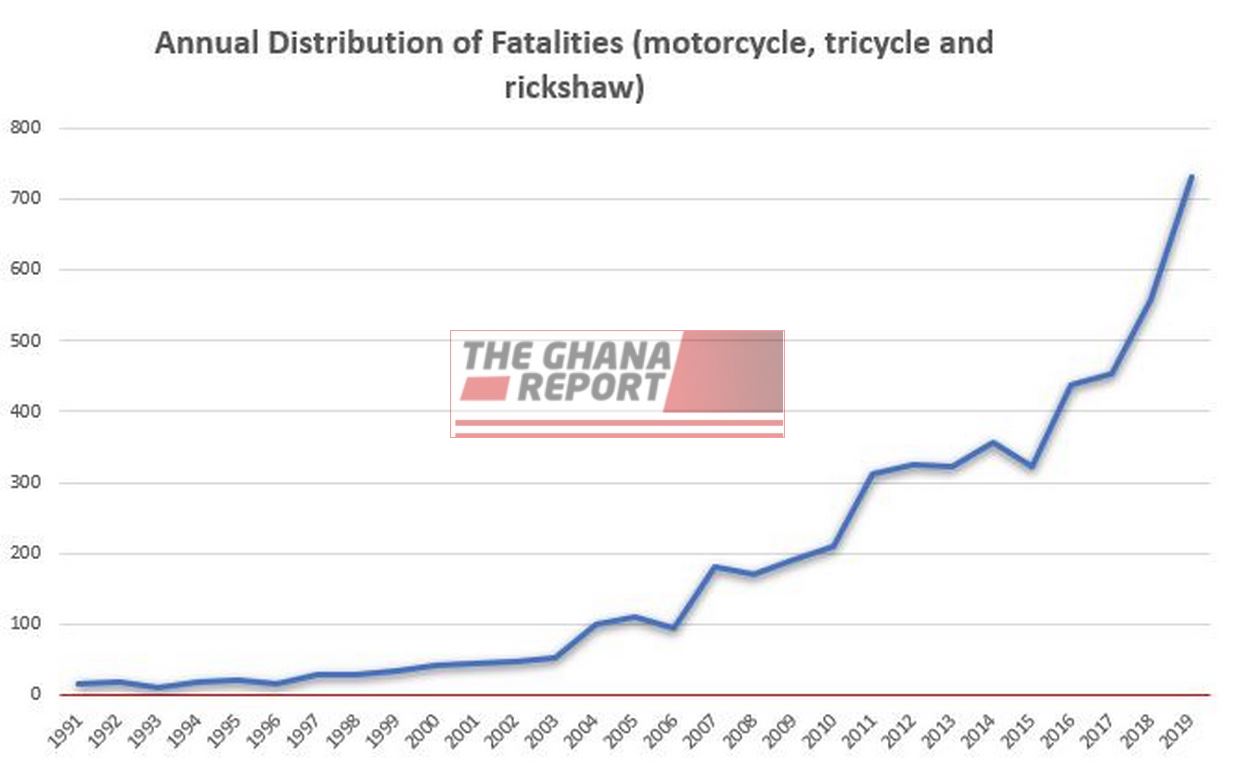 Fatalities for cars (private and commercial) has also been but authorities are concerned about the 'new' trend of motorcycle fatalities.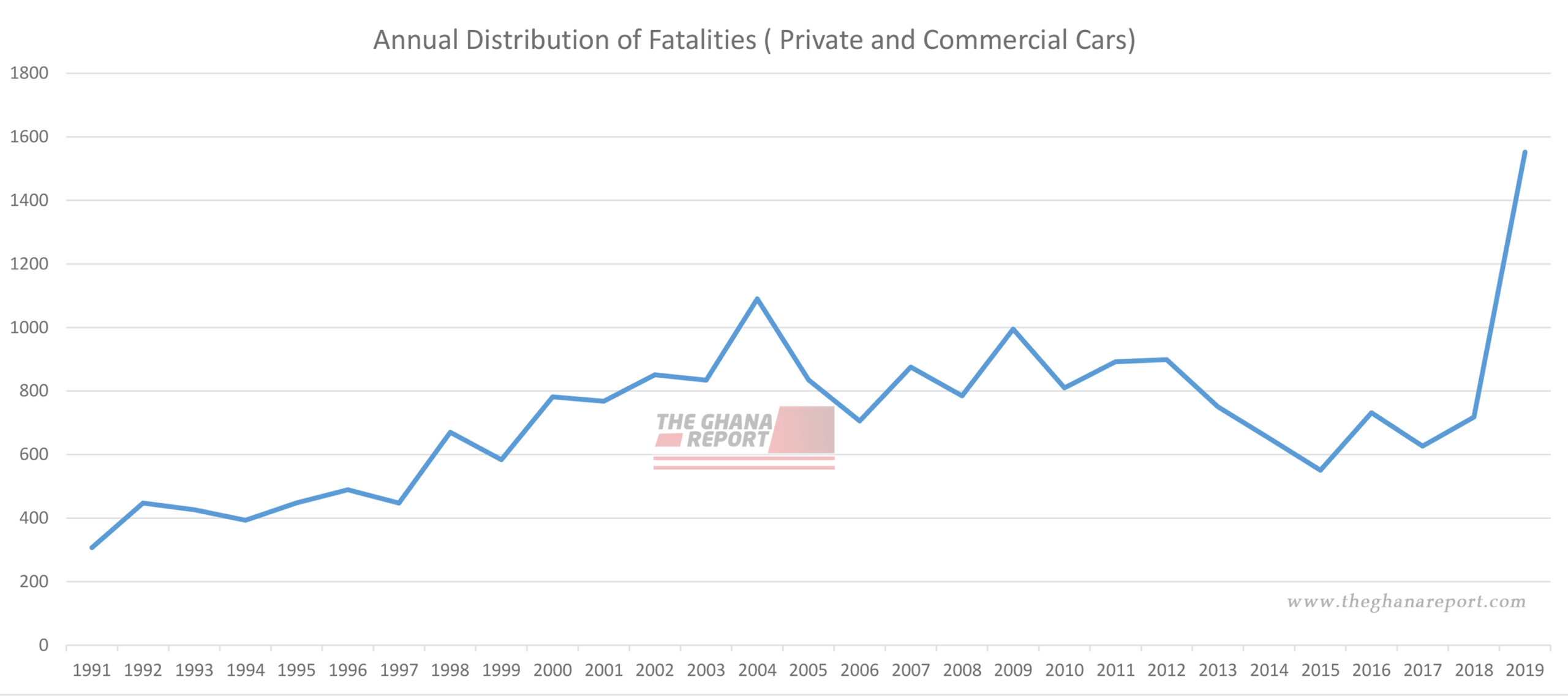 "Astronomical", "staggering" and a "nightmare."
Those were the words used by the Head of the Accident, Emergency and Orthopaedic Department at the KBTH, Dr Frederick Kwarteng who observed that Okada accidents were "increasing exponentially".
"Over 90% of them are all young, energetic men between the ages of 20 and 28 who are the economically active people who are providing revenue for the country," he expressed concern.
The affected persons are generally brought to the hospital "badly injured" and typically "would have bled and gone into shock".
Crushed limbs, head wounds, multiple injuries, unconsciousness, bone fracture, excessive bleeding, lacerations, big ulcers, chest and abdominal injuries are the order of the day at the accident centre.
"Injuries are so bad that they come to put stress on staff in the emergency room," Dr Kwarteng lamented. "They consume all our consumables, and they don't even have money to pay for their bills".
He was much worried about such accidents because "every part of the body is at risk".
He said resources allocated to the treatment of Okada accidents by the centre are "huge". The patients "consume about 70% of our resources" and they "occupy over 50% of our beds" – just Okada carnage alone, Dr Kwarteng lamented.
In comparison to other vehicular accidents at the hospital, Dr Kwarteng explained that it varies depending on the period.
However, health officials "are getting worried because okada is topping the vehicular accidents for the past one year".
The accidents drain the pockets of victims as "they are unable to pay or afford our bills," he said. Orthopaedic implants for broken limbs could cost between GHC2000 to GHC10,000."
Senior Specialist on Trauma and Orthopaedic Surgery at the Komfo Anokye Teaching Hospital, Dr Dominic Konadu Yeboah, also estimates that the country spends $230 million in treating injuries and traffic fatalities yearly.
He is also worried about the approximately 5,000 fractures recorded in a year across the country from road crashes.
How many orthopaedics are in this country to deal with this level of bone-related injuries?
Less than 80, Dr Konadu Yeboah revealed.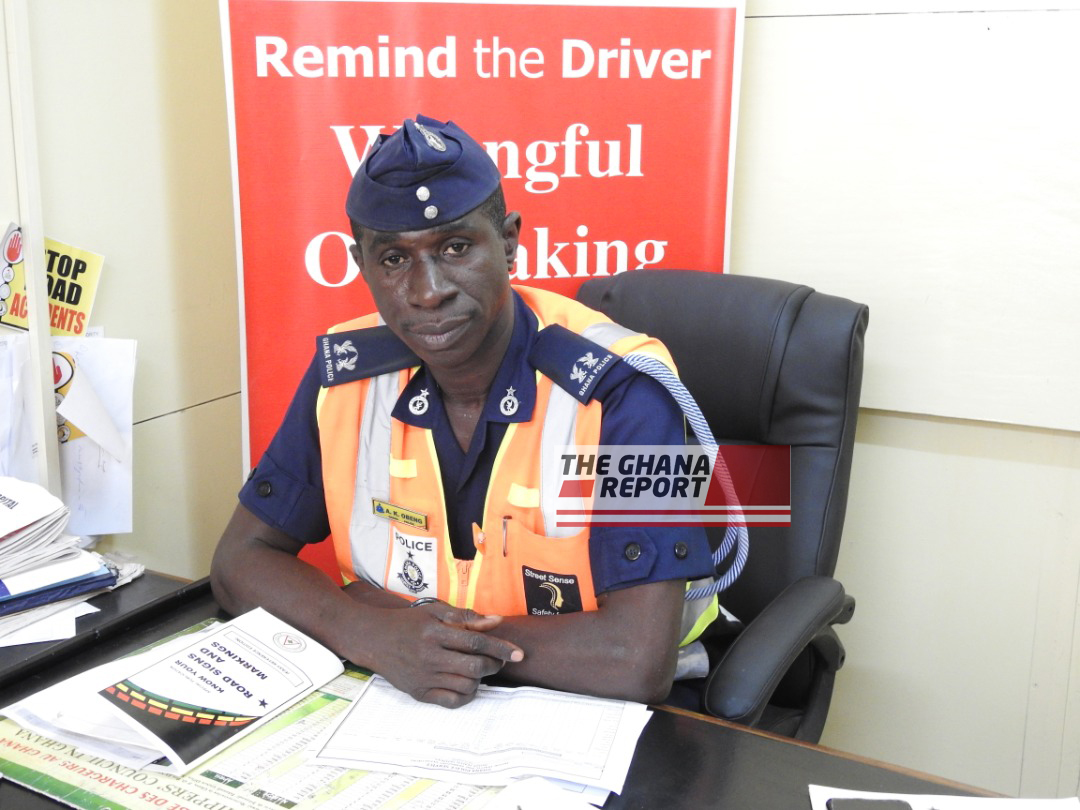 Supt. Alexander Obeng is convinced the Okada situation is down to indiscipline. He observed that up north where motorcycles are more popular than cars, there is a lot of discipline.
According to the 2019 data from MTTD, 35 deaths related to Okada occurred in the Upper West region, the joint-lowest in the country.
In Upper East: 56
Northern regions: 42
Greater Accra region: 127
Western region: 35
Upper West: 35
Ashanti region: 140 
Volta region: 42
It is said that Okada is a big cities problem and an offshoot of indiscipline. Up north when the traffic turns red, Okada riders stop. Is the Okada problem largely an Accra/Kumasi headache?
And if it is such a huge problem, why is it still a patronised means of transport? Why has the business developed into an Association claiming to have 800,000 registered members nationwide?
How is the country regulating an industry that thrives on the need for the speedy delivery of goods and fast transportation of people?
And why are degree-holders showing interest in Okada business thought to be exclusive to drop-outs?
Theghanareport.com brings you the second part of this SPECIAL REPORT in the coming days. Stay with us.
If you have an issue you would want us to focus on, kindly contact the editor via email at info@theghanareport.com.