Spotify Wrapped: Harry Styles had the most-streamed song of 2022
Harry Styles' introspective-but-gossipy pop smash As It Was has been named the UK's most-streamed song of 2022.
Spotify, Apple Music and Deezer all said the track was their top performer of the year, beating competition from Ed Sheeran, Drake and Taylor Swift.
It was also the biggest song globally on Spotify and Deezer, with Justin Bieber's Stay topping Apple's chart.
Styles has said the song is about "metamorphosis", as he reflects on loneliness, growing up and moving on.
Spotify said As It Was had been streamed a total of 1.5 billion times this year.
That would have earned the star and his co-writers about £1.5m in royalties.
While Styles' hit was uniformly loved across the three streaming services, there was a huge divergence further down the chart.
Kate Bush's Running Up That Hill, which gained a new lease of life this year after being featured in Stranger Things, was the UK's fourth most-streamed song on Spotify, for example, while being entirely absent from Apple's Top 10.
Spotify listeners showed a huge appetite for UK rap, with releases by Dave, Aitch and D-Block Europe all performing well.
Apple's audience leaned more towards pop, charting songs by Adele and Elton John that didn't appear in Spotify's list.
Deezer, which has a much smaller market share, restricted its charts to music released in 2022.
That created space for Nigerian rapper Rema, whose laid-back hit Calm Down was his second most-streamed song of the year; and Camila Cabello, whose duet with Ed Sheeran, Bam Bam, came third.
Puerto Rican rapper Bad Bunny was the most-played artist overall on Spotify for the third year running, thanks largely to his Grammy-nominated double album Un Verano Sin Ti (A Summer Without You).
However, he could not replicate that success in the UK, where audiences still seem averse to music sung in languages other than English.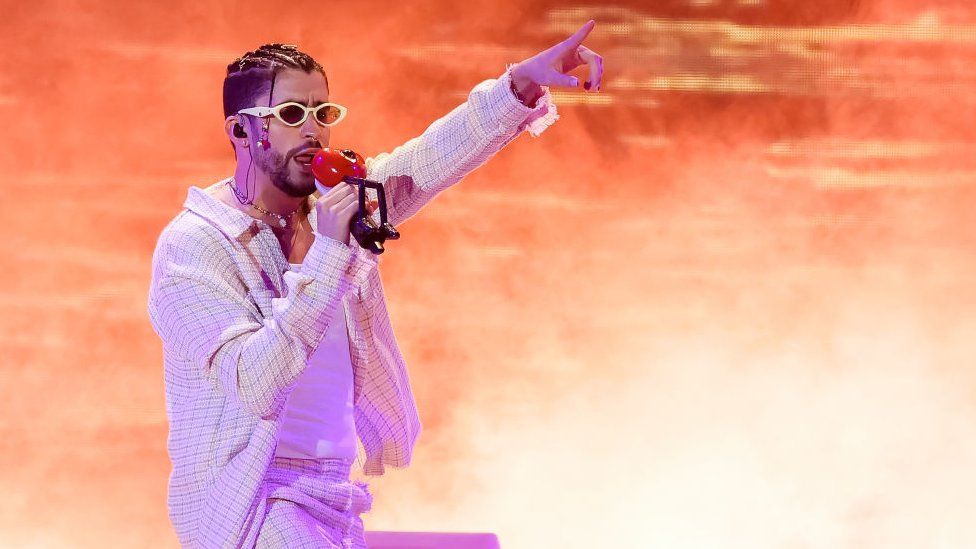 Taylor Swift was the most-played artist for those listeners, with Drake and Ed Sheeran in second and third place.
Meanwhile, LF System's Chaka Khan-sampling dance hit Afraid To Feel was the most Shazammed song of the year.
"Yaaasss! It's an honour that people want to discover and hear our music," said the Scottish duo. "Thanks to everyone that supported us in 2022 – Big Love."
Other streaming services, including YouTube and Amazon Music, have yet to release their figures.
The Official Charts will reveal the overall biggest songs of the year – tallying streams, downloads and physical sales – in January.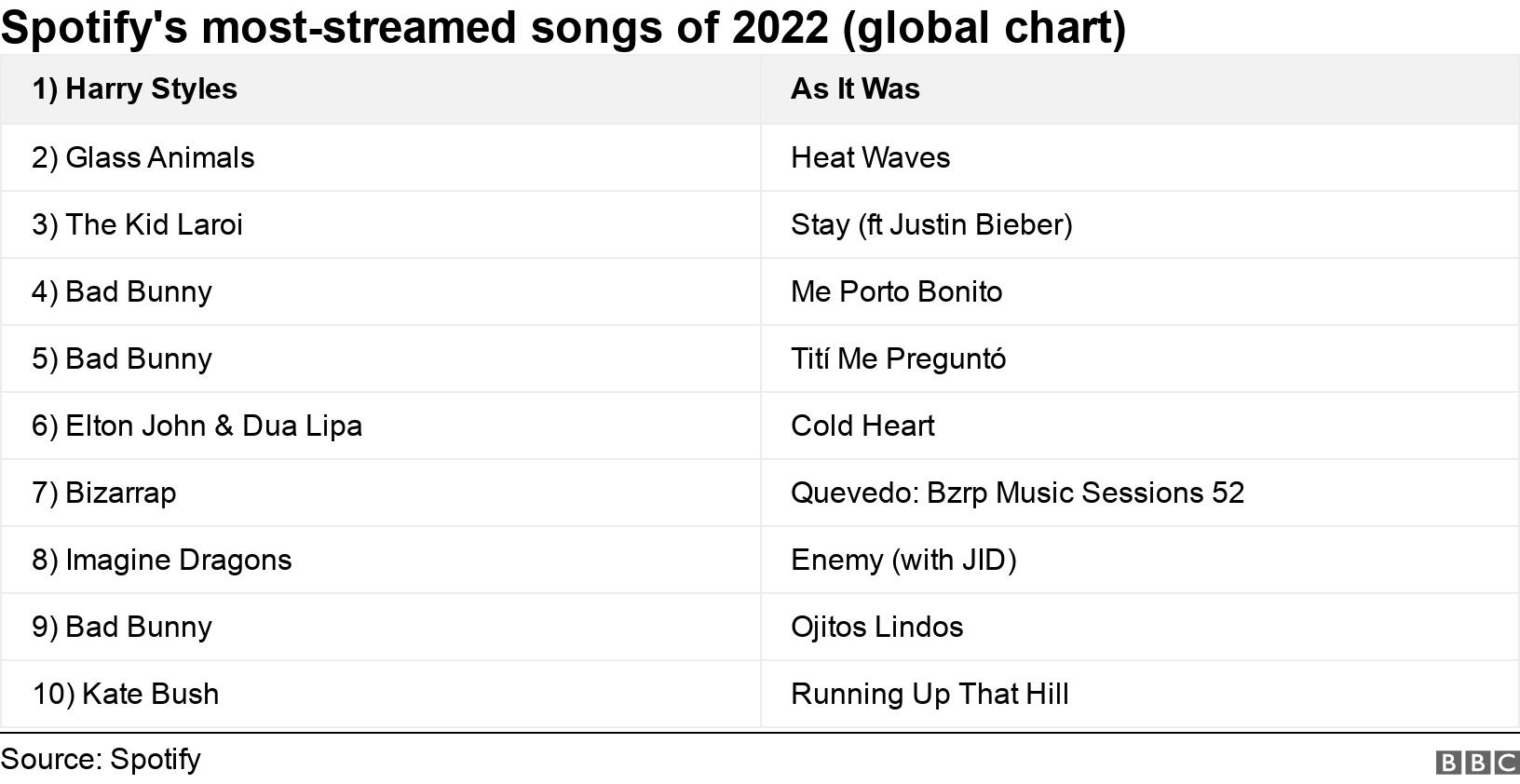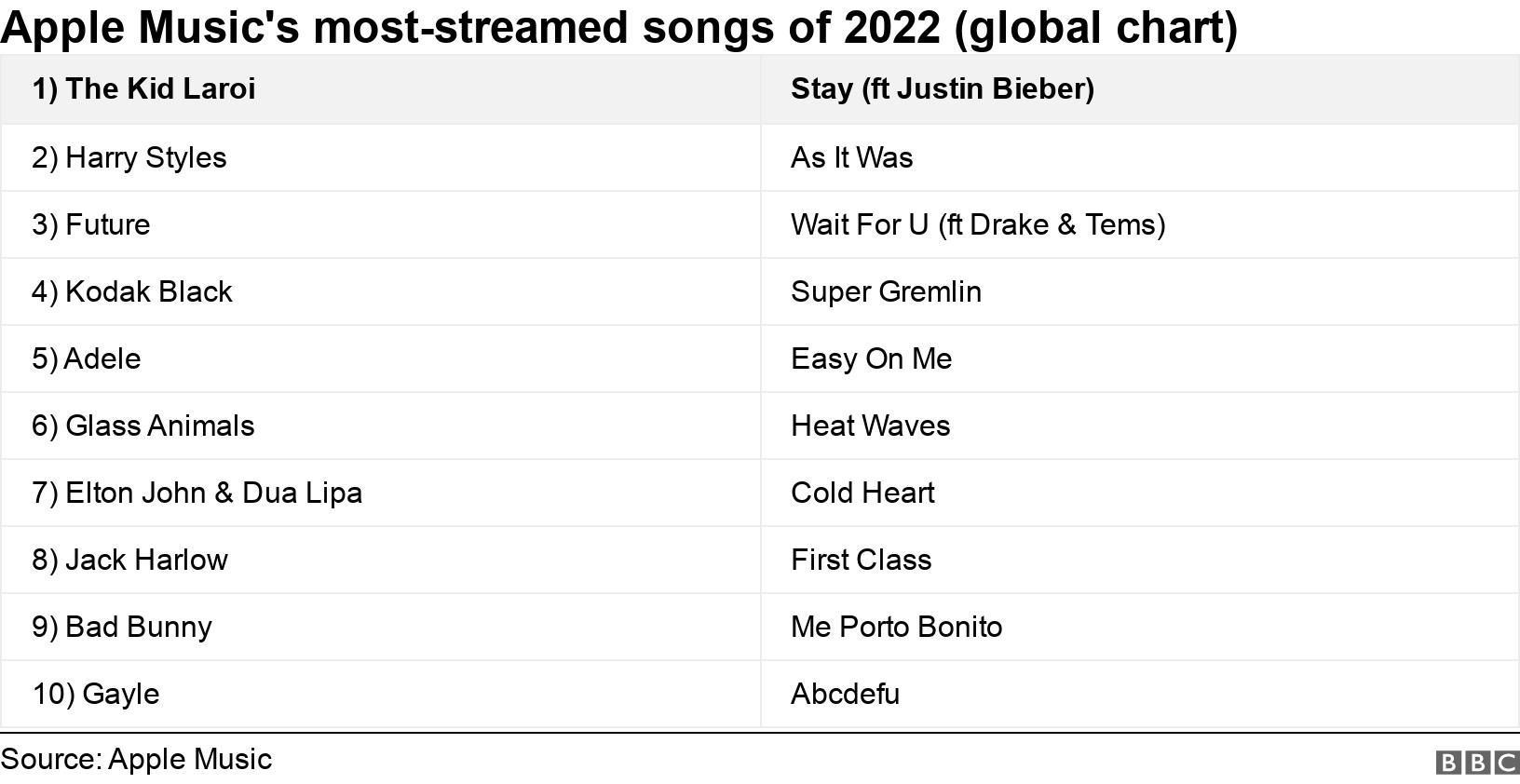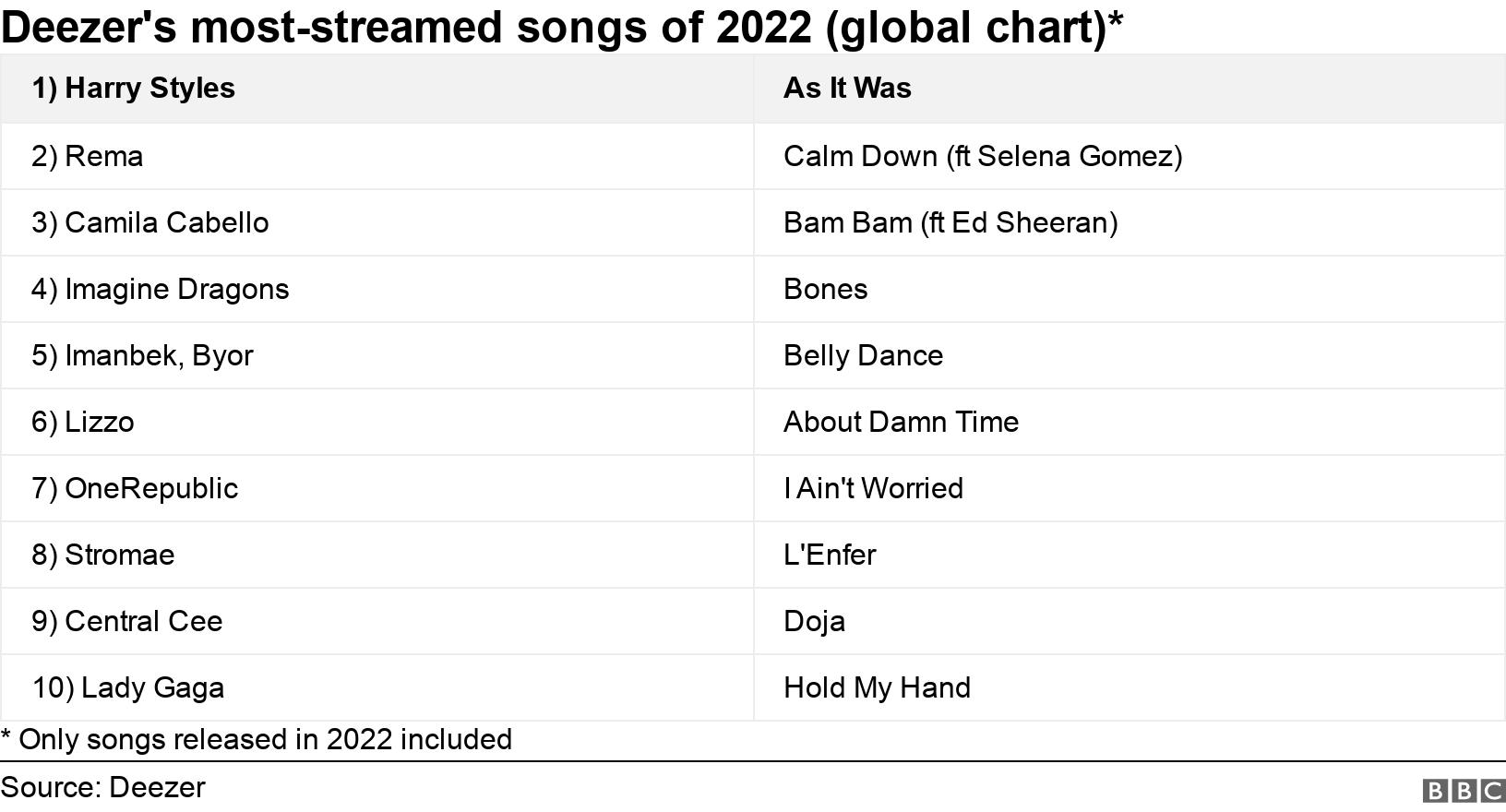 The statistics come as the streaming services release their end-of-year recaps – which provide users with a customised deep dive into their listening statistics.
Spotify's Wrapped has been expanded, with the service's 456 million listeners discovering not only their most-played songs and podcasts, but the tracks they favour at different times of the day.
Fans will also be given a "listening personality" – that analyses their habits in categories such as "exploration vs familiarity" or "variety vs loyalty".
And for the first time, they'll be shown how many times they pressed play on their favourite song.
But some of the people who work on the app are reluctant to make their results public.
"It's always interesting to see who wants to share and who doesn't want to share," said Tom Connaughton, MD of Spotify for the UK.
"If you go and stand by our music team, they're the least likely to want to show you [their results] because they're scared of what it says about them."
Apple has also revamped its Replay feature, telling users how many individual songs and artists they played over the year, and preparing a playlist of their most-played songs.
It also produces a shareable list of your Top 10 artists, along with the number of minutes you spent listening/dancing/driving/studying/falling asleep to their music.
"The music we enjoy throughout the year becomes like a soundtrack," said Oliver Schusser, vice president of Apple Music. "It's really fun to be able to go back and relive those meaningful and memorable moments over again."