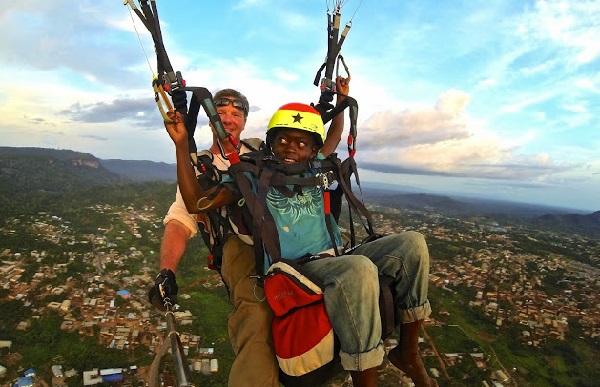 Still no Easter in Kwahu -Ghana Tourism Authority
The Ghana Tourism Authority (GTA) has cancelled its popular Easter activities, including the annual paragliding in Kwahu, for the second time, owing to the prevalence of coronavirus.
It follows the decision by the Kwahu Traditional Authority, in consultation with stakeholders and event organisers, to prevent people converging on the mountains and increasing the risk of many people catching the deadly virus.
Speaking to theghanareport.com, the Public Relations Manager of GTA, Jones Nelson, said It has been a challenge for the tourism sector and the authority considering the loss of another opportunity to market this country and promote domestic tourism through its paragliding event.
"Tourists from neighbouring African countries and distant continents usually throng the Kwahu mountains to have fun during Easter. We have lost in terms of revenue as a tourism authority and as a country, but we acknowledge that we are not in normal times," said the PR Manager.
Looking ahead, the GTA is using this period of inactivity to stategise and plan other events on the calendar.
"This year there is PANAFEST Emancipation in July and August. It is the hope of the GTA that with people taking the vaccine for coronavirus and the death rate going down, it is possible that we would be able to organise it and get a good patronage."
What is not known at the moment is whether it would be open to all or it would be limited to those with vaccination certificates. But as long as the pandemic persists, we have to comply with what the experts are telling us in terms of observing the safety protocols in order to stay safe."
"Local tourism campaigns have begun gradually with the launch of Let's Tour Ghana club to inspire the patronage of domestic tourism activities. During the lockdown we were compelled to patronise locally made items. And it is a good thing to sustain."
The Let's Tour Ghana club was initiated by the 2021 National Service Personnel at the GTA Head office.
The setting up of the tourist coincided with an aggressive domestic tourism campaign "See Ghana, Eat Ghana, Wear Ghana and Feel Ghana."
GTA has drawn the attention of Ghanaians to the need to visit "our numerous diverse natural, cultural and historic sites all for domestic tourism promotion.
The club's first tour would be to the Tsenku Waterfalls and Shai Hills in Dodowa in the Greater Accra Region, on March 27.