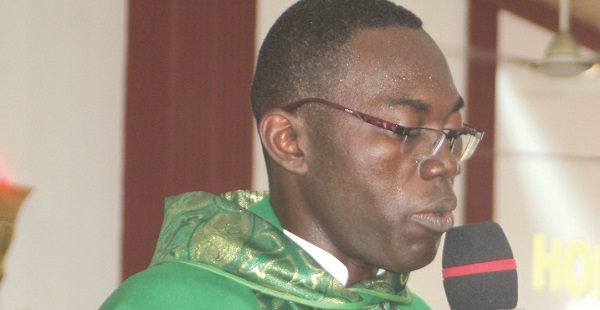 'Stop living double standards to win corruption fight'
Ghana's fight against corruption can only be won if Ghanaians stop living double lives, being pious in church while they engage in corrupt practices outside the church, the Parish Priest of the Mary Mother of Good Council Church has said.
Very Reverend Father David Arkoh Amissah said there were people who practiced holiness in church while engaging in dubious deeds, thinking that God was only in church.
"Our lives in the church must not be different from how we live in our homes, offices and where others are not watching," he told the Daily Graphic on the fringes of the 75th anniversary celebrations of the St Paul Catholic Church in Accra.
Practising holiness
He said being holy and incorrupt was a personal decision to take and submit to the will of God to take absolute control of one's life.
"You dedicate your life to God and do what pleases him and not what interests you, but when you see holiness as only an aspect of life and that Christian life is divided into sectors, you come to church and appear to be holy and when you go home you do what pleases you.
That is not holiness and it is the reason we find ourselves in this situation," he said.
Fr Arkoh Amissah said God was interested in every detail of a Christian's life in the church, while driving, in the office and when nobody is watching, adding that "you don't need people's applause, so that when they are watching then you exhibit good virtues."
He said while it was important for the church to influence its members to be incorrupt, it was also a collective responsibility for all to live what the church preaches.
On the responsibility of the government, he said it was important for members of government to show leadership by example.
"No matter what office you occupy, you must show the example of what you expect the citizens to live. All of us have a part to play in obeying the word of God," he said.
No exemption
Earlier in an anniversary lecture anchored on the theme: "A Call to holiness," he said no one was exempted from the call to holiness.
"The history of the church reveals that there have been men, women, children from every conceivable state and vocation who through the grace of God reached very high degrees of sanctity.
"Every saint struggled and fought against their weakness all their lives and acquired habits of virtue. Interestingly, they conquered by continual and total reliance on the grace of God while being mindful of what they were and what they could become," he said.
As part of the celebrations, the church organised a trade fair that allowed its entrepreneurs to sell their wares while groups including the St Francis Nigerian Community, Francophone community, Holy Family Society, Sacred Heart and Catholic Youth Organisation brought excitement to the church through cultural displays.
St Paul history
The St Paul Catholic Church started in December 1944 through the instrumentality of Reverend Father Gerhard Fini who on an exploratory and pastoral visit to Accra New Town chanced upon a group of Ewes having a meeting about how to help one another during bereavement.
After a chat, the priest asked one Mr Michael Nutsuglo to furnish him with the list of Catholics in the area.
The assignment compelled Mr Nutsuglo, who later became the President of the Church's Pastoral Council, to visit surrounding communities including Pig Farm, Alajo and Accra New Town in search of Catholic faithful.
With that out of the way, 25 people attended the church's first holy mass in the new community in January 1945 in a room near the old site of the West Africa Senior High School.
It was not until October 3, 1964 that Bishop Joseph Oliver Bowers, then Bishop of the Accra Diocese, laid the cornerstone of the church building.
Today, the church's population is in thousands.