Students 'locked down' as Education Ministry outlines 19 COVID-19 protocols
Students across Senior High School are to be camped on campus as part of 19 protocols outlined by the Ministry of Education (MoE) to check the spread of the deadly coronavirus.
Day students are expected to be part of the 'lock down' while parents and guardians will not be allowed to visit as schools re-open.
President Nana Akufo-Addo eased restrictions on Sunday, May 31, after almost three months of public ban on social gatherings.
Since his announcement, the Minister for Chieftaincy and Religious Affairs has outlined protocols for churches and mosques.
Taking his turn, the Minister of Education, Dr Matthew Opoku Prempeh, said at a press briefing on Tuesday, June 2, that final year students at all levels are to return to their educational institutions to complete their examinations.
International students of Ghanaian tertiary institutions who left the country before the borders were shut can return provided the schools submit their passport details to authorities.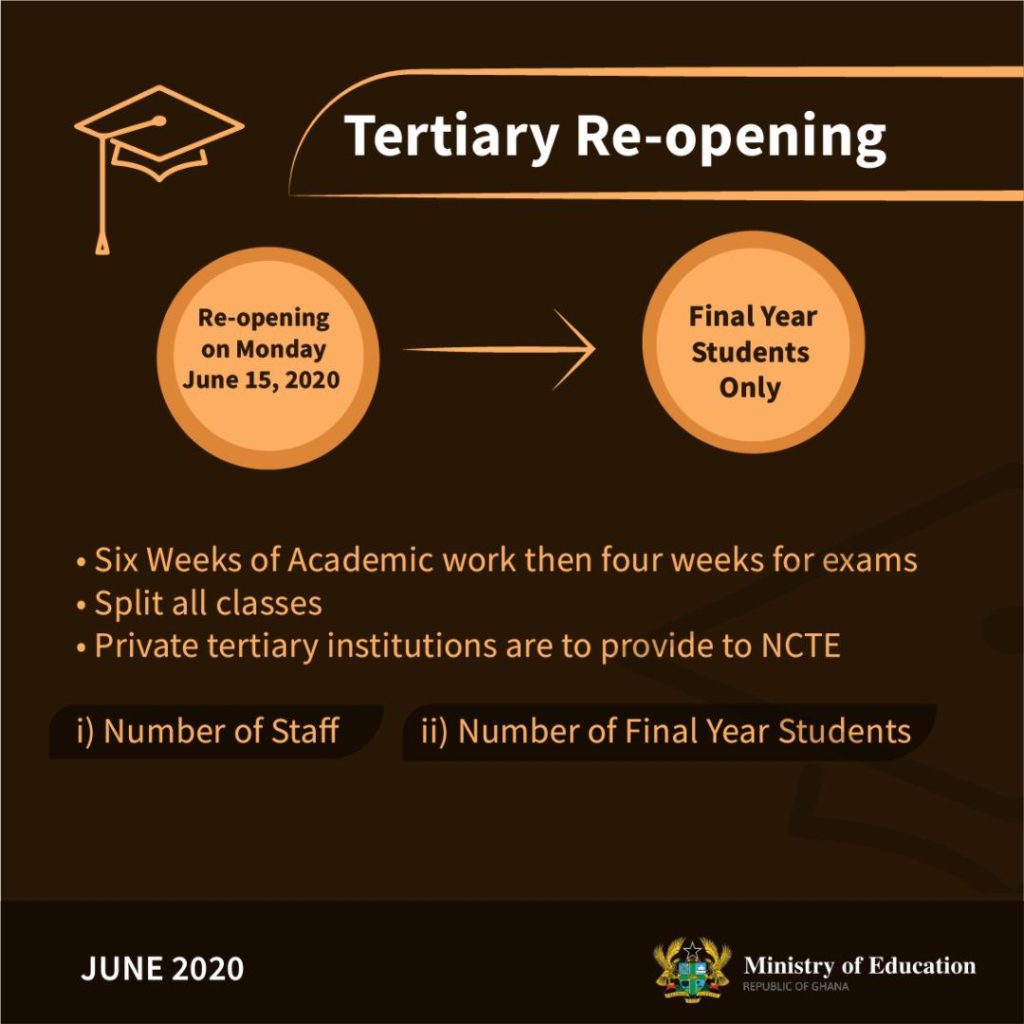 Tertiary institutions will reopen on June 15, Senior High Schools (SHS) will go back on June 25, and Junior High Schools will resume on June 29.
Parents are not allowed to go and visit their wards and all day students in boarding schools are to be admitted as boarders.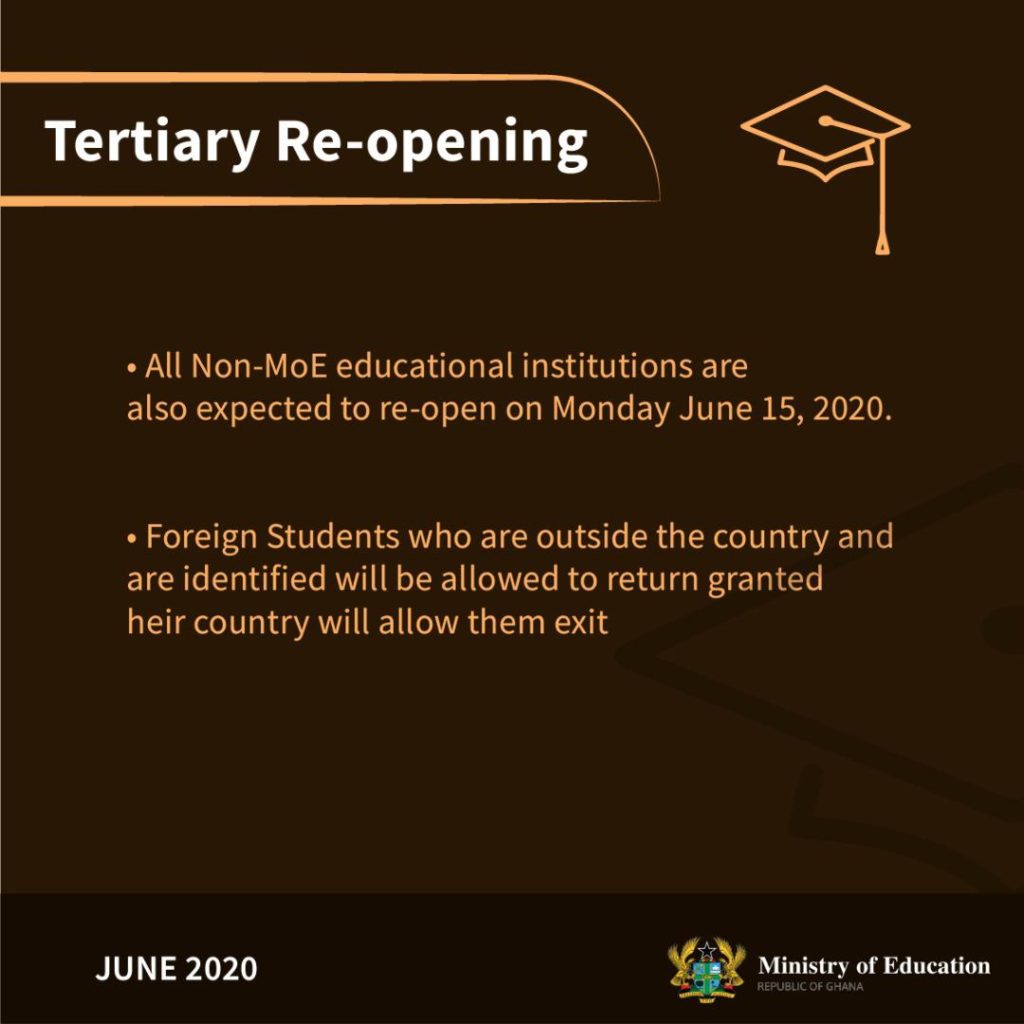 Below are the rest of the guidelines:
1. Schools must adhere strictly to social distancing and personal hygiene protocols.
2. Final years of all institutions must return to complete the academic calendar. This includes students in their final year in tertiary institutions, those preparing for West African Senior School Certificate Examination (WASSCE) in Senior High Schools (SHSs) and pupils in Junior High Schools (JHSs) preparing for Basic Education Certificate Examination (BECE).
3. All tertiary institutions, both private and public, are to resume on June 15. They can have academic work, lectures and revision for six weeks and write their final exams.
4. International students who escaped lockdown can submit details of their passports to their Vice-Chancellors to be sent to authorities to allow them back into the country. They will be quarantined for 14 days before going to the schools to complete their work.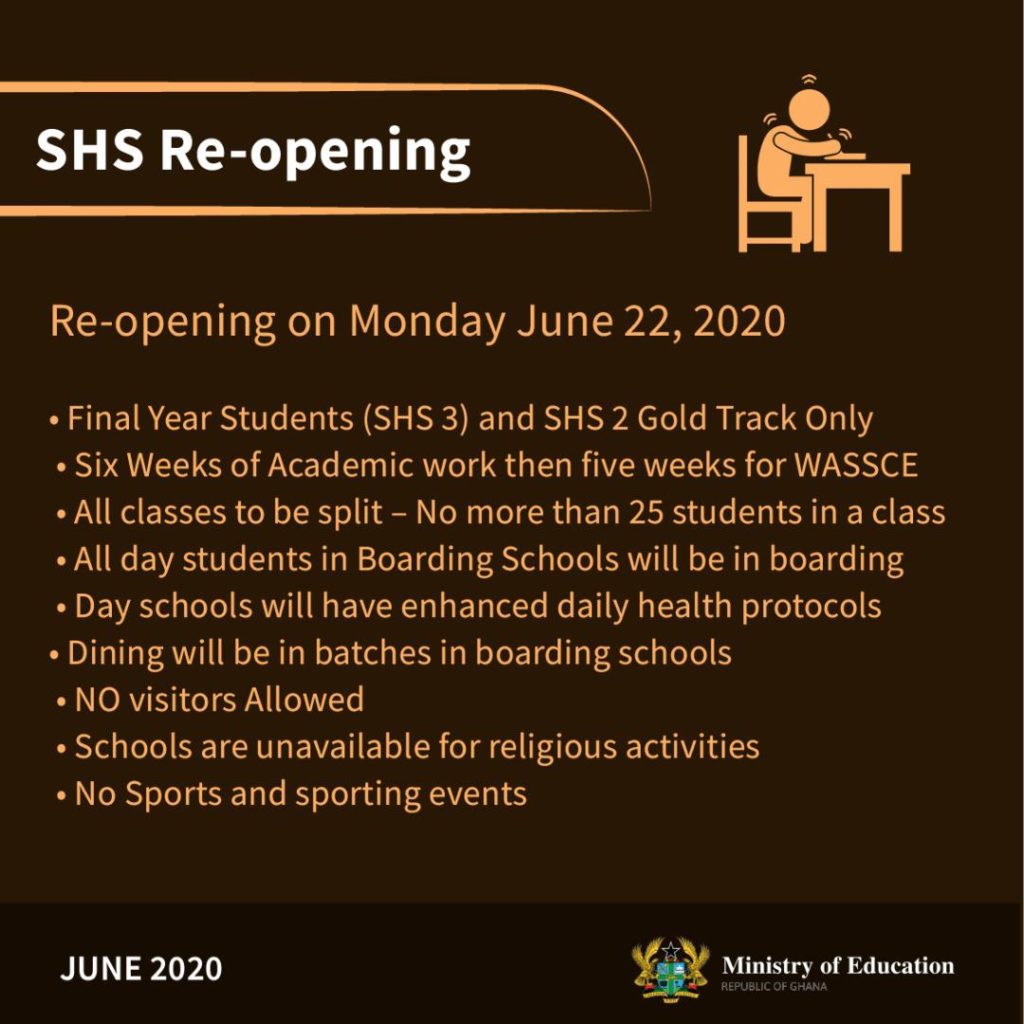 5. All training and educational institutions numbering over 400 which are not directly under the Ministry of Education are also to resume. These include military training academies, Ghana Police Service training schools, Ghana Immigration Service training schools, Regional Maritime University, Ghana Technology Training Centre, Aviation Training School, Fisheries College, Social Welfare Schools.
6. All school should be fumigated before reopening.
7. The government will support institutions with face masks and fumigation exercise.
8. Ministry of Health will help sensitise students on social distancing, hygiene and COVID-19 protocols.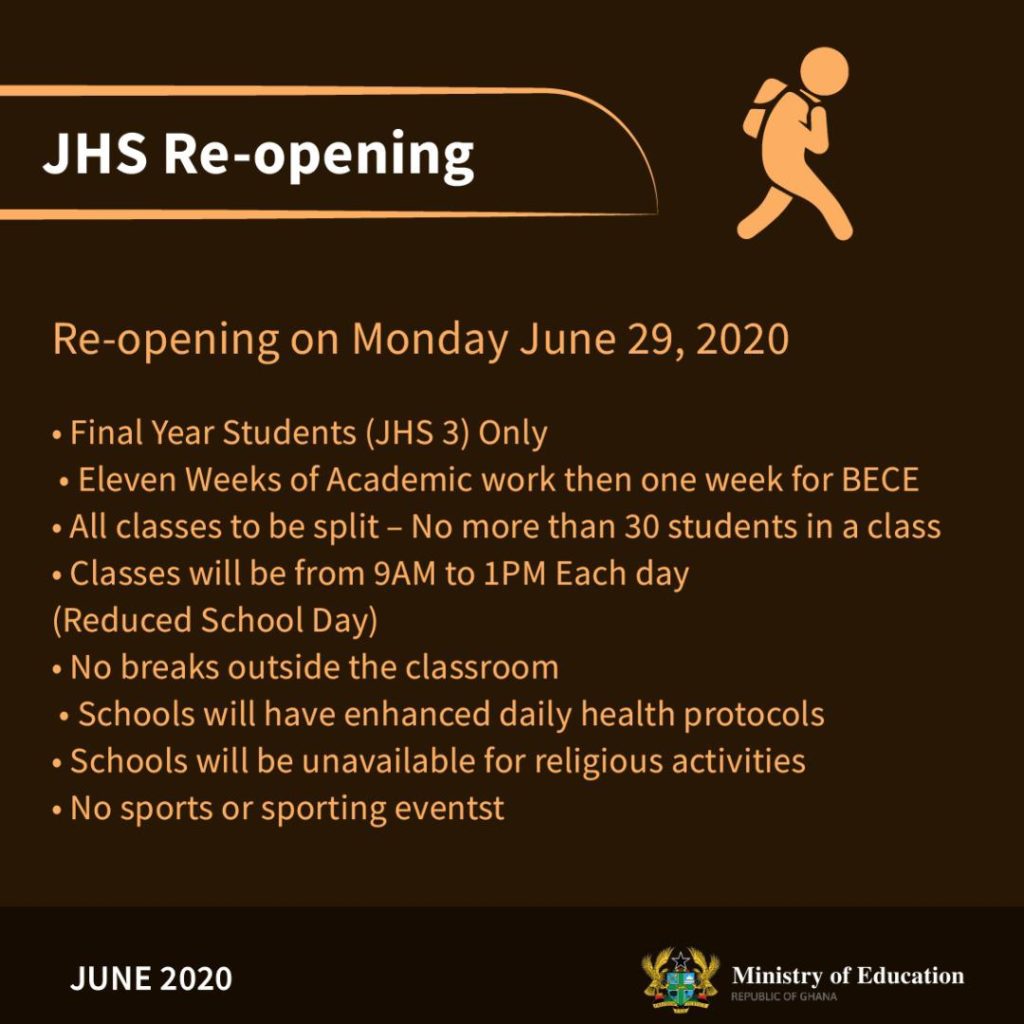 9. There will be an aggressive campaign to ensure that everyone goes to school.
10. No religious activities in schools
11. No visitors will be allowed in JHSs and SHSs for the period they will be in school. Parents cannot go there to see their children.
12. There will be no assemblies, no playgrounds, and no sporting activities.
13. There will be shorter school days for students who will report at 9am and close at 1pm.
14. SHSs will not have more than 25 students and JHSs not more than 30 per class.
15. Officials will be assigned to each school to manage health conditions.
16. SHSs will resume on June 22 and all day students in boarding schools will be admitted as boarders.
17. JHSs will resume on June 29.
18. SHS Gold Track will return to complete their semester.
19. Dining hall activities will be in batches to prevent crowding