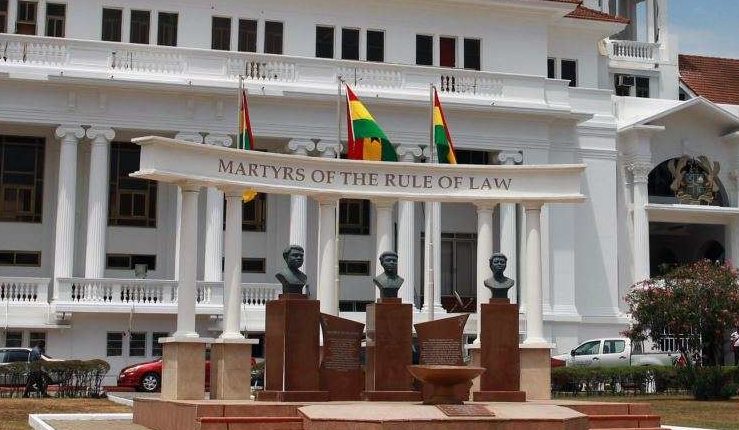 Supreme Court strikes out Assin North MP's dual citizenship case
A five-member panel of the Supreme Court has struck out an application by Assin North MP James Gyakye Quayson over his dual citizenship case.
The apex court's decision comes after his lawyer Justine Pwavra Teriwajah withdrew the application, on grounds that the application was premature.
The application from the legislator sought to invoke supervisory jurisdiction of the apex court to take over his dual citizenship case which started at a Cape Coast High Court.
The Assin North MP wanted the apex court to assume jurisdiction but the panel presided by Justice Yaw Appau refused.
In its ruling, the court said the application ought to have been first raised at the High Court for determination.
The panel explained that it is only after the High Court has given an order, which the team was not satisfied with that they can intervene or if there was any constitutional issue of interpretation, then the apex court is called to settle.
But records from the Cape Coast High Court showed there was no decision made for which the MP had run to the Supreme Court, seeking its intervention.
Justice Appau pointed out that the application was premature.
Apart from striking out the application, the apex court also awarded a cost of GHC5,000 against the Assin North MP, in favour of the petitioner (Michael Ankomah Nimfah).
Other panel members included Justices Gabriel Pwamang, Gertrude Torkornoo, Nene Amergatcher and Yoni Kulendi.
Why James Quayeson is in court
A private citizen and a resident of Assin Berekum, Micheal Ankomah Nimfah, filed a suit at the Cape Coast High Court challenging the qualification of Mr Quayson as the MP-elect for the area.
The plaintiff, a mason, averred that at the time Mr Quayson filed his nomination, he was still holding onto his Canadian citizenship and failed to denounce his citizenship as required by law.
Ghana's laws bar dual citizens from holding public offices in Ghana.
In freezing the MP-elect's right to be in parliament, the judge said: "the allegation contained is of grave nature, and he could not hold himself as MP."
Also, the NDC MP-elect did not have the renunciation certificate to present before the court to confirm that he had indeed renounced his Canadian citizenship.
Although court documents showed the MP-elect received his certificate on November 26, at the time he filed his nomination, he did not have the requisite qualification.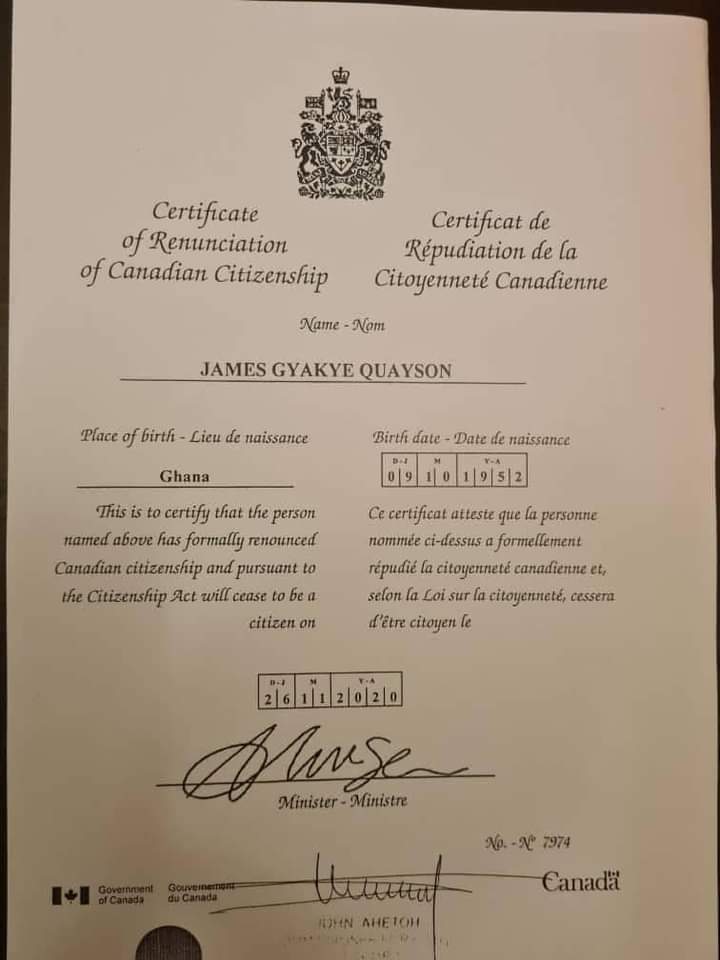 NPP strategy 
On December 23, 2020, the governing New Patriotic Party sought to trigger a by-election by challenging the eligibility of James Quayson to contest in the Assin North parliamentary elections, but he won.
Legal practitioner, Gary Nimako, had asked the Ghana Immigration Service to confirm if indeed the NDC MP-elect had renounced his Canadian citizenship before the December 7 parliamentary elections.