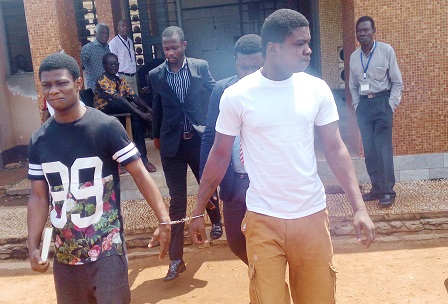 Suspected killers of MP to stand trial 'again'
Daniel Asiedu and Vincent Bosso, the two men implicated in the murder of a former legislator, Mr J.B. Danquah-Adu, will soon face the law for their alleged actions.
This was after the Attorney-General (A-G) filed the bill of indictment to kick-start the committal proceedings at the Accra Central District Court, a prelude to the actual trial at the High Court.
A Senior State Attorney, Ms Sefakor Batse, yesterday told the Accra Central District Court that the bill of indictment was filed last Monday.
"The A-G is ready to commence committal proceedings,'' she said.
The two suspects were served with copies of the bill of indictment, while the Presiding Magistrate, Ms Arit Nsemoh, adjourned the case to January 15, 2019 for the committal proceedings to start.
Second time
Mr Danquah-Adu, who was the New Patriotic Party (NPP) Member of Parliament (MP) for Abuakwa-North in the Eastern Region, was murdered at his residence in Accra on February 9, 2016.
Asiedu and Bosso were arrested in connection with the murder between February 10 and March 2016, and were committed to stand trial by another District Court, presided over by Mr Stephen Owusu, on March 15, 2017.
On April 18, 2017, the trial of the two accused started at the Criminal Division of the Accra High Court, presided over by Mr Justice Lawrence Mensah, but on March 30, 2017, the two were discharged by the court.
That was after the Attorney General had filed a nolle prosequi to discontinue the case, with the explanation that there was the need for further investigations into it.
Asiedu and Bosso were then dragged back to the district court for other committal proceedings which stalled for more than 19 months.
Bill of indictment & committal
The bill of indictment contains the charges that the A-G would level against the two accused during the trial.
During the committal proceedings, state attorneys are expected to make known the pieces of evidence and witnesses they will rely on to prosecute Asiedu and Bosso.
After state attorneys are done with their presentation, the magistrate will decide whether or not there was a case for the accused to answer at the High Court.
source: Graphic Online