Ten fined GH₵200 each for open defecation
Ten persons have been spot fined for defecating in some public places at Takoradi in the Western Region.
The culprits were arrested by the Environmental Sanitation Taskforce of the metropolitan assembly on Wednesday, October 6, 2021. The arrests are in accordance with the assembly's effort to end open defecation and ensure a hygienic environment.
The culprits, John Ainoo, Ekow Takyie, Anthony Wallace, Ibrahim Alhassan, Kweku Antwi, Emmanuel Kora, Abdul Razak, Isaac Yankey and Daniel Essel, were arrested within the Sekondi, Kojokrom, Kokompe, Tanokrom and New Takoradi areas.
Each culprit was fined a spot fee of GH₵200.00 after which they were strongly cautioned to refrain from such practices or risk prosecution next time.
The Metro Environmental Health officer, Abdul Karim Hudu, said in an interview with Accra-based Citi FM that the assembly is very committed to eradicating open defecation in the metropolis, adding that the taskforce will continue to arrest and prosecute any person caught breaking this law.
According to Section 14 of the assembly's bye-law on Solid and Liquid Waste Management, "No person shall defecate or urinate in any public or open place other than in an approved toilet facility".
Open defecation remains a very big health and environmental hazard in many developing countries in Africa.
Research suggest that about 2.4 billion people globally still lack access to improved sanitation and about 946 million practice open defecation.
In Ghana, 27 percent engage in open defecation due to lack of latrines and many are seen sharing sanitation facilities, which leads to the prevalence of sanitation-related diseases, according to a WHO/UNICEF 2012 report.
An Afrobarometer survey scorecard on the UN sustainable development goals (SDGs) on water and sanitation showed about 33 percent of the people have access to household toilets, representing a 15 percent increase from 2015, while 92 percent of the entire population have access to water.
On June 24, 2021, Minister of Sanitation and Water Resources, Cecilia Abena Dapaah at a press briefing said the government had provided toilet facilities for about 275,000 people in low-income communities, including more than 34,000 households in the Greater Accra Metropolitan Area.
She said 406 disability-friendly, fit-for-purpose and gender-sensitive institutional sanitation facilities had also been constructed for 260 schools in low-income communities.
In July 2020, the then Minister for Inner City and Zongo Development, Dr Mustapha Abdul-Hamid, helped build over 200 household toilets for inner city communities in Accra.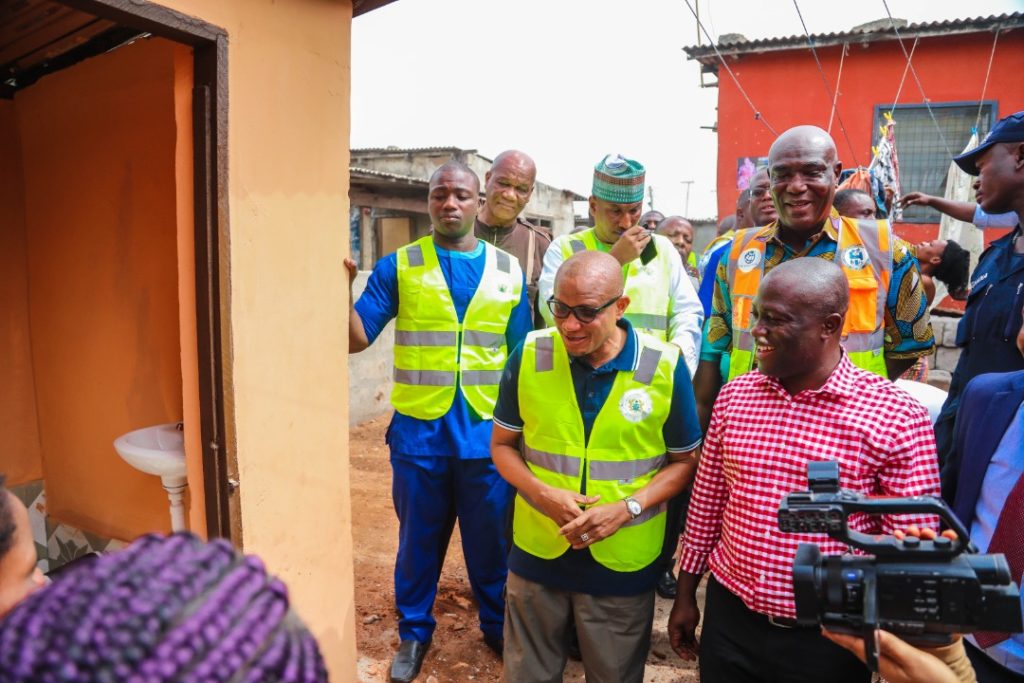 The 252 household toilets, within the inner cities included but are not limited to Mudor, Ayalolo, Korle Gonno, Mamprobi, Agbogbloshie, Bukom, Osu Anorhor, Chorkor, Okpongobu and Kokompe.
The project was undertaken under the Greater Accra Metropolitan Assembly Sanitation and Water project (GAMA-SWP) and supported by the World Bank and the Government of Ghana.
It is clear, efforts are in place to ensure toilet facilities are made accessible to everyone but still the problem persists.