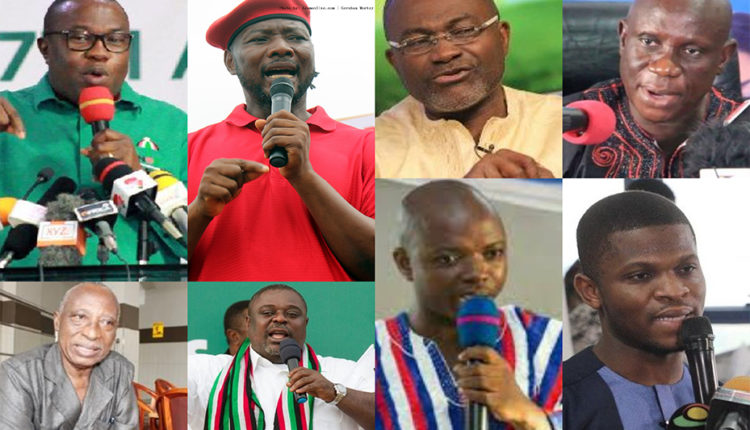 The Big 8: Politicians invited by CID over 'inciteful' comments
The use of inflammatory language has been rife in Ghana's politics, and the occurrences rise considerably going into elections.
On radio, television, and social media, politicians, sometimes of no mean repute, lash out loosely against their political opponents.
And then, a public outcry follows or the police get involved like the case of the convenor of the Inter-Party Resistance Against the New Voter Register (IPRAN), Mr Bernard Mornah.
Theghanareport.com brings you a list of politicians who have had to spend time with the police for having used such language in recent years.
1. Chairman of the People's National Congress (PNC), Bernard Mornah
Mr Mornah and his IPRAN have opposed the new voter roll, insisting that the actions of the EC will disenfranchise many Ghanaians. On one occasion when he had to chance to vent, this is what he said:
"People who are already Ghanaians and already registered are going to be taken out of the register. Don't you think confusion will come at the registration and if confusion come there, [do] you think the EC staff will be safe, we will beat each other there, we will kill each other there, if that is what the EC wants to lead this nation to…"
Mr Mornah complied with a police invitation to the CID headquarters on Tuesday, June 2. He was questioned, cautioned and released.
Mr Mornah was subsequently granted police enquiry bail and asked to report every two weeks as investigations continue.
2. Deputy General Secretary of the NPP, Nana Obiri Boahen
The CID is probing the lawyer for indicating that persons who disrupt EC's processes to register citizens for the new voter roll would be beaten to a pulp.
"Stay home if you don't agree to the compilation of the new register because anyone who tries to disrupt the exercise will be beaten. We will beat you mercilessly," he said on Dadi FM, a Suhum-based radio station.
We'll beat you mercilessly if you try to disrupt voters' register compilation – Obiri Boahen warns
3. Former spokesperson of the erstwhile Armed Forces Revolutionary Council (AFRC), Major Boakye Gyan (Rtd)
The ex-serviceman was arrested on Tuesday, May 19, 2020, in his hometown. This was after he asked the EC to be cautious in rolling out the voter registration, which he said could cause civil unrest in Ghana.
He was granted bail in the sum of GHC200,000 with one surety and ordered to report at the Drobo District Police station once every week.
He pointed out in an interview with Okay FM in May that Ghana was not immune to civil wars in Africa that were caused by electoral challenges.
4. Bono Regional Chairman of the New Patriotic Party (NPP), Kwame Baffoe 'Abronye DC'
The controversial NPP member is being investigated by police for allegedly stating that former President John Dramani Mahama was behind a plot to hire NDC agents to assassinate some NPP personalities.
Through his lawyers, Mr Mahama petitioned the CID on May 6 to probe the allegations, which he described as false.
The police invited Abronye on May 21.
5. NDC Communications Officer, Sammy Gyamfi
Mr Gyamfi had just finished an interview at UTV on Monday, January 27, when police bundled him into a car at the entrance of the station and took him to the CID headquarters.
Mr Gyamfi, who was granted bail the same day, was slapped with charges of possession of forged documents and publication of false news with the intent to cause fear, panic and alarm.
It was in relation to a Facebook post he made weeks earlier.
6. NDC National Chairman Samuel Ofosu-Ampofo
Mr Ofosu Ampofo and one other NDC official are in court to defend a leaked tape in which they were allegedly heard inciting violence against the leadership of the Electoral Commission (EC) and the National Peace Council (NPC).
The ongoing trial has been adjourned indefinitely after his last appearance on May 6 at the Accra High Court.
Mr Ampofo has pleaded not guilty to two counts of assault against a public officer.
7. Former Deputy General Secretary of the NDC, Koku Anyidoho
Mr Koku Anyidoho was initially charged with three charges of causing fear, alarm and treason felony.
He made comments which were interpreted to mean a plot to overthrow the Akufo-Addo government through a revolt.
Mr Koku Anyidoho in an interview with Accra-based Happy FM had suggested that President Akufo-Addo was likely to suffer a fate similar to his father who was overthrown as president by a military coup in 1972.
This was in relation to the controversial Ghana-US military defence cooperation agreement.
8. MP for Assin Central Kennedy Agyapong
The loud-mouthed legislator had fingers pointing at him when undercover journalist Ahmed Hussein-Suale was shot and killed by unknown gunmen on a motorbike on January 16, 2019.
Prior to that, Mr Agyapong had circulated pictures of him on TV and social media and asked people to attack him.
His crime was his contribution to the Number 12 expose, spearheaded by Anas Aremeyaw. Both reporters worked at Tiger Eye PI.
The murder of the journalist sparked outrage leading to an invitation by the police for Mr Agyapong's statement.
The case did not end there as Mr Agyapong revealed that he was later detained at a US airport over the same issue. The MP said he was grilled for more than four hours by US security officials before being released.