Yields: 4 Prep Time: 15 mins Cook Time: 20 mins Total: 35 mins
Recipe: Rosemary Mashed Potatoes
These Rosemary Mashed Potatoes are a fluffy, buttery, and perfectly seasoned side dish that everyone will reach for this holiday season. While they are a great addition to any holiday table, they're also a classic year-round side to pair with your favorite main. This recipe is also easy to double for a crowd (it disappears fast!), and it's super make-ahead-friendly for those busy days ahead.
Ingredients
There's nothing better during the holiday season than a no-fuss, yet delicious, a side dish that requires a few simple ingredients. In fact, you likely already have the ingredients on hand.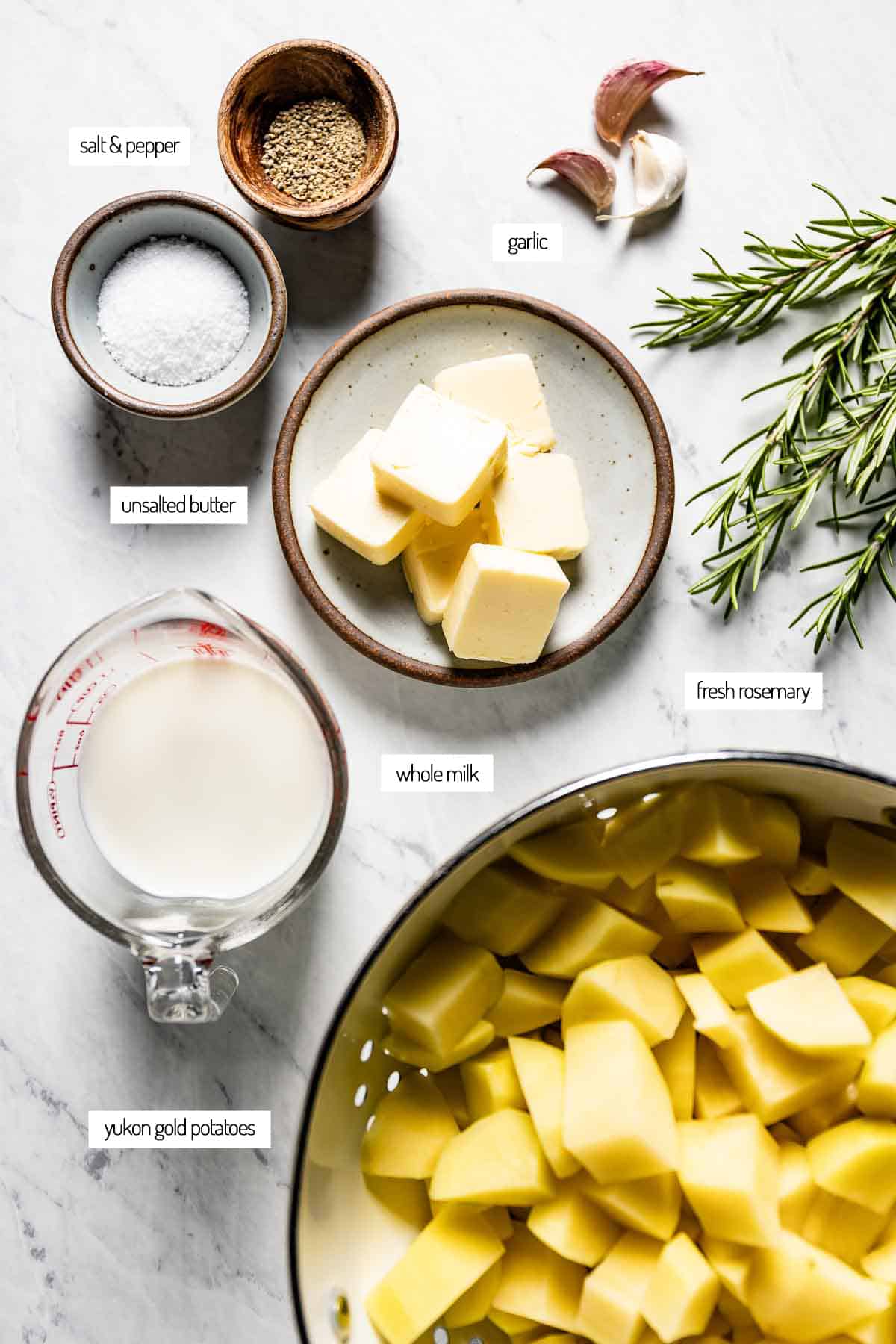 To make these garlic rosemary mashed potatoes, gather Yukon Gold potatoes, salt, whole milk (or your milk of choice), unsalted butter, fresh rosemary, fresh garlic cloves, kosher salt, and ground white pepper or black pepper.
Substitutions
Our fridges and pantries seem to be extra full this time of year, so feel free to make ingredient substitutions to use what you have on hand or to accommodate dietary restrictions. After all, potatoes mixed with lots of butter and rosemary are bound to be good no matter how you make them!
Potatoes: I prefer Yukon Gold potatoes for this recipe because they're buttery and easy to cook, but red potatoes would also work if you can't find Yukon Golds. You can also substitute russet potatoes in a pinch.
Milk: The whole milk in this recipe yields a smooth texture and lots of creamy goodness, but you can also substitute half and half or even heavy cream for a rich flavor and extra creaminess. Non-dairy kinds of milk like almond milk or oat milk would also do the trick.
Butter: While this recipe requires a lot of dairies, don't stray away if you're a vegan or lactose-intolerant! Simply substitute your favorite brand of vegan butter for a non-dairy alternative.
Garlic: If you love a kick of garlic flavor and want to take these mashed potatoes to the next level, you can use roasted garlic in this recipe. Simply follow my recipe for Roasted Garlic (using heads of garlic), or make Air Fryer Roasted Garlic if you're in a rush. In a pinch, you can also use garlic powder instead.
No fresh rosemary, no problem: To me, the addition of fresh rosemary makes it taste and smell like Christmas, but if you cannot get your hands on fresh rosemary, you can use dried rosemary (1 teaspoon should be sufficient). However, please be aware that the rosemary flavor will be less potent.
How to Make This Recipe?
These rosemary garlic mashed potatoes are a life-saving side dish, especially during the holidays, because you can whip them up in no time. They require little effort for a big reward! Here's how to make them: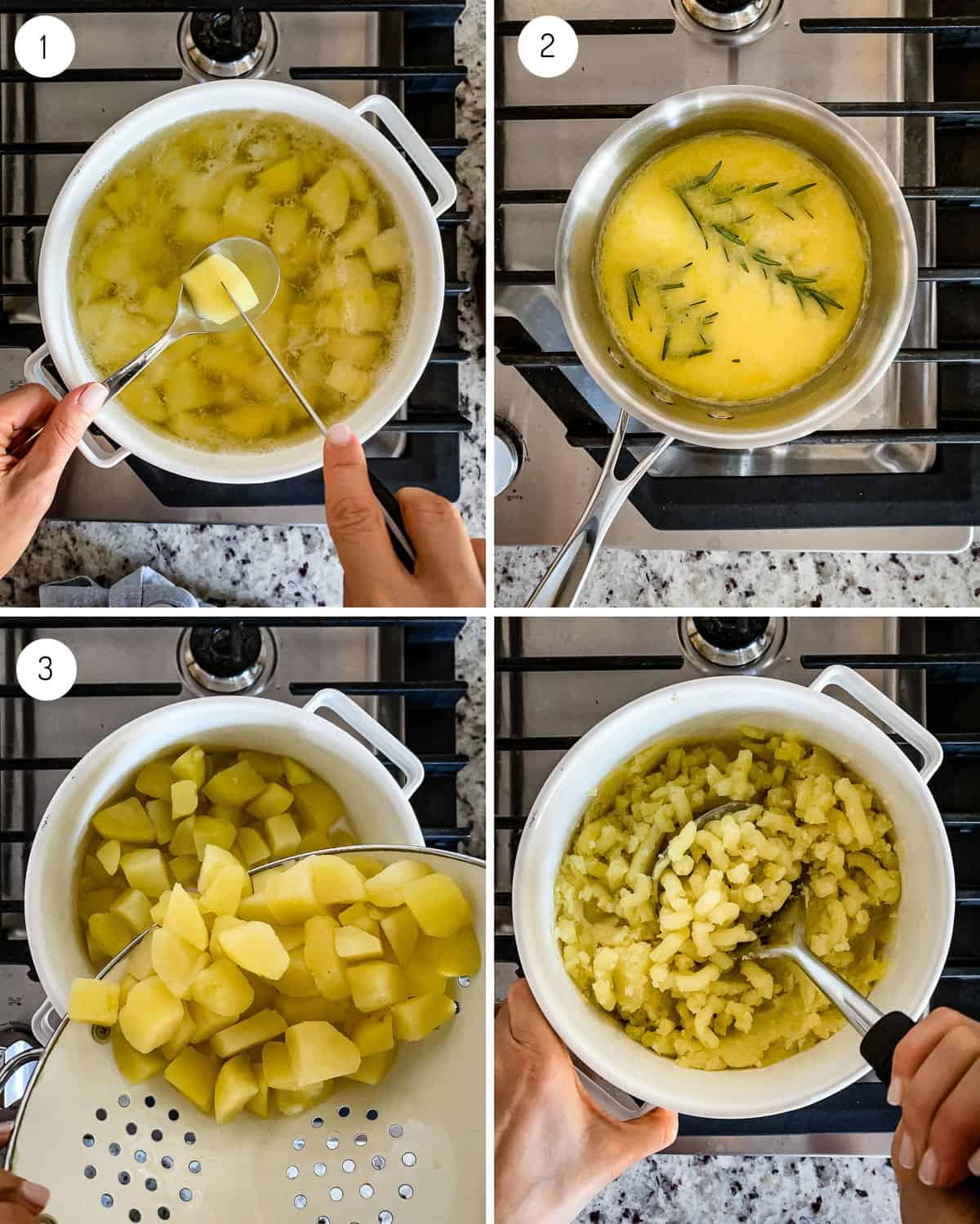 Boil the potatoes: Add the cubed and peeled potatoes to a medium saucepan and cover with cold water. Bring to a boil over medium-high heat and add the salt. Cook potatoes for about 15-20 minutes or until fork tender. Drain and place the potatoes back in the pot. Set aside.
Melt the butter: Add the milk and butter to a small saucepan. Cook over medium heat until the butter is melted (no need to bring it to a boil). Turn off the heat, add the rosemary sprigs and garlic, and let it sit for about 10-15 minutes. Keep in mind that the rosemary flavor gets stronger as it steeps.
Mash the potatoes: While the rosemary is steeping, use a potato masher or a food mill to mash the potatoes until creamy and smooth (or your desired consistency).
Add the milk mixture: Remove the sprigs of rosemary from the milk and melted butter mixture and pour it over the mashed potatoes. Stir until well combined.
Season: Season the potatoes with salt and pepper, taste, and add another pinch of salt or more ground pepper if needed.
Serve: Transfer the potatoes to a large bowl, top with chopped rosemary, and serve.
How to Make Ahead, Store, & Freeze?
If your holiday schedule (or schedule in general) is a bit hectic, you can make this dish ahead of time to relieve some stress on busy days. Simply store it in the fridge until you're ready to serve, and pop it in the oven to reheat. Here are some tips:
Make ahead & reheat: I recommend making these potatoes no more than a day in advance. To store, let the potatoes cool to room temperature, place them in an oven-safe dish (to make for easy reheating), cover it with stretch film, and place it in the fridge. Reheat in a low-heat oven for about 15 minutes, making sure to stir a few times for even reheating. If you're making this recipe for a holiday dinner, pop them in the oven after your turkey or ham comes out to take advantage of an already-warm oven.
Store: The best way to store your garlic and rosemary mashed potatoes is in an airtight container in the fridge for up to 2-3 days.
Freeze: If you made too much or want your potatoes to last longer than a few days, you can store them in the freezer. Make the potatoes, let them cool completely, and store them in an airtight freezer bag or a freezer-safe container for up to one month.
What to Serve It With
Mashed potatoes provide a buttery flavor and richness that pairs beautifully with a variety of main dishes. Serve them with your favorite protein for a hearty, satisfying meal, or pair them with a vegetarian main for a touch of comfort and creaminess. Here are some suggestions:
Chicken: Elevate a simple chicken dish by adding mashed potatoes with rosemary for a restaurant-quality meal. The creaminess of the potatoes pairs so well with my Greek Yogurt Chicken recipe, Chicken Breast Fricassee, and Cornish Game Hens (which is why it is one of my favorite Cornish Hen Side Dishes).
Beef: Potatoes and beef are a classic combo! Serve this with a good old steak dinner, my Pressure Cooker Roast or for an international flair, try serving my Kofte Recipe over a generous bed of mashed potatoes.
Turkey: Would a Thanksgiving table be complete without turkey and mashed potatoes? I think not. Serve this rosemary mashed potato recipe with my Healthy Turkey Meatloaf for a year-round dinner, or serve them during the holidays alongside Turkey Tenderloin, Turkey Legs, or Air Fried Turkey Drumsticks.
Vegetarian: If you'd like your vegetarian meal to be a bit more hearty and filling, don't be afraid to throw some potatoes on the plate. Some of my favorite vegetarian recipes are Vegan Stuffed Eggplant and Cauliflower Coconut Curry.
Expert Tips
Do you want to know how to make your mashed potatoes taste as if they came from a 5-star restaurant? Below, I compiled a few expert tips that make all the difference when it comes to elevating the flavor and texture of your recipe.
Fresh rosemary: The fresh, earthy flavor notes of the rosemary blend so well with the garlic and butter in this recipe. Just keep in mind that the longer the rosemary "steeps" in the butter and milk, the stronger the flavor. Because of this, I don't recommend letting the rosemary steep overnight. I found that the sweet spot is only 10-15 minutes.
Salted water: Always make sure to salt your water when boiling potatoes, as it seasons the potatoes and contributes to a creamy texture. I recommend adding 1-2 tablespoons of salt to the water when boiling.
Consistency/texture: My favorite tool to use for mashed potatoes is a potato masher, but a food mill, potato ricer, or hand mixer would also work well to achieve a creamy, smooth texture. I recommend sticking to handheld tools and avoiding tools like food processors or blenders, as they result in a gummy texture.
Double the recipe: If you're serving this recipe for a holiday dinner or a large crowd, feel free to double the recipe as many times as you need. You can even make a little extra for those who may want a second helping (who wouldn't?).
Taste for seasoning: Mashed potatoes aren't nearly as good when they're bland, so make sure to taste for seasoning before serving. Feel free to add in some extra salt or ground pepper to enhance the flavors of the dish.