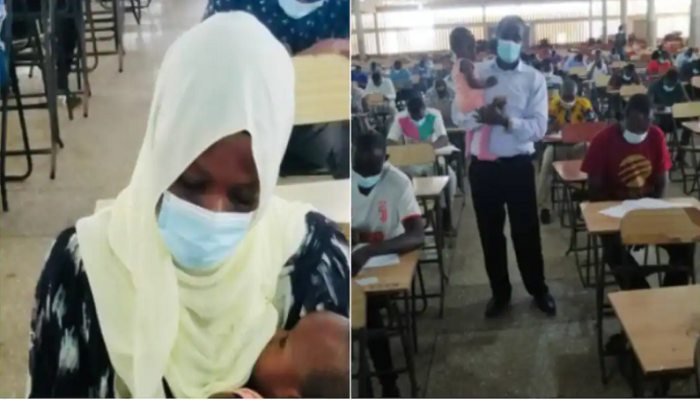 This mother in Tamale wrote oil and gas test while nursing baby
The cameras caught a young woman who was nursing her baby while writing an aptitude test as part of the Accelerated Oil and Gas Capacity (AOGC) Programme in Tamale, the capital of the Northern Region.
The photo, which gave credence to the belief that there is no off-day in motherhood, was first published on Twitter on Sunday, May 30 by Gabby Otchere-Darko, a lawyer and a former executive director of the New Patriotic Party (NPP)-affiliated think tank, Danquah Institute.
The photo is one of two. While we see our heroine attending to her baby in the first while she is focused on her test, the second photo shows a man, perhaps, an invigilator, taking some load off the mother by carrying the child.
We are not certain of the woman's identity, however, Otchere-Darko's post was accompanied by the caption: "This determined mum turned up with her suckling baby at the WAEC Hall, Tamale, yesterday to write an aptitude test for selection to training as a mechanical technician under the [government's] Accelerated Oil and Gas Capacity Building Programme [AOGC]. 100 youths from across Ghana were selected".
Expectedly, some of the comments on the tweet had a lot of praise for the young mother with one tweeter saying: "God bless the hustle of mothers".
AOGC was launched in November 2017 by President Nana Addo Dankwa Akufo-Addo to create opportunities for Ghanaians in the upstream oil and gas sector. It is supported by multiple upstream oil firms operating in the country as part of the process to boost local content in oil and gas production in Ghana.
The programme is also aimed at developing the capacities of Ghanaian technical and vocational institutions as well as universities to offer world-class training and certifications for the oil and gas industry. Hundreds of Ghanaians have been trained so far through the AOGC.