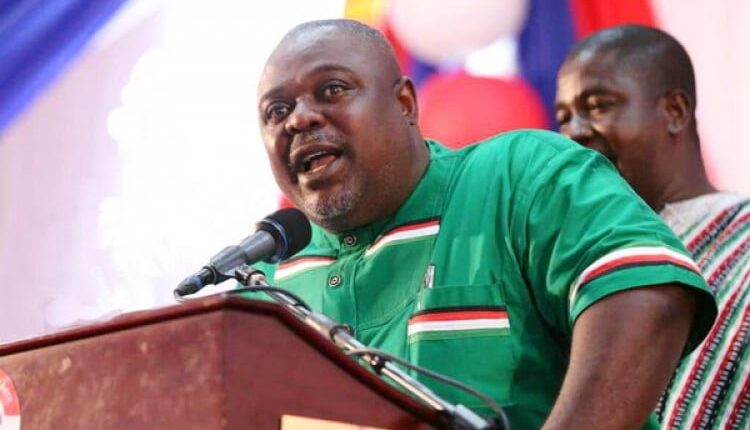 This too shall pass – Anyidoho speaks after dismissal from NDC
A former Deputy General Secretary of the National Democratic Congress (NDC), Samuel Koku Anyidoho, has responded to his dismissal from the party.
He believes his political career is on course and his current troubles with the NDC would soon be forgotten.
"This too shall pass," he replied to the dismissal letter less than 24 hours after it was issued by the NDC General Secretary Johnson Asiedu Nketia.
Likening the sack from the party to the Biblical story of Joseph when his brothers sold him into slavery, he said, with time, he would be exonerated.
One of the series of tweets he posted on Twitter read, "vindication lies in the womb of time. Shalom."
"When Joseph's brothers sold him into slavery; they did not know they were selling him into his God-given destiny to become a Prime Minister in Egypt. What evil men mean for wickedness; God turns it around for good. I am a Son of God".
He continued: "My Bible tells me that in all things, I should give thanks to God Almighty for His grace and mercies. I love Ghana," he added.
Meanwhile, Mr Anyidoho, the Founder of the Atta-Mills Institute, has pledged his commitment to keeping the legacy of the man whom he served under his administration as the Head of Communications.
In the tweet, he said, "I continue to remain focused on growing the Atta-Mills Institute, building Asomdwee Park, and flying high the legacy of President Atta-Mills."
"My prayer is for Prez Akufo-Addo to build Asomdwee Park & shame the pretenders," he jabbed.
Earlier, he had expressed concerns over the current administration of the NDC party, also through a tweet.
He noted that Article 25 of the NDC's constitution stipulates that when the NDC is in opposition without a flag bearer, the National Chairman is the leader of the party.
"Anyone who refers to himself/herself as Co-Leader in contravention of the NDC's Constitution is a dreamer," he tweeted.
NDC sacks Anyidoho
Mr Anyidoho was expelled from the NDC on Tuesday, July 27, 2021, after the party's Functional Executive Committee (FEC) found him guilty of "misconduct and anti-party behaviour".
FEC acted upon a report and recommendation of the National Disciplinary Committee in the said allegations and recommended his outright expulsion from the party.
He has since been directed to return any party property in his possession, adding that he would "forfeit any money, dues, or subscription fees that you may have made to the party."
Anyidoho will bring jubilation to party members – Asiedu Nketiah
The General Secretary, Johnson Asiedu Nketiah, contends that the expulsion of Mr Anyidoho would bring widespread jubilation to party members.
According to him, the party was under immense pressure by members of the party, including his constituents, to make a decision on Mr Anyidoho's fate in the party.
"We think that this decision will actually bring entire jubilation across the country because we have been under enormous pressure to act speedily, but we kept our membership reminded that we have all subscribed to a party constitution and due process for everything that we do so they should exercise patience and let us go through the full cycle."
"So our members were actually impatient with us over this decision and if we had listened to them even including his constituents, we would have even acted in breach of the party constitution, but we felt that every offender should have his day in court.
"So let us afford him the opportunity to purge himself of any wrongdoing. But unfortunately, he declined that opportunity, and we didn't have any option other than to bring the full force of the law on him," Mr Asiedu Nketiah said in an interview on Citi FM which was monitored by The Ghana Report.