Top 10 Young Midfielders Under 25, To Look Out For At The World Cup in Qatar
In football, a midfielder is marked out as a player whose usual position is in the central area of the playing field between the two goals.
Midfielders are described as the most active players on the field of play.
They play both offensive and defensive roles in their respective clubs and national teams.
They are mostly referred to as engine rooms in football on the field of play.
As carbohydrates is referred to as the body's primary source of energy, so is likened to midfielder's role in football.
An attacking or offensive midfielder is a midfield player who is positioned in an advanced midfield position, usually between central midfield and the team's forwards, and who has a primarily offensive role.
Their qualities includes but not limited to; quick and accurate distribution to target forwards, dribble with slotted passes to forwards, penetrating passes to break the lines of opposing teams among others.
A typical offensive midfielder in football today is Luka Modric.
The Real Madrid and Crotian star ticks all the boxes of a top class attacking midfielder in football today.
Modric's ability to link play so effectively, and be both shield and supply line, is borne out of his immaculate technical ability.
Modric's elegance, trickery, work rate, defensive awareness, dribbling, and passing are all elite. These qualities have made him an all-round midfielder and ensured his prolonged stay at one of the best clubs in the world.
Defensive midfielders are midfield players who focus on protecting their team's goal. These players may defend a zone in front of their team's defense, or man mark specific opposition attackers.
They have; the ability to read the game, stamina and strength, tackle well, superior passing ability and vision, discipline and positioning.
The former Real Madrid player, Casemiro plays as a defensive midfielder  who is known for his football intelligence, his physical strength and his extremely high work-rate.
He is a hard tackler with a powerful shot that helped him contribute goals to the Madrid cause since he move to Spain from Sao Paulo in 2013.
The Brazilian plays as a defensive midfielder, although he has also been deployed in a box-to-box role in the centre of the pitch, and even as a centre-back on occasions.
More than any other sport, football is about being athletic, fast, quick, and strong. These physical attributes are vital in the sport, but are also the first attributes that any person loses with age.
In addition, the physical pounding that most football players take can break down even the strongest bodies over time.
The TGR sports desk takes a look at the top 10 midfielders under the age of 25,to keep an eye on at the FIFA world cup to be staged in Qatar in November.
1.Jude Bellingham-19
Jude Victor William Bellingham is an English professional footballer who plays as a midfielder for Bundesliga club Borussia Dortmund and the England national team.
Bellingham joined Birmingham City as an under-8, became the club's youngest ever first-team player when he made his senior debut in August 2019, at the age of 16 years, 38 days, and played regularly during the 2019–20 season. He joined Borussia Dortmund in July 2020, and in his first competitive match became their youngest ever goalscorer.
As an attacking midfielder who can also play as defensive, he is versatile and unpredictable wherever he plays.He likes to drift from his starting position – from central midfield to wide to combine with a wide midfielder or full-back, or from wide into a position between the lines.
He represented England at under-15, under-16, under-17 and under-21 levels. He made his first appearance for the senior team in November 2020, representing the country at the UEFA Euro 2020.
Bellingham placed second in the golden boy awards(kopa trophy) in 2021 hosted by French magazine 'France Football' at the  Ballon d'Or ceremony in Paris.
2. Jamal Musiala-19
Jamal Musiala,born 26 February 2003, is a German professional footballer who plays as an attacking midfielder, left winger or central midfielder for Bundesliga club Bayern Munich and the Germany national team.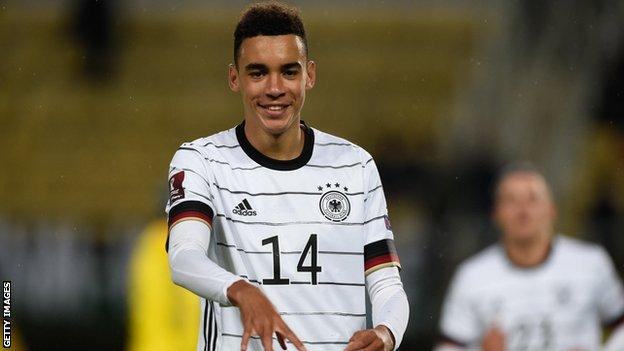 Born in Germany to a Nigerian father and German mother and raised mainly in England, Musiala represented both Germany and England at youth level, and eventually pledged his allegiance to the Germany national team for future games in February 2021, representing the side at UEFA Euro 2020.
Musiala excels as a winger, an attacking midfielder, and even as a defensive midfielder.
Nicknamed 'Bambi' by club and country teammate Leroy Sane, Musiala is as fleet-of-foot as his namesake and a creative force with the ball at his feet.
This role displays Musiala's mastery of the one-on-one and his top speed of 20.3 miles an hour — compared to 19.8 as a defensive midfielder and 20.1 as an attacking midfielder — makes him a handful for full-backs in a footrace.
Add to that his ever-bulging eye for goal and you can see how Musiala is developing into a devastating force from out width.
Musiala became the youngest goalscorer in Bayern's Champions League history – and the third youngest of any team in the competition – back in February, 2021. He made his senior debut for Germany the following month, getting his first international goal in October.
Musiala came third in the 2021 golden boy awards hosted by French magazine 'France Football'.
3. Mohammed Kudus- 22
Mohammed Kudus (born 2 August 2000) is a Ghanaian professional footballer who plays as a midfielder for Eredivisie club Ajax and the Ghana national team.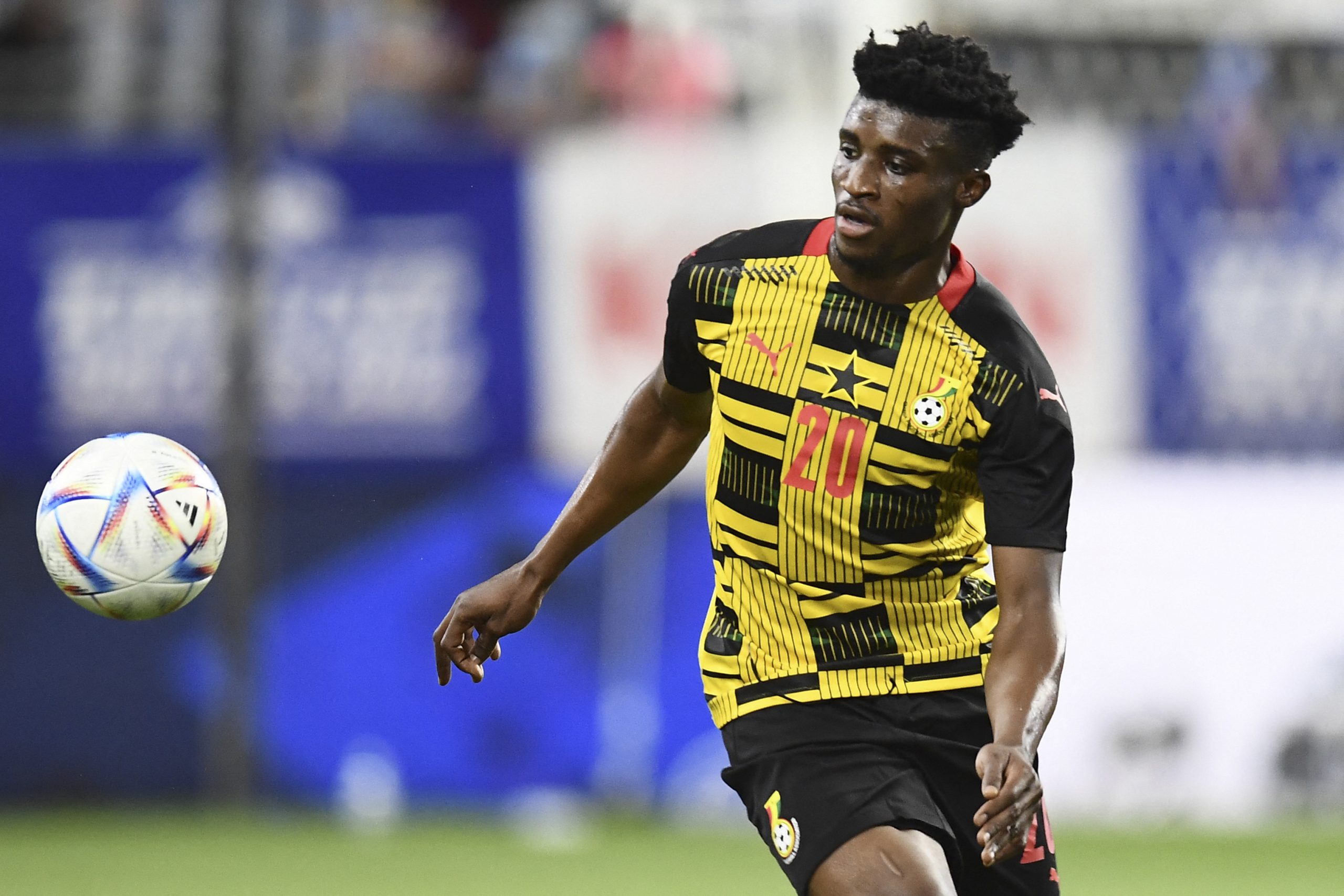 Kudus arrived at Danish club Nordsjælland from the Ghanaian Right to Dream Academy, which he joined at the age of 12, in January 2018.
On 16 July 2020, Kudus signed for Eredivisie club Ajax for €9 million, on a five-year contract. He made his official debut for the club on 20 September in a league match against RKC Waalwijk. His former head coach Erik ten Hag subsequently called Kudus as a player with "incredible potential".
In 2021, Kudus won the Eredivisie Talent of the Month for May.
He won the Sports Writers Association of Ghana's Foreign Footballer of the Year in 2021.
Power, pace, flamboyance, technique and agility are some of the attributes that one will appreciate immediately they set eyes on Kudus but one has to look beyond the surface to understand how he puts it all together.
His greatness rests in his ability to play the game at his own pace. Its almost as if he sees the game in slow motion.
He will not be hurried off the ball or be forced to succumb to the speed of activity around him.
The midfield sensation will be a delight to watch at the FIFA world cup in Qatar come Novemeber.
4. Pedri- 19
Pedro González López (born 25 November 2002), known as Pedri, is a Spanish professional footballer who plays as a central midfielder for La Liga club Barcelona and the Spain national team.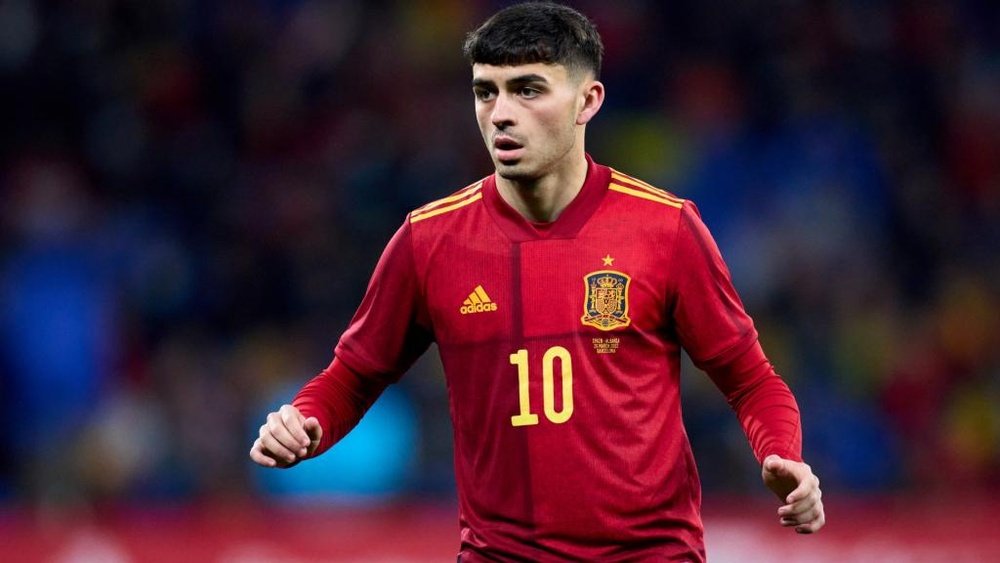 Pedri joined Las Palmas's youth setup in 2018 from Juventud Laguna.
On 2 September 2019, Barcelona reached an agreement with Las Palmas for the transfer of Pedri, effective as of the following July,1, 2020. The player agreed to a two-year contract with the Catalan club, who paid €5 million for the deal, which would increase as he fulfilled various clauses in his contract.
Pedri made his debut on September, 27, 2020, replacing Philippe Coutinho in a 4–0 home win against Villarreal in La Liga.
On 24 May 2021, Pedri was included in Luis Enrique's 24-man squad for UEFA Euro 2020.On 14 June, he became the youngest player ever to represent Spain at the European Championships, when he started in the 0–0 draw against Sweden aged 18 years, 6 months and 18 days, breaking the previous record set by Miguel Tendillo in Euro 1980.
The website 'Transfermarkt' has increased the Spain international's market value to €90 million, making him the most valuable midfielder in the world.
His passing accuracy, through balls, long shots and dribbling is unmatched.
The teenager's most striking quality is his natural ability in carrying the ball.
The native of Tenerife has all the hallmarks of a traditional attacking player: expression, flair, and bravery to stand defenders up.
Pedri is the first footballer in history to have won 6 individual awards at the age of 19 – Golden boy Award(Kopa Trophy-2021), EURO 2021 Young player of the Tournament, IFFHS best youth player, Aldo Rovira Trophy and UEFA breakthrough player of the year.
5.Gavi- 18
Pablo Martín Páez Gavira born 5 August 2004, known as Gavi is a Spanish professional footballer who plays as a central midfielder for La Liga club Barcelona and the Spain national team.
In 2015, at the age of 11, he signed for Barcelona.
In September 2020, he signed his first professional contract with the Catalan club, and was promoted directly from the under-16 team to the under-19 team. He made his debut for Barcelona on 21 February 2021.
He continued this good run of form in a 3–0 win against German opposition VfB Stuttgart, earning comparisons with Barcelona legend Xavi.
On 30 September 2021, Gavi received a surprise call-up to the senior Spain national team by the manager Luis Enrique. He made his debut in their UEFA Nations League semi-final win against Italy on 6 October, becoming the youngest player to ever represent Spain at senior level.
In the final against France on 10 October, Spain ultimately suffered a 2–1 defeat.
6. Declan Rice- 23
Declan Rice, born 14 January 1999 is an English professional footballer who plays as a defensive midfielder or centre-back for Premier League club West Ham United and the England national team.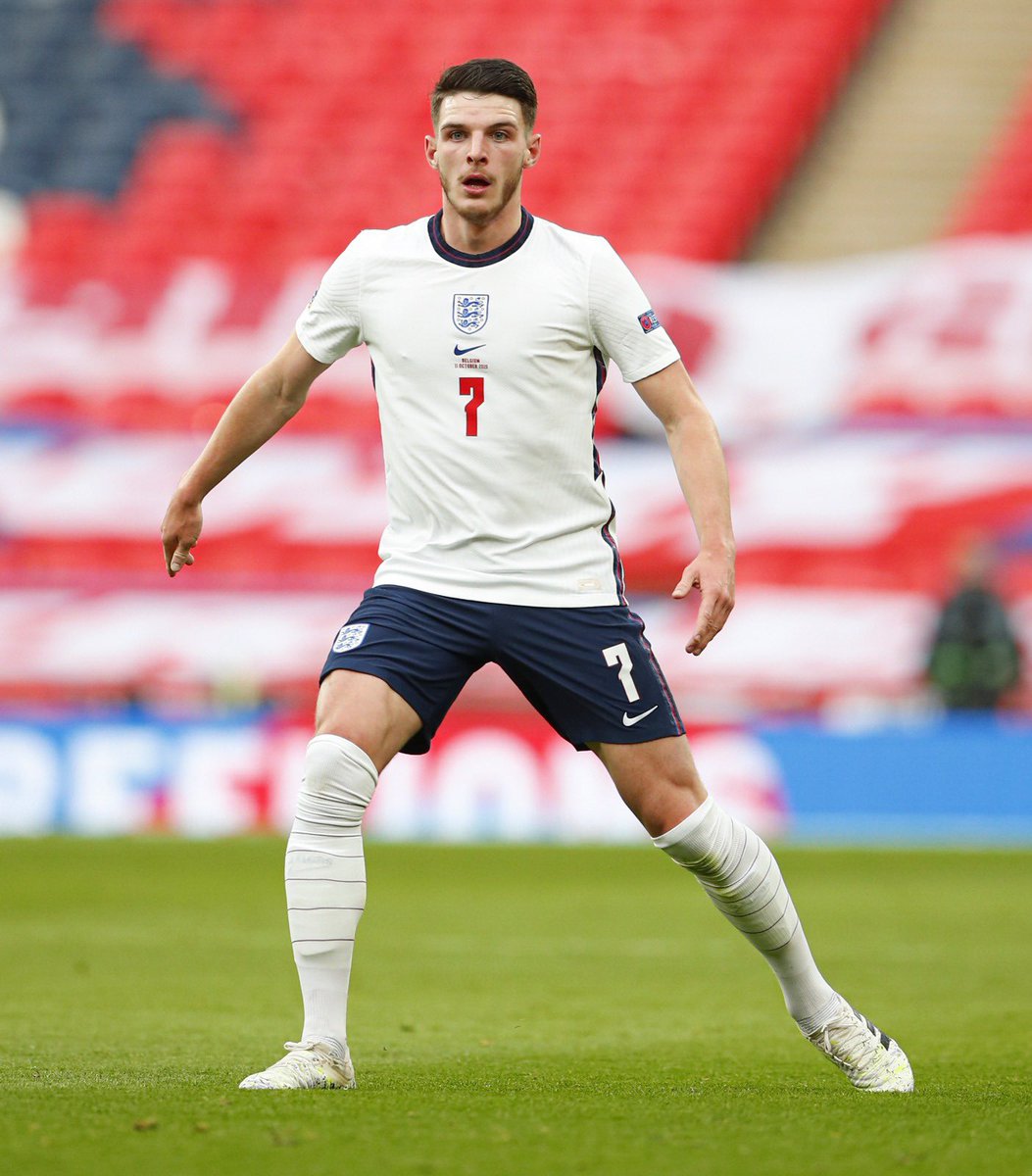 Born in England, Rice has paternal Irish grandparents and previously represented the Republic of Ireland internationally at both youth and senior levels, before switching allegiance to England in 2019.
Rice is a tenacious player, strong in the tackle and combative in the air. He is two-footed, and able to jockey opponents in either direction, and to turn and sprint either way should his opponent knock the ball past him and try and beat him for pace.
On March 13, 2019 he was called up by England for their UEFA Euro 2020 qualification matches against the Czech Republic and Montenegro.He made his debut on 22 March as a 63rd-minute substitute against the Czech Republic at Wembley Stadium.
Rice won West Ham United Young Player of the Year in 2016-2017.
He won West Ham United Player of the Year: 2019–20, 2021–22
7. Moses Caicedo-20
Moisés Isaac Caicedo Corozo, born 2 November 2001 is an Ecuadorian professional footballer who plays as a midfielder for Premier League club Brighton & Hove Albion and the Ecuador national team.
On 1 February 2021, Caicedo joined English side Brighton & Hove Albion on a four and a half year deal, for an undisclosed fee.
He made his debut for Brighton on 24 August starting in the EFL Cup second round away fixture at Cardiff City where he set up Andi Zeqiri's first Albion goal in the 2–0 win.
Caicedo debuted for the senior Ecuador national team in a 1–0 2022 FIFA World Cup qualifying loss to Argentina on 9 October 2020.
He scored the opening goal in a 4–2 home win over Uruguay on 13 October 2020 at the Estadio Rodrigo Paz Delgado, becoming the first player born in the 21st century to ever score in CONMEBOL World Cup qualifying.
Caicedo is a versatile midfielder with significant physical and technical potential. He is tactically astute for his age, full of confidence, and willing to take the initiative with the ball and to make himself available as a passing option.
Prior to the winter's deadline date on August 31, he was strongly linked to a move to Manchester United.
8. Aurélien Tchouaméni -22
Aurélien Djani Tchouaméni (born 27 January 2000) is a French professional footballer who plays as a defensive midfielder for La Liga club Real Madrid and the France national team.
On 29 January 2020, Tchouaméni signed a four and a half year deal with Ligue 1 side Monaco.
On 11 June 2022, it was announced that Tchouaméni would be transferred to La Liga side Real Madrid on 1 July 2022, signing a six-year contract with the club. Real Madrid paid a whopping transfer fee around €80 million to sign Tchouameni after seeing off competition from European rivals to land the player.
On 26 August 2021, he received his first call up to the France senior squad. On 1 September, he made his international debut in a 2022 FIFA World Cup qualifying game against Bosnia and Herzegovina replacing Thomas Lemar in the 46th minute.
On 25 March 2022, Tchouaméni scored his first goal for the national team in a friendly against Ivory Coast.
He has a forward-thinking mentality that means he regularly breaks lines with passes through or over the opposition, while he also progresses play with diagonal switches.
He disguises passes expertly, and uses that skill to good effect to filter passes through to more advanced teammates.
Back in Monaco, Tchouameni was Ligue 1's best defensive presence in the middle of the park, averaging a whopping 2.5 tackles and 2.9 interceptions per game.
Data that makes football, SofaScore digitally presented the "Sofa Award" for the best "ball winner" in 2021 to Aurélien Tchouameni.
9.Edson Alvarez- 22
Edson Omar Álvarez Velázquez born 24 October 1997 also known as El Machín is a Mexican professional footballer who plays for Eredivisie club Ajax and the Mexico national team.
Mainly a defensive midfielder, he is also capable of playing as a centre-back.
On 19 July 2019, Dutch club AFC Ajax announced an agreement with Club América for the signing of Álvarez on a five-year contract, subject to a medical, for a reported fee of US$17 million.
He successfully passed his medical and was officially presented on 22 July, being handed the number 4 shirt which had been vacated following the departure of Matthijs de Ligt.
The club announced an official transfer sum of €15 million.
On 30 January 2017, Álvarez received his first call up to the Mexican senior national team for a friendly against Iceland.
In May 2018, Álvarez was named to Mexico's preliminary 28-man squad for the World Cup.He was the youngest player on the list. He was ultimately included in the final 23-man roster revealed on 4 June weeks to the world cup. He started in the round-of-16 defeat to Brazil.
Alvarez possesses brilliant ability and confidence on the ball and is adept at dribbling and passing. He often looks to break the opposition.
He is a very good defensive midfielder, as he has won 67% of his tackles so far this season. He also won 71% of his tackles last season, and 60% the season before that, indicating that he's a very good tackler too.
His passing is also very good.
Chelsea launched a late €50m bid for Edson Alvarez from Ajax, player wanted the move but Ajax rejected the bid.
10.Federico Valverde- 24
Federico Santiago Valverde Dipetta, born 22 July 1998 is a Uruguayan professional footballer who plays as a central midfielder for La Liga club Real Madrid and the Uruguay national team.
He is a versatile player known for his pace, stamina, and work rate, he can also be deployed as a defensive midfielder, a right winger, and occasionally a right-back.
In July 2016 he was transferred from Peñarol to Real Madrid, being assigned to the B team.
On 23 October 2018, Valverde made his official Real Madrid senior debut in the UEFA Champions League Group stage against Viktoria Plzeň at the Bernabéu at just 20 years old. He made 25 appearances and won the FIFA Club World Cup in his first season with the first team.
In the 2021-2022 season, Valverde assisted the only goal making Real Madrid teh champions of Europe for the 13th time.
Federico Valverde was awarded Silver Ball at the 2017 FIFA U-20 World Cup as Uruguay finished fourth in the tournament.
In August 2017, he was called debuted with the Uruguay national football team and scored his first international goal with the senior team in a match against Paraguay. He was named in Uruguay's provisional 26-man squad for the 2018 FIFA World Cup, but he was left out of the final 23-man squad.
Valverde was included by manager Óscar Tabárez in the final 23-man Uruguay squad for the 2019 Copa América in Brazil. In the quarter-finals against Peru on 29 June, a 0–0 draw after regulation time saw the match go to a penalty shoot-out; Uruguay lost the shoot-out 4–5 and were eliminated from the competition.
Valverde is arguably the poster boy for the Uruguay National team, La Celeste (The Sky Blue).
He is a midfield dynamo to look out for at the World cup in November especially for Ghana as the Black Stars have been drawn in group H with Uruguay alongside Portugal and South Korea.
Valverde's greatest strength is his versatility. That he can play in a variety of positions means that he often retains his place in Real's starting XI, regardless of the system the coach deploys.
He is capable of covering large areas of the pitch, therefore making it difficult for opponents to dominate in midfield.