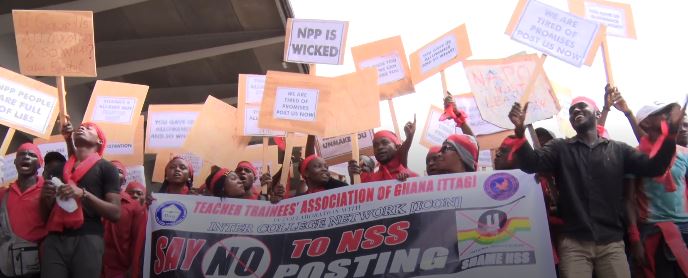 Trainee teachers demonstrate over compulsory national service
Hundreds of unemployed teachers converged on the Obra Spot at Circle in Accra today (Wednesday), to take part in a demonstration to demand postings from the government.
The teachers say they will not adhere to a directive from the government to post them as National Service personnel.
The aggrieved teachers say they intend to march to the Hearts of Oak Park to petition the Vice President, Dr. Mahamudu Bawumia, and the Minister of Education Dr. Matthew Opoku Prempeh.
Some of the teachers who spoke to Citi News said they will resist any move to compel them to do the mandatory national service.
"Although we were supposed to be posted in September, we've been in the house since we completed school in July. But all that we hear is that we should go back and do national service although we have done our teaching practice."
"They should allow the Ghana Education Service (GES) to post us.  They should come clean on their intentions because we don't know whether we will be laid off after NSS."

"GES should come and post us," another said.
There'll be more confusion after demonstration
Meanwhile, the leader of the Coalition of Unemployed Teachers Association, Peter Anderson, has warned that they are prepared to take matters into their own hands if the demonstration doesn't yield any results.
"The third year of our training is when we go out and have our teaching practice. For us, that is serving as our national service. The GES should post us now because it seems our job security will not be assured after the NSS.They should give us our postings because if this demonstration doesn't yield any results, we will soil ourselves."
St. Vincent College of Education students join in demonstration
Students at the St. Vincent College of Education in Yendi joined their colleagues in the various colleges of education to demonstrate against teacher trainees undertaking national service.
More than 10,000 teachers across the country are expected to join the massive demonstration at their various colleges of education across the country.
Jacob Abani Abanga, President of the Student Representative Council of the school accused government of infringing on their rights.
"It looks like government is undermining our rights. In the history of Ghana, no teacher has ever done National Service. We never knew that there was a payback for the allowance they paid us. This is because we are indirectly paying back the money they gave us with the national service we are going to do."
But the Director of Public Affairs at NSS, David Prah, explained that the one-year national service for teachers is now mandatory by law because the teacher trainee colleges have assumed tertiary status and now award diploma certificates.
"I have heard some of the trainees arguing that they were not doing national service. Let's take note that at first colleges of education that used to be called teacher training colleges were not tertiary, so they were not part of the national service bracket. And when they started coming out with a diploma and becoming tertiary…it has become official for them to do national service," he added.
source: citinewsroom