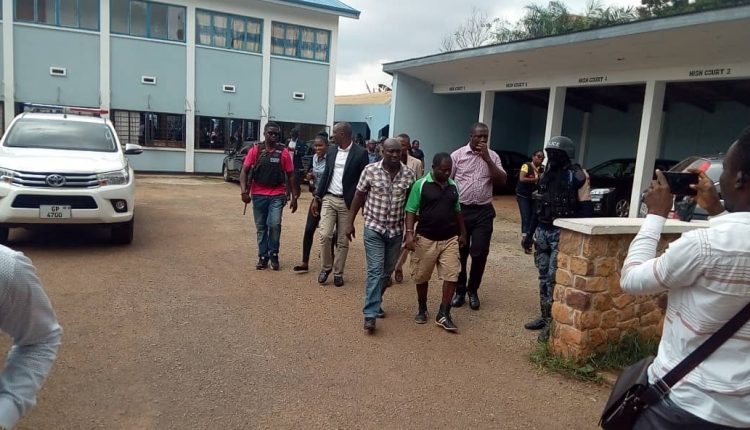 Two Delta Force members remanded over Akoto Osei attack
The two Delta Force members who were arrested by the police over the attack on the Monitoring and Evaluation minister Dr. Anthony Akoto Osei  have been remanded into police custody by a Kumasi Circuit court.
The duo with their colleagues  scuttled an NPP meeting in Tafo, chasing out the Member of Parliament for the Area, Dr Akoto-Osei and the MCE.
Leadership of the group has since apologized and begged for leniency, which was disregarded by the court Wednesday.
According to the Police Prosecutor, Phillip Dagbre, the police haven't concluded investigation into the arrest, and three other members are still on the run.
He said his office prayed the court, presided over by Mrs Lydia Osei-Marfo, to remand them into police custody, to re-appear before the court on October 24, which was heeded.
Lawyer of the accused, William Kusi, disagreed with the decision of the court, saying  the case at hand is a misdemeanor and therefore the suspects are not connected to the case.
The Lawyer insisted that the duo had nothing to do with the disturbances that occurred.
Mr. Kusi told Ultimate FM's Isaac Bediako that he would appeal the ruling to seek justice for his clients in High Court.
The group is reportedly  upset over the numerous unfulfilled promises made to them by Dr Akoto Osei and the leadership of the NPP in the region during the 2016 elections.
NCCE Challenges NPP and Vigilante Groups
The National Commission for Civic Education challenged the NPP to actively pursue security agencies, and the judiciary to swiftly and decisively prosecute vigilante groups in the country.
This according to the chairperson of the commission Josephine Nkrumah, will show the Ghanaian citizenry that the law applies equally to all, devoid of party affiliation.
Addressing a press conference Monday, Ms Nkrumah said the Commission is appalled by the emboldening of vigilante groups in the country due to support by political parties.
Speaking to the direct attack on the Monitoring and Evaluation Minister, she said " Delta Force hoodlums have become notorious for the use of force and violence and total disregard for law and order".
source: starrfmonline