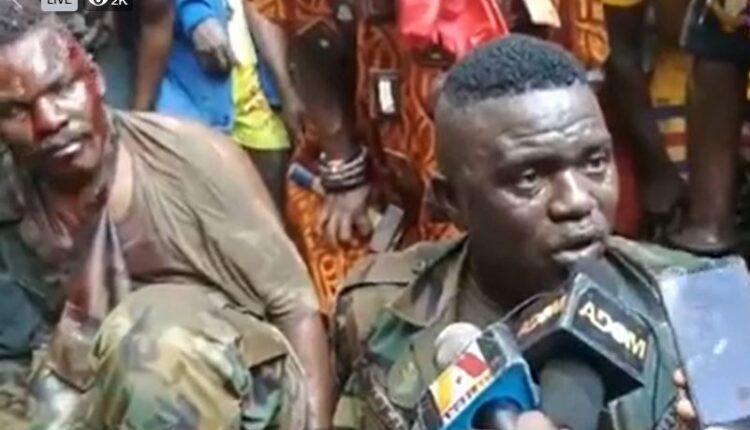 Two 'soldiers' bloodied in brutal assault near Kasoa
Two men believed to be soldiers have been brutally assaulted at Dome Faase near Kasoa, Accra-based Asempa FM has reported. 
The men were attacked at a stone quarry by irate residents of Dome Faase, a town in the Ga South Municipality.
The Accra-based media house reported that the men were guarding the stone quarry which is in dispute.
According to reports, the residents in the early hours of Tuesday, August 25, embarked on a demonstration to protest ongoing works on the land.
The residents ended up at the site where they began pelting stones at the soldiers and a heavy-duty machine.
Asempa FM reported that the soldiers upon sensing danger also began firing warning shots to disperse the angry crowd. But they were overpowered by at least 50 angry residents.
Videos of the assault show the soldiers were slashed with machete in the head and beaten to a pulp.
Their uniforms were ripped apart as they were made to sit on the ground, soaked in blood.
A tent meant for the soldiers was also set ablaze by the irate residents.
Two residents have also reportedly sustained gunshot wounds.
The identities of the 'soldiers' cannot be immediately verified, but some residents were heard in a video doubting their profession.
Theghanareport.com contacted the Spokesperson of the Ghana Armed Forces, Col. Eric Aggrey Quarshie for a reaction to the development, but he failed to comment.
The incident would trigger worrying reminder of the fatal assault on a captain, Maxwell Mahama in 2017.
On May 29,2017, residents of Denkyira-Obuasi in the Central Region lynched an army officer, Captain Maxwell Adam Mahama to death after allegedly mistaking him for an armed thief.
The mob attacked and beat him to death with stones, building blocks, and sticks, after which they set him on fire. The horrific act which was captured on video was greatly condemned. Investigations into the murder of the army officer led to the arrest of some town folks.
The incident which got the attention of many also sparked a campaign against instance mob justice in Ghana. There were several calls for action on the killers, over 50 people were arrested in connection to his death.