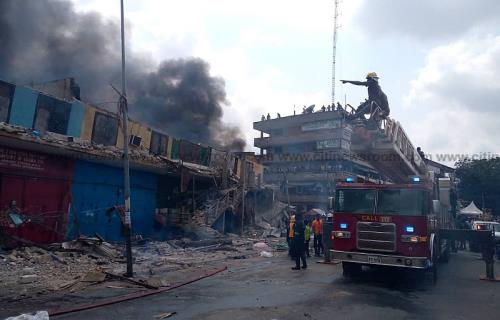 Two Suspects Nabbed Over Aboabo Fire Incident
The Ashanti Regional Police command has arrested two persons suspected to have ignited a fire that destroyed some 30 shops in a storey building at Aboabo station in Kumasi on Sunday January 10, 2021.
The two suspects arrested by the Police are Kofi Gyimah, a 37 year old electric welder and Paul Akwasi Kwakye , a 51 year old shop owner.
The electric welder whose services was hired by shop owner to work on his shop in the storey building is said to have started the inferno which swept across many shops and in the process destroying goods worth thousands of cedis.
Public Relations Officer of the Fire Service in the Ashanti Region, DO3 Desmond Ackah said the victims called in after unsuccessful attempts to salvage their wares from the shops.
Victims of the incident lost thousands of cash in the inferno that destroyed the shops that are mainly warehouse for rubber and assorted goods described as highly flammable.
In all, 30 shops out of 60 on the upper floor of the structure were burnt on Sunday morning, an incident which took fire fighters over 3 hours to douse.