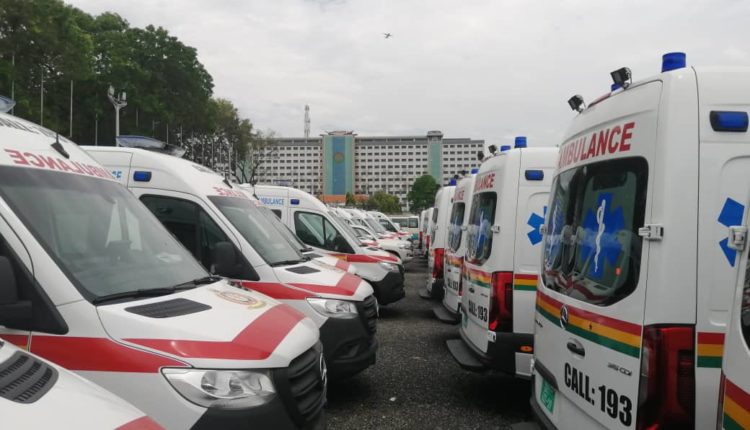 Gov't provides update on ambulances following brouhaha
Government has provided an update on the ambulance brouhaha following the Minority's three day-ultimatum to ensure the ambulances procured serve it purpose.
The Minority in parliament had given government a three-day ultimatum to quickly distribute the over forty (40) ambulances parked at the forecourt of the parliament.
Government is expected to distribute some two hundred and seventy-five (275) ambulances to all constituency under its one constituency one ambulance initiative.
So far, a total of forty-eight (48) ambulances have been parked for months at the forecourt of the Parliament House in Accra since they arrived in the country.
The delay in the distribution of the ambulances have left many questioning the rationale behind the move hence the decision by the information ministry to update Ghanaians to clear doubts.
Here is an update from the Information Ministry
1. Government has procured 307 Ambulances
2. 96 Ambulances have so far arrived in the country.
3. About 40 more are on the high sea heading to Ghana.
4. The remaining Ambulances will all arrive before the year ends.
5. Of the 96 in the country, 48 are yet to be cleared at the port.
6. The 48 that have been cleared at the port are parked at the state house, and are undergoing registration and installation of trackers for proper monitoring of their movement when they're finally distributed.
6. Receiving points to receive the Ambulances are being set up in all the 275 constituencies.
7. 500 Paramedics to manage the Ambulances are expected to complete their training at the National Ambulance Service before the year ends. In fact, the first batch will graduate next week Friday.
8. It is instructive to note that, the Ambulances are JUST NOT PARKED but rather there are plethora of activities taking place to ensure that, proper management structures have been put in place before distribution which is just 2 months away.
9. Government has spent fortune in purchasing these facilities and as such it is only proper that, measures are put in place for the effective management and sustainability of the Ambulances before distribution starts in January.