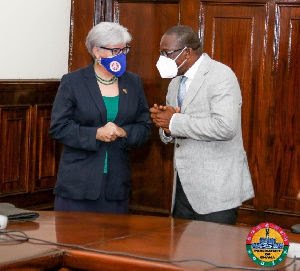 US Ambassador lauds Parliament's Appointments Committee
The US Ambassador to Ghana has complimented the 26-member Appointments Committee of Ghana's Parliament for the impartial vetting of ministerial nominees. 
Her Excellency, Stephanie Sullivan, in a statement to the legislature, said the level of professionalism, poise and dedication sent a strong signal that Parliament's work will not be business as usual, and the house of representatives takes its scrutiny duties seriously.
She echoed the call by the Majority Leader, Osei Kyei Mensah Bonsu, to strengthen the private sector as the engine of growth.
The US Ambassador, also congratulated Speaker of Parliament, Alban Bagbin, on his ascension to the high office of Speakership.
The two spoke about health, agriculture and the environment being key issues of mutual interest.
Mr Bagbin said current political trends show that Ghanaians are no longer interested in partisan politic,s as they realise they need to put the interest of the country first and to collaborate more for the ultimate good of the country.
The Appointments Committee was chaired by First Deputy Speaker, Joseph Osei Owusu.
The vetting process preceded the swearing-in of some 46 appointees nominated by President Akufo-Addo for his second term in office.
Below is the statement