UTAG to begin nationwide strike today
The University Teachers Association of Ghana (UTAG) has called on its members to withdraw their services across the country from today (August 2).
In a statement, UTAG urged its members in the various campuses to comply with the strike directive.
The National President of UTAG, Professor Charles Marfo, earlier this week urged the government to meet the union's demands "for the sake of industrial harmony and not to compound the already jeopardised academic calendar of the public universities".
"Until our demands are considered and met completely, UTAG would have no other option than to embark on industrial action by withdrawing teaching, which includes the conduct of examinations, marking of examination scripts, and other related matters, starting from Monday, 2nd of August 2021 until further notice," he warned.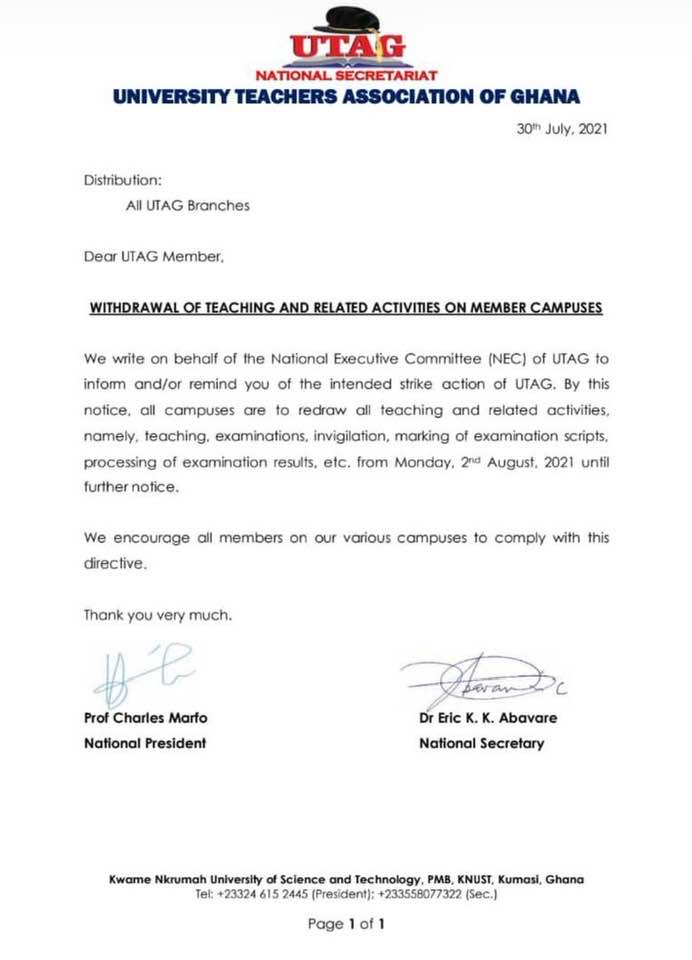 The intended strike follows an unsuccessful negotiation with the government over the university teachers' conditions of service, including research allowances and salaries.
In a related development, the Ministry of Employment and Labour Relations has indicated that the memorandum of understanding (MoU) signed with UTAG is expected to be implemented in August.
A release signed by the Deputy Minister Bright Wireko-Brobby said that a meeting was held between a government team including representatives from the Finance and Education ministries and UTAG on Friday over the concerns.