(Video) France President Emmanuel Macron Slapped In The Face
Emmanuel Macron was slapped in the face by a man in a crowd in the southeastern town of Drome on Tueday, June 6.
French President, Emmanuel Macron, has been slapped in the face while on an official visit to the southeast of France.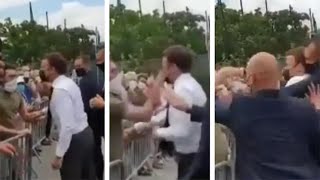 In a video circulating on social media, Mr Macron is seen walking up to a group of people standing behind a barricade to exchange pleasantries.
Mr Macron held the left hand of a man in a green T-shirt and stretched out his right hand for a handshake, but the man instead reached out and landed a slap on the President's left ear.
Officers quickly pulled away Mr Macron, and the man clutched away.
Two men have been arrested following the incident, according to French media.
The man reportedly shouted "Down with Macron-ism" as he slapped the president.
Mr Macron briefly returned to the barrier after the incident and once again interacted with the crowd.
The identity and motive of the man are sketchy.
But local French media say the gendarmerie is questioning him and another individual.
AFP news agency reports the incident happened at Tain-l'Hermitage outside the city of Valence.