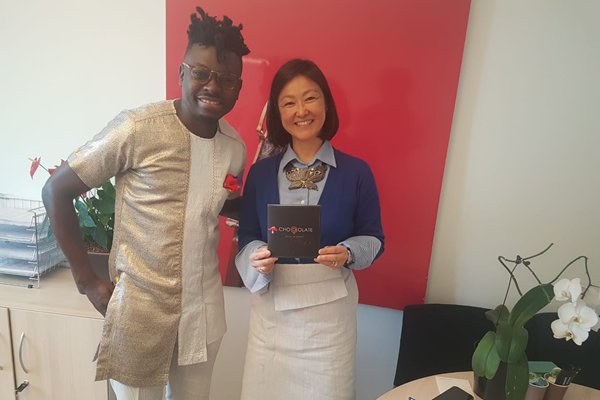 Video/Photos: Louis Vuitton praises Ghana's Chocolate Clothing
Winner of the maiden edition of the Tailored African Fashion 2018 project, Kwaku Bediako, has received high praise from Louis Vuitton.
The project was organised by the African Fashion Fund in collaboration with Joy FM.
Kwaku Bediako, owner of the Chocolate Clothing brand visited Louis Vuitton, as part of his winning package. He is to familiarise himself with the operations of some luxury brands in Paris.
At the renowned French fashion house and luxury retail company, Louis Vuitton Malletier, popularly called Louis Vuitton and shortened LV, Kwaku Bediako was received by the Head of Talent, Millie de La Valette, who was impressed with Chocolate's men wear.
"Oh my god, this is beautiful," she said as she admired the Chocolate product, pricing and the production of his clothing.
"We have chocolate silver and chocolate gold and that's rose gold. The rose gold is very new and it targets those at the top. We are almost done with our factory which should be producing about 5000 pieces for the mass market," Kwaku Bediako said during the visit.

"I think it is time we have like a Louis Vuitton Africa so we can have people who have the means, look very African yet luxurious," Chocolate told Millie.
Kwaku Bediako was hopeful that after the visit, "Something certainly might be cooking and from the kind words which show they were super impressed. With what we were doing, the future [is bright]."

source: Hitz FM