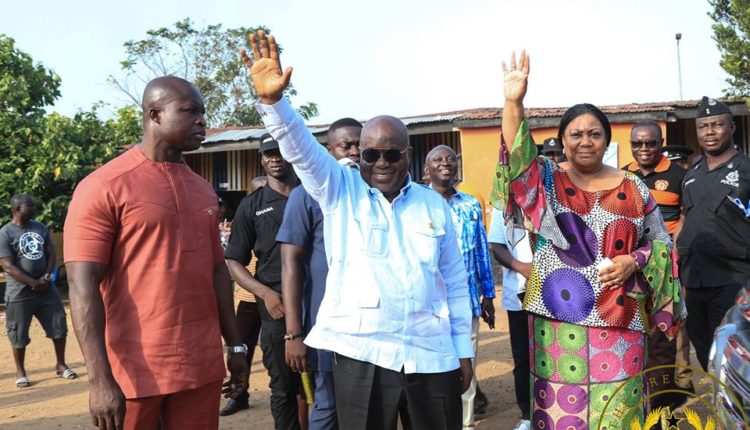 Video: Prez and First Lady votes amidst cheers from electorates in Kyebi
President Nana Addo Dankwa Akufo-Addo and the First Lady, Rebecca Akufo-Addo, on Tuesday voted in the district level elections amidst cheers from electorates at the  Rock of Ages polling station 'B' at Kyebi in the Eastern Region.
Although the local government election is devoid of politics, electorates in the New Patriotic Party stronghold could not resist shouting accolades "2020 Nana will come, Obaatampa Rebecca."
While the President votes to elect his assembly member  in his home town, the Vice President Dr Mahamudu Bawumia also sojourned up north to the Kperiga D/A School in Walewale to cast his ballot.
More than 57, 030 candidates are jostling to win seats in either the assemblies or the unit committees in an election largely shown the apathy card.
But all except Nkoranza North, Nkoranza South, and Lower Manya Krobo are taking part in this exercise.
The three constituencies had their elections in 2018 after a postponement of their selection of their assembly members was canceled in 2015 due to concerns about security and boundary demarcations disputes.
In the district assembly election, 18,510 people, comprising 17,601 males and 909 females, are contesting.
While in the unit committee election, 38,520 people, made up of 34,769 males and 3,751 females, have offered themselves for election.
The Electoral Commission (EC) in a press conference on Tuesday said, all the materials needed for the elections had been procured in sufficient quantities and dispatched to the various regions and districts.
President Akufo-Addo has urged Ghanaians to participate in these elections, and, thereby, help deepen democracy at the local government level.
Watch the video below

Also, take a look at some pictures of the President and the first lady from the exercise