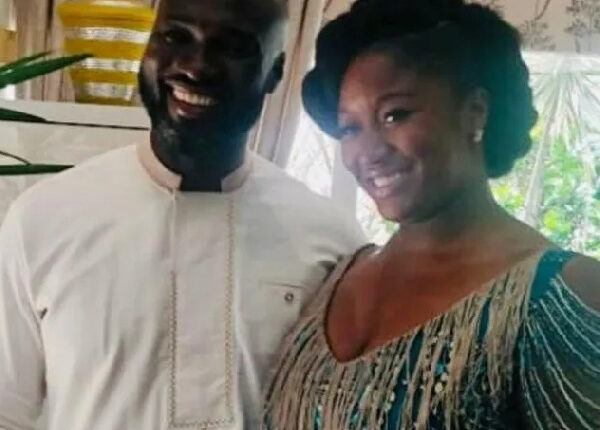 Videos: Akufo-Addo's daughter, Dokua ties the knot
The third daughter of President Akufo-Addo, Edwina Dokua Akufo-Addo, tied the knot over the weekend with  Kwabena Jumah, son of the Managing Director of GIHOC Distilleries Company Limited, Maxwell Kofi Jumah.
The private ceremony was held at the Presidential Villa in the Jubilee House on Saturday, October 9, 2020, with a couple of family members and close allies of both families in attendance.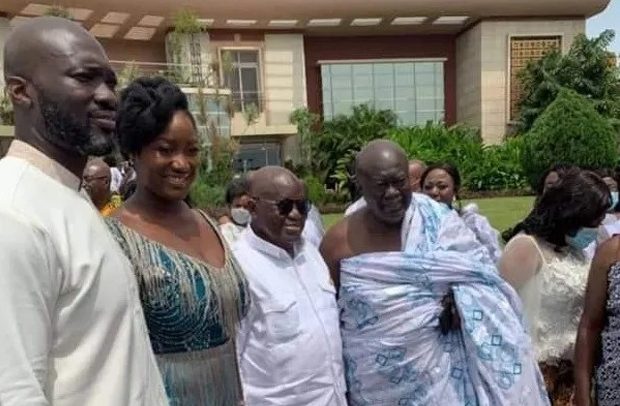 A video circulating on social media showed President Akufo-Addo with a microphone asking his daughter, Edwina Akufo-Addo whether she agrees to be the wife of the groom.
In a lovely and interesting manner, the daughter responded in the affirmative, attracting applause from the gathering.
In another picture, the President was seen in a group photograph with Maxwell Kofi Jumah and his family.
The second family, Dr. Mahamudu Bawumia and his wife Samira Bawumia were not left out of the fun as they both displayed some dance moves.
The beautiful ceremony was crowned with a celebration as the President was seen on the dance floor with his daughter exhibiting their dancing skills, with the groom also paired up with First Lady Rebecca Akufo-Addo in showing his dancing skills.
The Vice President, Dr. Mahamudu Bawumia, and his wife, Samira Bawumia were also in attendance as they were seen on the dance floor.
The 37-year-old bride, Edwina Dokua Akufo-Addo is the third daughter of the first family, Her mother was the late Eleanor Nkansah-Gyamenah popularly known as Obaa Saa.
She had her secondary and tertiary education in the UK.
Nana Dokua was rumored to be in a relationship with Kimathi Rawlings, son of former president of Ghana, Jerry John Rawlings.  However, the families quashed the reports, saying it was "outright fabrication".
Edwina Nana Dokua Akufo-Addo is an entrepreneur who used to own a clothing store, Eleanor's Closet in Osu. She closed down the shop due to low patronage.
The groom is  47-year-old, Kwabena Jumah, son  of Managing Director of GIHOC Distilleries Company Limited, Maxwell Kofi Jumah