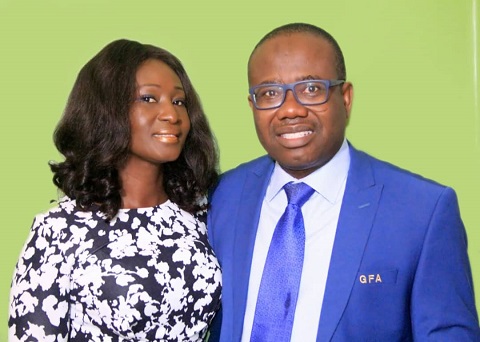 We paid $100,000 to stop screening of Anas video – Nyantakyi's wife confirms
Mr. Kwesi Nyantakyi's first wife, Christine-Marie Nyantakyi, has boldly confirmed that her husband indeed doled out an amount of $100,000 in a desperate attempt to stop the public screening of Anas' number 12 exposé on football corruption, that has effectively damaged the former Ghana Football Association (GFA) President's career and dignity.
Mr. Nyantakyi has been banned from all football activities for the rest of his life and has been fined 500,000 Swiss Francs (an equivalent of Ghc2,414,276.46 and $497,490.00 respectively), for various breaches of FIFA's code of ethics after he was exposed by investigative journalist, Anas Aremeyaw Anas.
It would be recalled that before the screening of the investigative piece in June 2018, news emerged that Mr. Anas Aremeyaw Anas and his Tiger Eye PI team, had attempted to blackmail Mr. Nyantakyi by demanding $100,000 from him to stop the screening of the video.
The Anas camp, however, denied being a party to such blackmail, suggesting that someone might be seeking to serve as an intermediary for that purpose without their knowledge or approval.
But speaking for the first time on the grace to grass story of her husband on Metro TV's Good Evening Ghana on Tuesday, Mrs. Christine-Marie Nyantakyi, who's also the Director of Oasis Montessori School at Teshie Greda Estates, stated emphatically that; in their desperation at the time after seeing pieces of the video, they were approached by some persons who said they could stop the screening for an amount of $150,000.
She said her husband only gave out $100,000 because that was all he could pay. She, however, did not state categorically if the men had links to Anas or Tiger Eye PI.
According to her, the amount was paid back to them in tranches after the screening of the video.
"Well, there's information, and there's truth in that information. Apparently, we became so desperate when we realized that all that they presented to us were false, so we tried to make some interventions, and they proposed that he pays some money. They proposed $150,000; my husband couldn't afford it, so he gave out $100,000 dollars, and they came back to him and said the person says you need to add $50,000, and he said well, I don't have it; that's all that I have."
Asked what happened to the $100,000, she said it was later returned to them when the video was shown.
"They brought $40,000 first; and then later on, they brought $60,000 dollars. I have not gathered the courage to watch the full video, because the small that I watched, I knew that the way he is talking; that is not my husband; something might have gone wrong."
I don't know what they did to my husband
Asked what she believed might have gone wrong with him, she said; "I don't know what they did to him. My husband is a very skeptical person; I don't know what they did to him to follow them like that. You don't just get him to follow you like that."
When the host, Paul Adom-Otchere asked if he could have been under a spell or some incantations, she responded in the affirmative.
According to her, the husband informed her that he had received $40,000 on his second Dubai trip and that the amount was to cover for the cost of his trip.
"He told me this long before the video came out. He said it was for reimbursement of his ticket because that was the agreement they had. So he accepted the money with the belief that it was a refund for his trip as agreed."
'My husband is pained'
Mrs. Nyantakyi said her husband is pained, as he kept wondering what the motive could have been for this.
"His worry and the bother is what the motive was; so he tried to find out from people why did they do that? The motive for somebody planning, plotting, strategizing and executing this just to make sure he's disgraced. So that has been his pain and worry; he doesn't mind at all whatever has happened; he has taken that in good faith, but each day he keeps asking what have I done wrong? If they wanted me out they could have found another way, but that scheming to that extent".
She suggested that what happened to her husband, could befall anyone if people were to shine the light on what others have discussed or done in their closet about people.
"Paul, I mean we are all human beings…the conversations that we have every day amongst us as friends, as associates and business partners, if those conversations are taken out, all of us will be in trouble. The sociologists will tell you that human beings are complex beings; as soon as a light is thrown on you; your behavior, your demeanor, your gestures change; so you talk to somebody knowing that there's no one else watching you, there are no cameras, and then all of a sudden; everything is in the open. If he had known, I am sure that things that he said or did; he wouldn't have done them. So that's the pain that he has…That you come to me; deceive me and then I follow you; for you to do this to me. He's okay with it; he has learned a lot of lessons even though very bitterly" she said.
Although the incident has taken a huge toll on them especially their two daughters, aged 13 and 9; she said they're coping with the help of God.
"Yes; it's been tough for us, but we've been able to hold on by the grace of God.
My husband won't run away; be patient with him – Nyantakyi's wife begs
She pleaded with Ghanaians to be patient with her husband; saying he's not running away from the country.
Mr. Nyantakyi himself has described the punishment as "harsh and unfair", and has served notice he will be appealing the decision; a position his wife strongly agrees with.
"Fifa is an association and it's governed by a code of ethics; so if you break the code of ethics; you're sanctioned; so whatever has happened; it's a sanction; it's not a criminal finding. People are saying Fifa has banned him so what's Ghana doing. We're talking about two different things here. To prove that somebody has committed a crime, you need to go through some processes. And the law says that a person is presumed to be innocent until proven otherwise" she noted.
source: citinewsroom