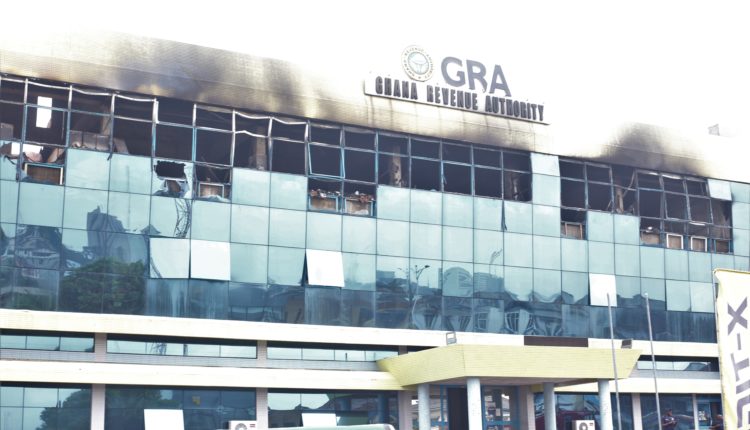 We won't rule out arson in Circle office fire – GRA
The Ghana Revenue Authority  (GRA) says it will not rule out arson as a possible cause for the fire that gutted its large taxpayer office at the Kwame Nkrumah Circle in Accra on Sunday, December 1.
Addressing the press today,  Acting Commissioner General of the Authority, Amishadai Owusu Amoah says the Authority is working with the fire service for full investigations into the cause of the fire.
"We have not necessarily seen the detailed report as referred to but we do not deny the fact that they (Fire Service) do come from time to time that the right thing is done as far as our buildings are concerned. We are in constant touch with them so whatever needs to be done will be done as far as our safety is concerned. We cannot at this moment say, that there was arson as it is been said. But, we cannot rule anything out as far as investigation is concerned."
The fire, which the GRA says started around 4 am resulted in "extensive structural damage to its ICT centre."
Some onlookers who were upset with the Fire Service's handling of the situation accused them of not being prepared enough to handle the blaze.
But the authority noted that "existing systems backup does not only ensure the recovery of files but also business continuity."
The Ghana National Fire Service has since begun investigations to determine the real cause of the fire.
GRA to rent new offices 
Meanwhile, the Authority has announced plans to rent new offices to cater to for its large taxpayers by Monday to serve as alternative offices for clients ahead of relocation.
"Looking at the current building, we are not too sure how we can quickly we can renovate and put it back into use. Therefore, arrangements are far advanced to rent some new offices where we will operate temporarily. We expect that come Monday, the largest and medium taxpayers' office will be in a new office to deliver the full service in one location."
No data, money lost in Circle office fire – GRA cautions 
The GRA said that the blaze did not result in the loss of any data.
In a statement, the GRA also said reports that it had lost cash in the fire was "fake news."
"Data is safe and no loss of cash or cheques have been recorded after a fire outbreak. In essence, our core data is safe, as all GRA files are automatically backed up at an offsite data centre".