West African Foods You Need To Try – Part I
WEST AFRICAN FUFU
Fufu is a very famous African dish that originated in West Africa, specifically Ghana and Nigeria. If you follow these step-by-step instructions, you can make delicious fufu right in your own kitchen.
Ingredients
Plantain
Cassava
 Nutritional value
Plantain is high in fiber and starch and low in fat, plantains are an unsweet banana variety that needs to be cooked before eating. The outer layer of plantain fruit is peeled away and cassava is one of the largest carbohydrate sources in the tropics.
Cooking Method 
Both the Plantain and the Cassava are peeled and cut into smaller potato-sized pieces, and for the cassava divide it into quarters and remove the central core, afterward cook it for about 25minutes in unsalted water till it becomes tender enough to be pounded.
After it is cooked get a wooden mortar and pestle and pound till the mixture becomes smooth and starchy.
 To make fufu without a traditional Ghanaian large wooden mortar and a pestle, simply place cooked cassava and ripe plantain into a food processor and blend into a smooth paste with some water. Transfer the mixture to a pan, continue cooking for 8 to 10 minutes, stirring constantly, until it becomes dense, and then steam for an additional 8 to 10 minutes. The achieved texture should be elastic and slightly sticky.
Serving
After cooling, fufu is usually formed into a ball and served with any soup of choice, often times either chicken or goat light soup, palm nut soup, or peanut butter soup.
PEANUT BUTTER SOUP
West African Peanut Soup is a rich, satisfying soup. It is a wonderful, flavorful soup with a unique combination of ingredients and spices. I have adapted the recipe to make it more user-friendly for every kitchen.
2 medium onions (about 12 ounces; 340g), halved and ends trimmed, divided
2 cups (480ml) homemade or store-bought low-sodium chicken broth, plus more as needed, divided
5 medium cloves garlic, divided
1 ounce (28g) of fresh ginger (about a 1-inch knob), divided
2 teaspoons tomato paste
4 bone-in, skin-on chicken legs (about 2 pounds; 900g)
1 hot chili pepper, such as bird's eye, habanero, or Scotch bonnet (see note)
2 bay leaves
1 cup creamy peanut butter (9 ounces; 255g)
1 (28-ounce; 794g) can of plum tomatoes
1 whole smoke-dried fish, such as tilapia or snapper (see note)
Kosher salt and freshly ground black pepper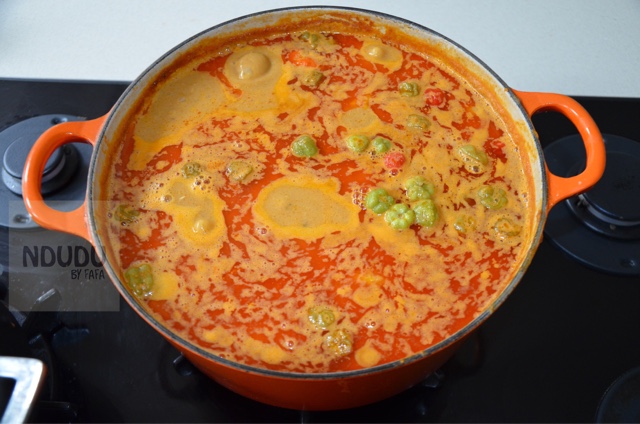 In a blender, purée 2 onion halves, 1/2 cup (120ml) chicken stock, 3 garlic cloves, 1/2 ounce ginger, and tomato paste. In a Dutch oven, combine chicken legs with purée, remaining onion halves, remaining 1/2 ounce ginger, and remaining 2 cloves garlic, along with hot pepper and bay leaves. Toss to coat.
Set Dutch oven over medium heat and bring to a simmer, then cover, reduce heat to low, and cook until halved onion is soft and translucent about 20 minutes. Add an extra 1/2 cup (120ml) of chicken stock if the mixture begins to stick to the bottom of the pot.
Transfer chunks of onion, ginger, garlic cloves, and hot pepper to a blender. Add peanut butter, canned tomatoes and their juices, and the remaining 1 1/2 cups (360ml) chicken stock and purée until smooth. Pass the blended mix through a fine-mesh strainer into the Dutch oven, stirring to incorporate.
Increase heat to medium and bring to a simmer, then lower heat to medium-low and cook, stirring occasionally, until chicken is tender, oils have surfaced, and mixture has thickened and reduced by about one-third, about 40 minutes. Add smoked fish, reduce heat to low, cover pot, and cook an additional 5 minutes. (If omitting the smoked fish, you can skip this 5-minute covered-cooking step.) Remove and discard smoked fish and bay leaves, season with salt and pepper to taste, and serve hot with fufu or any food of your choice.
BEANS (GOBE)  AND FRIED RIPE PLANTAIN
Beans are a much-loved Ghanaian food. The recipe is simple: you take some dry beans (black-eyed peas), and boil them for about 30 minutes, or till it becomes tender. Then stew with blended bell pepper and palm oil and season well. Then get some ripe plantains, peel and slice them, add a little salt to taste, and fry them in oil. It can be serviced with boiled eggs as well. it is delicious.