Why Electric Vehicles Look More Viable
EV is an acronym for an electric vehicle.
EVs are vehicles that are either partially or fully ignited by electric power.
EVs are like automatic cars, they have forward and reverse modes. When you place the vehicle in gear and press on the accelerator pedal these things happen: Power is converted from the DC battery to AC for the electric motor.
Unlike gas-powered vehicles, electric vehicles do not require internal combustion engines to operate. Outfitted with an electric motor and rechargeable battery pack, EVs move along our roadways without burning up gasoline, or producing harmful exhaust emissions while generating less noise pollution.
Much emphasis is mostly placed on the usage of cars than buying because as the adage goes, the purchase is for a moment, but usage is for a lifetime.
Petrol/diesel car against EV battery consumption
One could argue that electric cars cost more to buy than petrol cars, however, battery-electric vehicles have long been cheaper overall to own and run.
This is because recharging typically costs much less than refueling, so owning an electric vehicle (EV) would pay off after a couple of years.
Europe's ongoing energy crisis, fueled by Russia's invasion of Ukraine and threats to cut off gas supplies, not only stirs up fears about the world's energy bowl but goes a long way to impact developing economies like Ghana.
Oil supply, on the other hand, is hugely affected as Ghana is grappling with price fluctuation at the pumps.
Since January 03, 2022, the price of petrol in Ghana has increased by over 91 percent.
As of January 16, 2023, the price of petrol per litre was ¢13.90, from ¢12.40, whilst that of diesel sold at about ¢15.60 per litre, from about ¢13.70.
In Ghana, the standard charging unit for the electricity industry is the kilowatt hour.
A 30kWh battery holds enough energy to power a typical home in Ghana for four days.
In the commissioning of the first Electric Vehicle (EV) charging unit in Ghana in September 2022,  the distributors indicated that it is a level 2 charging unit with about 22 kilowatts, which will take at most 2 hours to fully charge a vehicle.
It added that it will take about 28-30 charging units to fully charge a standard electronic vehicle in Ghana.
Checks by the Ghana Report indicate that a unit is charged at GHS2.30 at EV charging points in the country.
This means it will take about GHS69 to fully charge a standard electronic vehicle in Ghana.
A Full-electric charged battery today has an average range of 250 miles on a single charge.
However, newer models from marquee companies like Tesla and Mercedes can go as far as 600 miles on one charge.
Hybrid electric vehicles (HEVs) have an electric motor, battery, gasoline tank, and internal combustion engine.
Filling up on petrol/diesel is still 89% more expensive than recharging an EV Today
To situate this analysis in the local context, the average car tank can carry between 45 to 65 liters of fuel.
However, the average tank is in turn carried by the average cars.
As for trucks and SUVs, they have much bigger tanks while for Nano cars or miniature vehicles, the tank size is also smaller in turn.
Let's take an average car tank of 45 liters of petrol in Ghana. A litre of petrol is now going for GHS 13.90. To fully fill it up will take about GHS 625.5.
An average 45-tank car can travel a distance range of 300 miles.
Conclusion
An average 45-car tank will take about GHS 625.5 to travel a distance of 300 miles.
A standard fully charged EV will take about GHS 69 to travel a distance of 250 miles.
Furthermore, electric vehicles have very low maintenance costs because they don't have as many moving parts as an internal combustion vehicle.
The servicing requirements for electric vehicles are lesser than conventional petrol or diesel vehicles. Therefore, the yearly cost of running an electric vehicle is significantly low.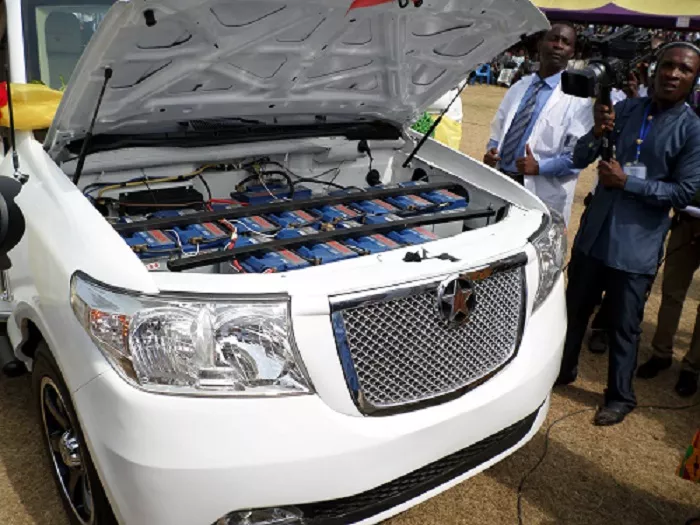 Suppliers of the first Electric Vehicle (EV) charging unit in Ghana said the aim is to reduce the carbon footprint and support the Paris Climate Ambition by meeting the target of NET Zero by 2050. They are expected to achieve this by reducing the emission of carbon as customers use the company's products.
Solomon Adjetey, a representative from the Ministry of Energy, stated "Data shows that currently, there are over 1000 electric vehicles in Ghana, and the deployment of these charging units is a step in the right direction".