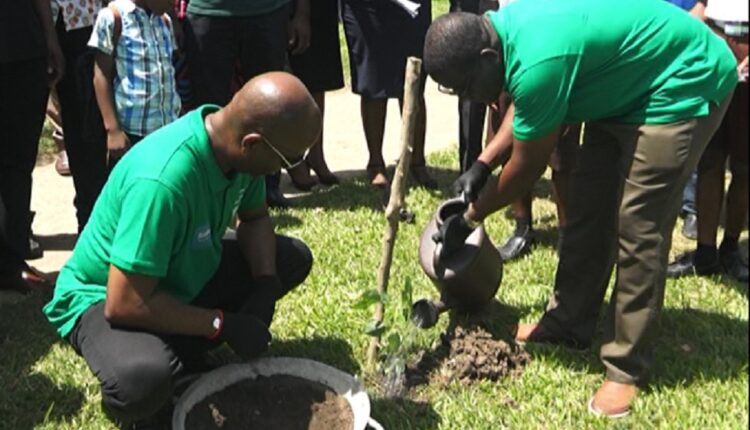 Why National Tree Planting Must Be Compulsory For Carbon-Emitting Organisations
From the World Bank, to international media houses, Ghana has been touted as one of the leading countries in the world with the highest level of forest degradation.
Ghana's forest cover by 1900 was 8.4 million hectares but today stands at 1.6 million hectares. The World Bank indicates that deforestation in Côte d'Ivoire and Ghana respectively lost 25% and 8% of their primary forest 2002-2019 to cocoa farming , with a significant portion of deforestation due to cocoa farming. Ghana's situation, exacerbated by deforestation associated with illegal mining.
At this rate, no wonder the World Bank, July 9, 2019 signed a landmark agreement with Ghana that rewards community efforts to reduce carbon emissions from deforestation and forest degradation. Ghana's five-year Emission Reductions Payment Agreement (ERPA) with the Forest Carbon Partnership Facility (FCPF) Carbon Fund, which is administered by the World Bank, unlocks performance-based payments of up to $50 million for carbon emission reductions from the forest and land-use sectors.
The World Cocoa and Forests initiative in 2018 distributed 10.4 million forest trees worldwide especially in Ghana to reduce deforestation. On 11 June the president [Akufo-Addo] and other Ghanaians joined hands to also plant five million trees. At the Green Ghana event, polyter technology was introduced to the Forestry Commission to be administered on 1000 trees. The hydro-retentive technology looks like crystal stones which are put around the plants. They have the ability to store and release gradually fertilizers and even water.
Polyter saves at least 50% to 80% of water consumption. A climate-resilient product introduced by Capitano an Engineering Services company in the oil and gas sector is covering its carbon footprints by engaging in carbon offsetting activities. Frequently carbon offsetting reduces emissions much faster than you can as an individual/single company. Carbon offsetting projects help to combat global climate change as well as care for local communities. In many instances providing much-needed employment, health improvement, biodiversity, reforestation and broad social benefits to impoverished communities.
Companies and sectors of the economy beyond a day of tree planting should be coaxed in a more structured way to not only contribute their bit to carbon offsetting but also benefit from the carbon market. Oil companies currently contribute to a fund at the EPA which could easy be used for carbon offsetting projects. Cocobod, which houses the sector contributing most to deforestation, companies' emitting carbon, must all look beyond a day's tree planting exercise to a more integrated approach to dealing with deforestation.