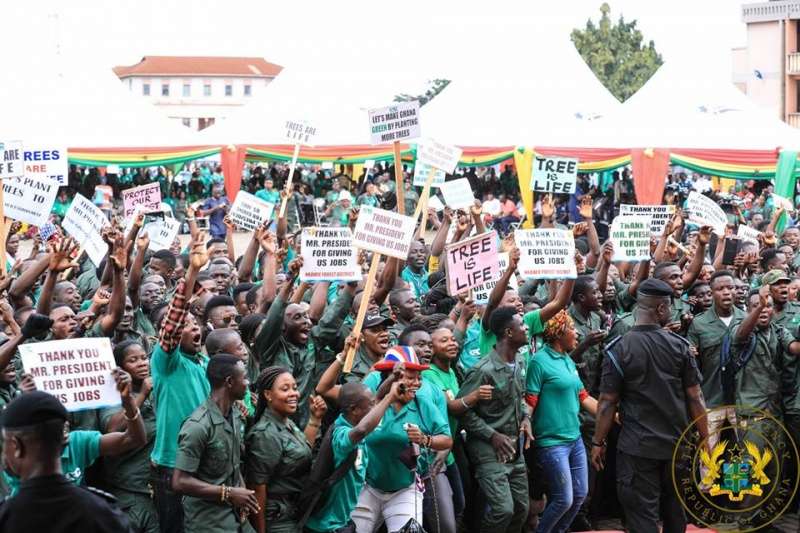 Youth in Afforestation receive one-month's allowance after protest
Recruits under the government's youth in afforestation programme have confirmed receiving one-month's allowance although some are owed between three to six month's allowance.
This comes after they staged a massive protest on the premises of the Forestry Commission on Monday over the non-payment of the allowance.
Some of those who spoke to Citi News said they were not happy with the development as they expected that all their due allowances would be paid to them.
One of the recruits said, "They dropped just one month. You work for five months and they give you one month. How can you be happy? It is like an insult because even your transportation fare is more than just that one month."
Another recruit who told Citi News that although he is dissatisfied with the one-month allowance he has received, he believes it is better than receiving nothing all.
He expressed the hope that allowances for subsequent months will be paid in the coming days.
"Yesterday [ Wednesday], we got the information that they paid only August. I'm just from the bank, and I checked and it is just August. We are not happy at all, but we can't go home with nothing so we will take this for now, and they have promised that another month's allowance will come tomorrow [Friday] so we are only hoping," he said.
Kwadwo Owusu Afriyie, popularly know as Sir John, who is the Chief Executive Officer of the Forestry Commission, the agency under which the programme falls, gave the assurance earlier on Citi News that the allowances will be paid in tranches.
He said allowances worth ¢21 million had been disbursed and another ¢21 million will subsequently be disbursed later.
"I believe that by close of the day today [Wednesday], all of them will have their allowances paid. That also includes not only the August allowance by the July allowances.  In a weeks' time, another money will hit their account and I can assure you that they will also be laughing all the way to the bank so we all celebrate this yuletide."
He however suggested that the commission did not owe anyone more than two months' allowance.
"All those whose records are okay and genuine, they will not have any challenges. We started paying them in April. For May, June and July we've paid. It is not as if we've paid them nothing at all. Now we've paid the August one. About 21 million has been disbursed. By Friday, another ¢21 million will go," he said.
source: citinewsroom