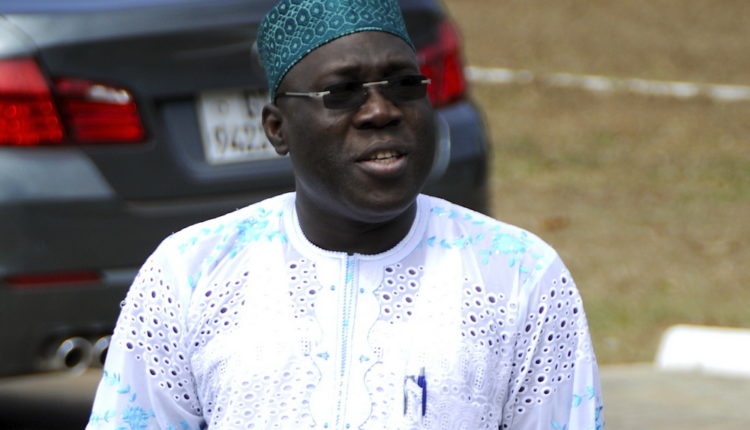 After 14 yrs in parliament, here are two reasons why I'm quitting – Inusah Fuseini
The Member of Parliament for Tamale Central, Inusah Fuseini, has expressed worry about the level of financial pressure on MPs.
This is one reason, he says, he is bringing an end to 14-year political career in parliament.
"I simply do not get satisfaction when I feel some people are just exploiting me. When I feel that some people are taking my leniency for granted."
"Sometimes I feel terribly let down…" the former Roads and Highways Minister during the Mahama administration said in an interview on Joy News, monitored by theghanareport.com.
In a discussion that focused on the financial predicaments of MPs in and out of office, he said although some electorates make unimaginable demand on their lawmakers, they still treated them with disdain.
"When you become an MP, you lose part of your dignity.  People who hitherto used to hold you in high esteem, today don't think you're worth their shoelace.
Ghanaian MPs have often complained about the daily demands on them from their constituents, asking for bursaries that are beyond their(MPs)  pocket.
School fees, funeral contributions, church harvest contributions, wedding contributions, hospital bills for pregnant women are among the endless list of demands on MPs.
While political analysts believe that the demands are a payback for the promises the MPs make during campaigns, Mr Fuseini said they were a drain on the lawmakers, adding that the conditions of service for MPs were terrible.
He fell on a statement his peer on the Minority side, Mahama Ayariga made on the floor in 2006 to explain why MPs are struggling financially and were protecting the state from unrest.
 "You have to understand one thing that MPs are keeping this country secured because we are redistributing our salaries. We are redistributing any monies that we are paid. Every day when you come to parliament and you see people, standing by the gate, waiting on their MPs to be sorted. Those people can constitute a veritable national security threat," he said.
Mr Fuseini entered Parliament in 2006 in a by-election, following the defection of Prof Wayo Seini, the then MP for Tamale Central to the New Patriotic Party.
After serving almost three and half-terms in office, the NDC legislator said he was ready to apply the laws in court, rather than make them.
"I'll go back to law practice," he said as he prepares to bid Parliament farewell by January 6, 2021.
With a wave of young people entering Parliament and pushing out experienced minds, Mr Fuseini said he felt there was a generational shift in his constituency, hence the need to hang his boots.
The changing dynamics, he said, made him think twice about seeking for re-election when his term ends.
He said he realised during the counting at the collation centre in 2016 that his contenders were people way younger than him, making him feel out of place.
"I was left in no doubt that there is a generational shift and I don't belong. I made up my mind…"
" At the collation centre, it dawned on me that all the people who contested me were far younger than me, and that probably it was time to move on. I made up my mind that win or lose, I will not contest again. I felt the people of Tamale Central were communicating in ways that I needed to understand," the man who also served as Lands and Natural Resources Minister during the Mills administration said.
The 2016 elections had many young politicians enter Parliament from both sides of the political divide, dimming the lights of politicians who have become known as political Mugabes.
Zanetor Rawlings, MP for Korle Klottey and Sam George of Ningo Prampram floored Nii Armah Ashittey and E.T Mensah, both founding members of the NDC in the NDC primaries before winning their seats.
The NPP's Anthony Karbo made mincemeat of a former NDC General Secretary, Bede Zedeng to win the Lawra seat, while Yusif Jahja tossed out Mustapha Ahmed in Ayawaso North at the primaries to win the NDC stronghold.