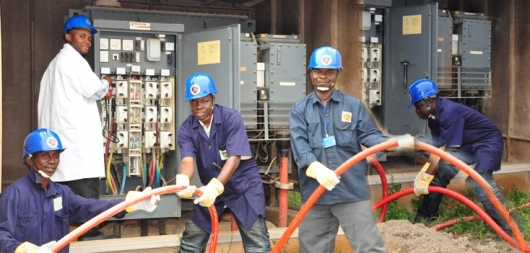 Appiatse explosion cost ECG over GH¢2m
The Electricity Company of Ghana (ECG) has estimated the cost of damage to its infrastructure at more than GH¢2 million after the deadly explosion at Appiatse, near Bogoso, in the Western North Region.
It said the explosion destroyed its substation, transformer, poles, service wires and overhead accessories, among other equipment, all of which needed replacement to restore power to Appiatse and other affected communities.
After a tour of the affected areas, the Managing Director of ECG, Mr Kwame Agyemang Budu, said the company managed to restore power in 24 hours to more than 35,000 customers of the affected areas, but had to incur costs of almost GH¢3 million.
"We conducted a preliminary survey to ascertain the extent of damage and what needs to be done to restore power to customers beyond," he said.
"We also ensured that we isolated the area and the network to ensure safety after which we were able to restore power within 48 hours to ensure that everything is in order," Mr Agyemang Badu added.
Besides the cost to replace infrastructure, materials needed for reconnection and reinstatement of the Appiatse town network cost GH¢542,515.38, excluding financial loss for non-supply of power to its clients for a number of days, he said.
In addition, the restoration of feeder lines to Bawdie, a nearby community, cost GH¢49,994.45, Mr Agyemang Badu said.
Areas affected by the power cut included Asankragwa and surrounding areas in the Amenfi West Municipality, Wassa Akropong in the Amenfi East Municipality and Enchi.
Mr Agyemang Budu commended staff of the company for the display of professionalism and their quest to deliver, protect life and property, as well as create the ambiance for other agencies to deliver on schedule.
Way forward
Meanwhile, the ECG team at Bogoso is retrieving electricity meters from the collapsed buildings — both the commercial, educational and residential facilities — in collaboration with the local assembly, residential property owners and the Environmental Protection Agency.
Mr Agyemang Budu advised the public against intrusion, stressing that the site was not safe for unauthorised persons.
Donation
The ECG has also donated GH¢100,000 to the relief fund to support the reconstruction of Apiatse and the upkeep of the displaced.
The Bogoso District Manager, Mr Ebow Sagoe, said: "We acted with dispatch" when the regional office was directed to restore the substation, the lines and resume supply to more than 35,000 customers, "considering the importance of power to thousands in the communities and district".
He said other outstanding works would be done to ensure everything was back to normalcy.