'Soldiers in their hundreds' storm town where residents bloodied two military officers
Hundreds of armed military personnel and police officers have stormed Dome Faase, an area near Kasoa in the Ga South Municipality where two soldiers were brutally assaulted by residents.
Theghanareport.com sources say between 200 to 600 soldiers are in town in what residents fear is a coordinated repraisal.
Two helicopters belonging to the Ghana Armed Forces were also dispatched to the area.
The assaulted soldiers were protecting a parcel of land which a Chief is claiming ownership of.
The irate residents were led by Member of Parliament for the area, Sophia Ackuako to the site where the skirmishes erupted.
Residents pelted the soldiers who were on the site with stones. Upon sensing danger, the soldiers began firing warning shots ostensibly to ward off the crowd.
The residents numbering over two hundred overpowered the military officers and captured two of them.
Videos show the head of one officer slashed with a machete and their uniforms torn. The officers were drenched in blood and beaten to a pulp.
A tent meant for the soldiers was set ablaze by the irate residents. At least four cars, a motorcycle, and a generator belonging to the military were also burnt.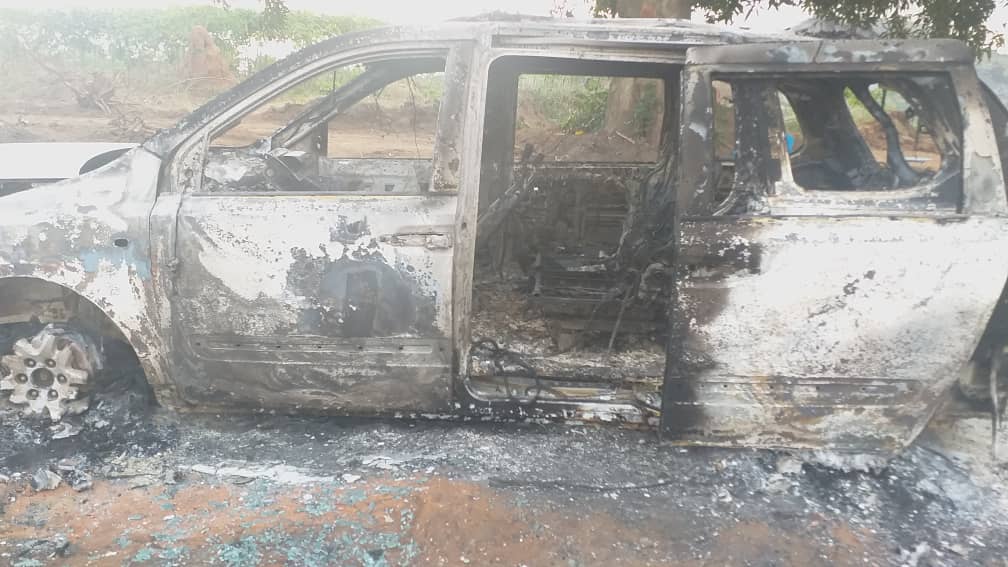 Two residents have also reportedly sustained gunshot wounds.
Theghanareport.com sources within the security agency said the two injured soldiers are a Corporal and a Sergeant.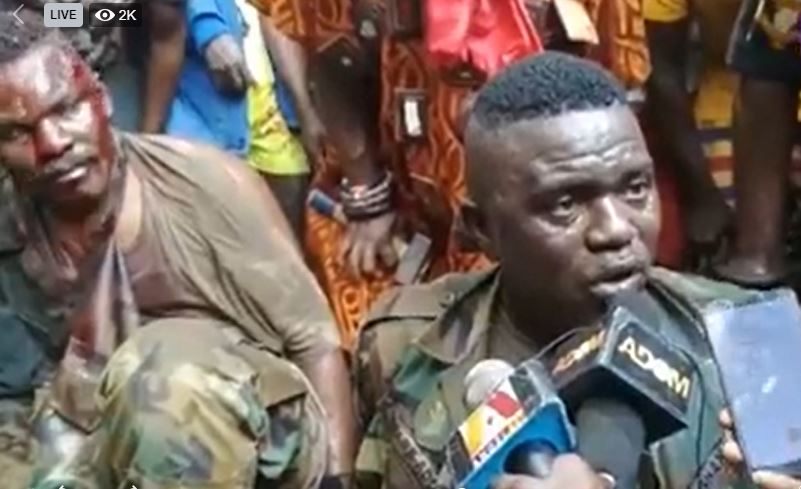 The source indicated that two have since been airlifted to the 37 Military Hospital here in Accra for medical attention.
Residents flee town after military invasion
Accra-based Starr FM has reported that Dome Faase, the town where the incident happened, has been turned into a ghost town after military was deployed to the area.
According to the media house, some shop owners have deserted their opened shops following the heavy security presence in the town.
Homes have reportedly been abandoned.
Chief calls for withdrawal of military 
Divisional Chief of the Obom stool, Nii Kpakpo Amartey has called on the military high command to as a matter of urgency withdraw their men from the area.
He described the assaulted military men as 'hooligans' who were led by one chief, Nana Kumankuma.
"We want the Akyem traditional council and the Ghana Armed Forces to withdraw the military personnel who have been deployed to protect the chief," Nii Kpakpo Amartey told the media at a press conference on Tuesday.