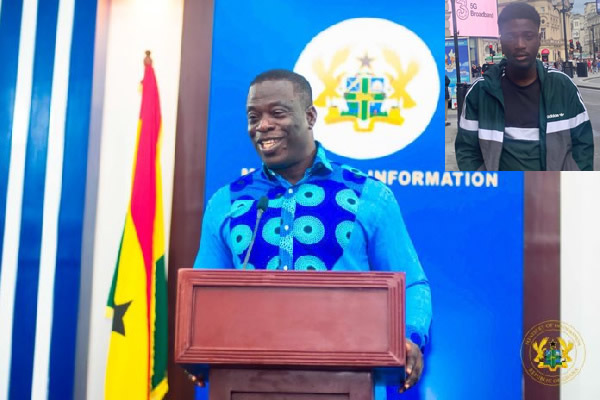 Cabinet Minister's son listed as GETFUND beneficiary 82
Theghanareport.com has found out that a cabinet minister's son has been listed as a beneficiary of GETFUND scholarships meant for needy but brilliant students.
Employment and Labour Minister, Ignatius Baffour Awuah, who helped finance the Akufo-Addo's 2016 campaign, has a son listed as beneficiary 82.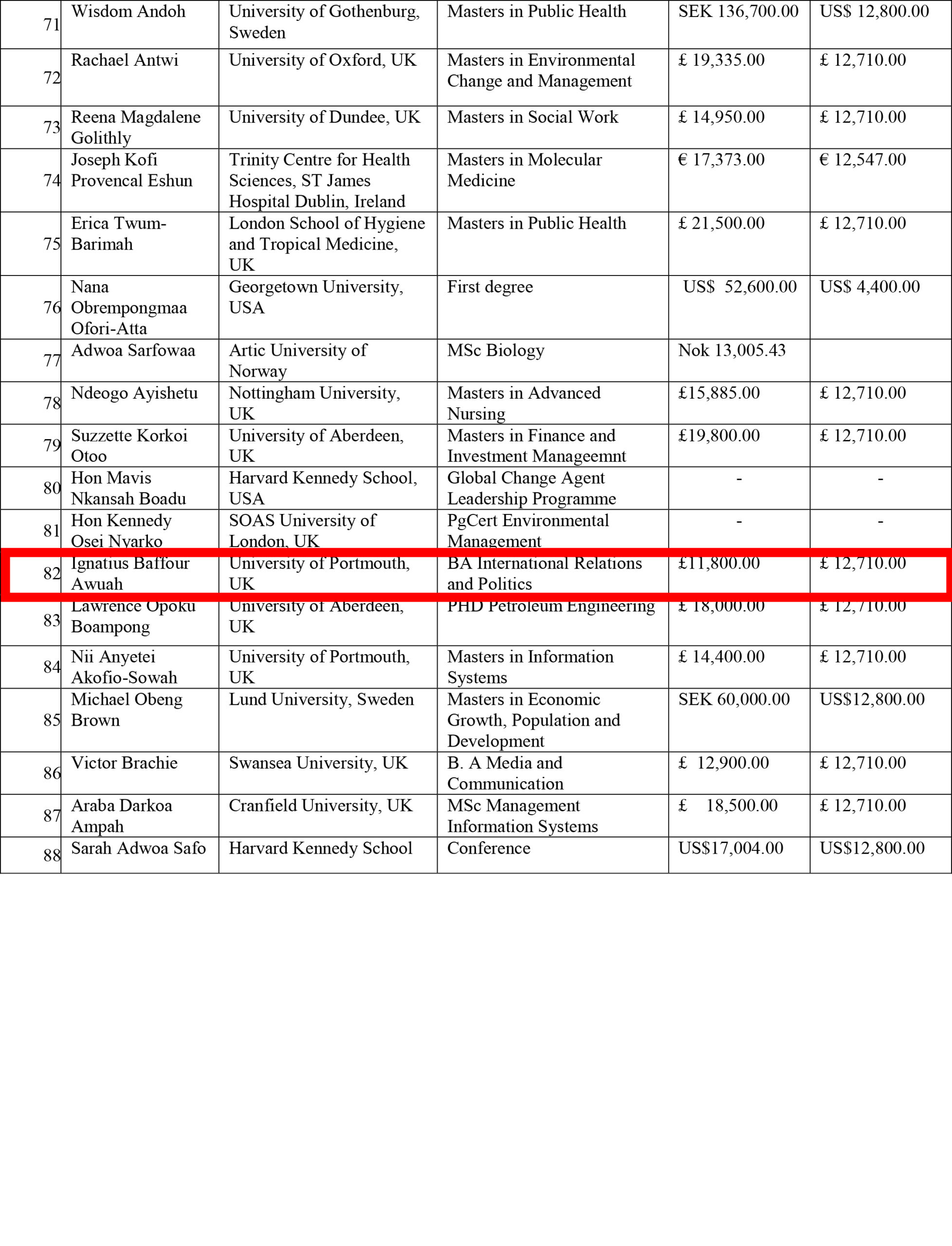 His son bears the same name as the minister.
The similar names lead several media portals to report that the beneficiary was the minister.
But theghanareport.com's checks on the minister's CV does not show any sign that Baffour Awuah studied for a first-degree programme in the UK where his son is studying.
 Ignatius Baffour Awuah graduated from the University of Ghana with a Bachelor of Science in Administration and later studied in London for a post-graduate diploma. He also has a certificate in civil service management.
His son, Ignatius Baffour Awuah Jnr, completed St. Hubert Seminary SHS in Kumasi in the Ashanti region.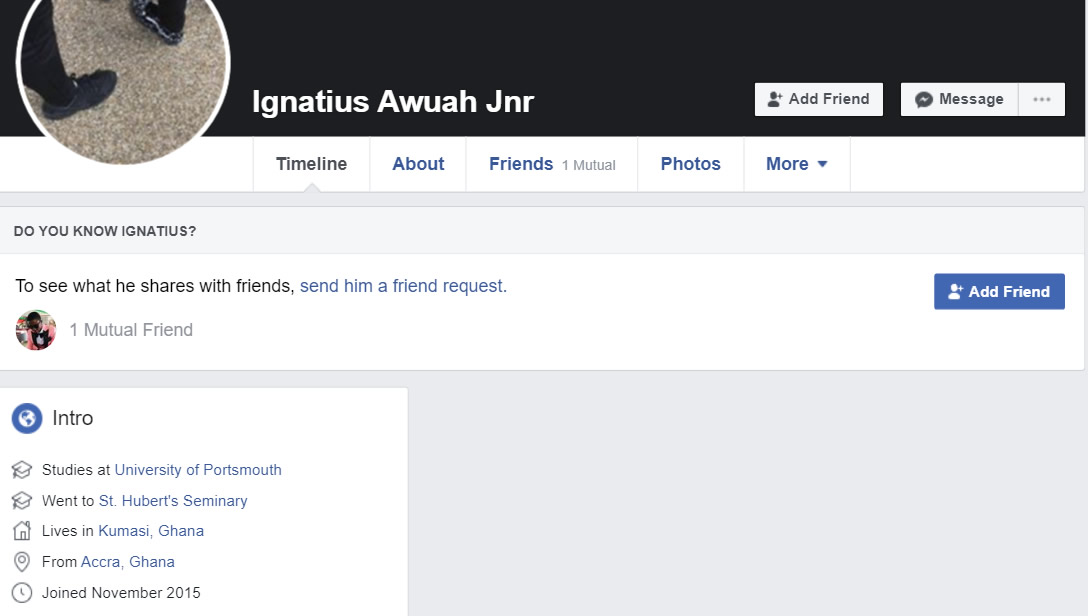 At Portsmouth University, he is studying for a Bachelor of Arts in International Relations and Politics.  According to his Facebook page, he began schooling there in July 2017. This is barely six months into the Akufo-Addo government which came to power in January 2017.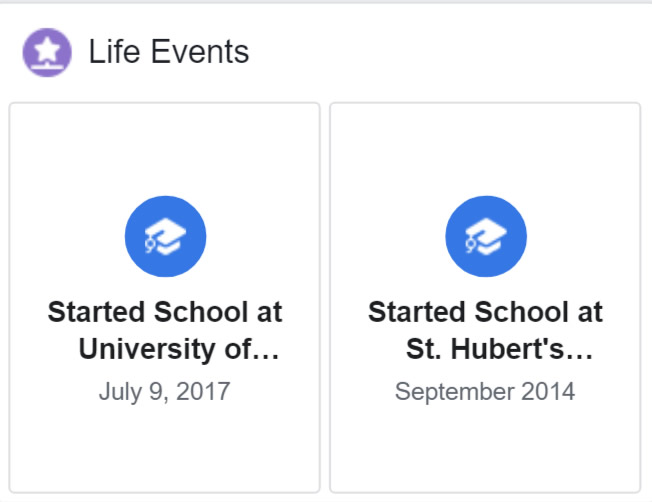 GETFund has paid £11,800 for his tuition so far and also paid £12,710 as his living expenses.
Together, the GETFUND has spent at least £24,510 on the Cabinet Minister's son.
Using the July 2017 Bank of Ghana  Interbank exchange rate of 5.7 cedis to the British Pound this comes to 139,707 cedis on the politician's son.
The figure could have paid for the tuition of about 69 students at the University of Ghana studying for a similar Bachelor's degree program.
The intention of the GETFUND scholarship was to support brilliant, but needy students accessing second cycle and tertiary education in Ghana.
But it turned out that from 2012 to 2018, about 80% of the bursaries went into funding education abroad.

Photo:Ignatius Baffour Awuah Jnr
Politically-connected persons helped themselves to several scholarships while needy students looking to school in Ghana struggled to cope with student loans.
In May 2019, some 1,300 students of the Ghana Institute of Management and Public Administration (GIMPA)  risked deferring their education over school fees.
They missed the school's registration deadline of March 13, 2019, and had to petition President Akufo-Addo to help them get amnesty from the university. The story is not an exceptional case.
Education abroad is prestigious and the Auditor-General's report on the GETFUND lists a special group of 88 beneficiaries which include politicians, associates and politically connected persons in the media and other professions who got expensive help from the
taxpayer.
Document: How GETFUND granted MPs, politicians, others $4.7m in scholarships as brilliant but needy students suffered
Link between 'GETFUND beneficiary 76' and Finance Minister established
'I was needy but my son was brilliant' – Asiedu Nketia admits GETFUND help
NDC General, Secretary Johnson, Asiedu Nketia, has admitted his son also enjoyed GETFund scholarship in 2009 after he retired from Parliament and became 'needy.'
Government and part officials have defended the scandalous granting of scholarships to cronies, insisting they are also Ghanaians.
Nothing wrong for politically exposed persons to access government scholarships – Buaben Asamoa
The NPP's Ignatius Baffour Awuah has had a successful career in politics after leaving his Rural Bank work to become a Municipal Chief Executive from 2001 to 2004.
Since then, he has been a minister twice–first as Brong Ahafo Minister, under President Kufuor, from 2006 to 2009. Before that, he was a Deputy Brong Ahafo Regional minister from 2000 to 2005.
Under President Akufo-Addo, he was named among the first batch of ministers.
He has won his Sunyani West seat thrice and is gunning for a fourth attempt, as the governing NPP holds internal party primaries on April 25.
But after several times going unopposed, he now faces a stiff challenge.