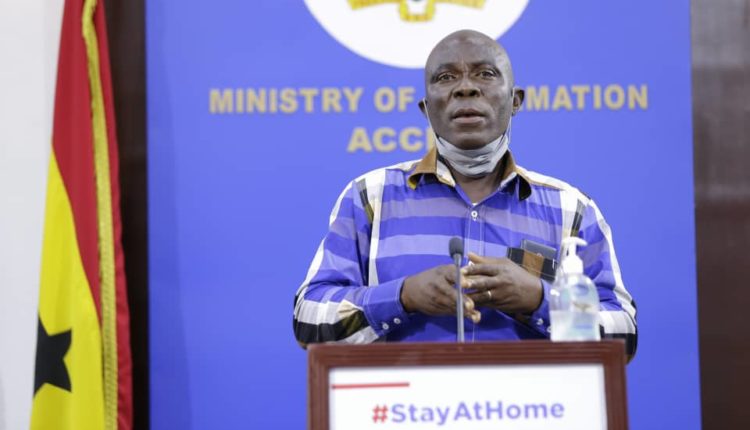 COVID-19 Stigma: Recovered patient relives his journey in quarantine and road to recovery
It was midnight on March 17. It is started with a fever as Fred Kwaku Drah shivered with a head-splitting headache.
His wife thought it was a fever and brought him paracetamol as first aid to tame the headache and feverishness, but the pain increased.
They followed up to the Tema Polyclinic, and the hospital took Mr Drah through malaria, sugar and other routine tests, but the results were negative.
But the pain persisted.
One look at his temperature on the thermometer alerted the doctors and nurses on duty that all was not well, as it was above the normal body temperature of 37 degrees celsius.
But the thoughts of having the deadly coronavirus did not occur to him.
That will quickly change the next day. Mr Drah was then taken to an isolation centre.
"They asked me to sit over there. I sat there for close to 45 minutes, and no one was attending to me. I started shouting, and a nurse asked me to be patient, a doctor would attend to me soon.
"Then I saw a gentleman wearing PPEs walking towards me. He asked that I open my mouth and after other tests I was asked to go home," he recalled as he gave accounts of his journey through being diagnosed with the dreaded COVID-19 and subsequently, his journey to recovery.
He said the next day he received a call from an unknown number. The conversation that followed will change his sleeping place for weeks.
"Are you Mr Fred Drah? Were your samples taken at the hospital?" the person on the other side of the phone asked.
He said at this point, he was trembling and shaking because he had heard frightening stories about the deadly COVID-19 virus.
Then the voice on the other side delivered the dreaded news.
"You tested positive for COVID-19," the doctor said with a little hesitation.
The next few minutes after the call dropped, Mr Drah said he didn't even realise at what point his wife came to the room.
"I could not control myself. I was asked to disassociate myself from the rest of my family and just limit my interaction with just one person, my wife.
"On Saturday, 4:30am, the ambulance came for me. I saw myself dying, my wife and children were crying. It was a terrible moment for me," he said, almost in tears.
The drive in the ambulance to the Ga-East hospital will be the longest drive of his life.
"It was the first time I had ever been in an ambulance," he said.
On getting to the hospital, he said he was taken to a room and given a number to call in case he needed something.
"All the doctors were scared of me and were running away from me. It was the saddest moment of my life," he said.
After days in quarantine, he had finally recovered from the deadly COVID-19. Mr Drah came home on April 12 to his wife and four children.
But it appears news of his recovery was not so much of good news to his neighbours and other family members.
"My wife goes to town to buy something and comes back home in tears," he said.
Rather than celebrate his recovery, his community is painting him with the brush of discrimination and stigmatisation.
'Nobody buys from our shop anymore' – Relative of coronavirus patient reveals stigma
He cited an instance where he had gone out to have his hair trimmed, but the barber smartly told him he was going to take something and never returned.
"I saw him running away as fast as his legs could carry him," he said.
Ghana may be able to survive the deadly COVID-19 pandemic, but one thing that may linger on for a long time; the stigma that comes with the pandemic.
Recovered patients, their families and friends have raised concerns about the stigma that comes with being an infected person or a relative of an infected person.
Rallying support for recovered patients, Mr Drah advised that Ghanaians should desist from stigmatising COVID-19 survivors and also adhere to the preventive measures directed by the Health Ministry.
He observed that the stigma could be deadlier than the disease.
"Coronavirus is real and it can happen to anybody please try and obey the lockdown directive, I would not want anyone to go through what I had gone through. Let us try and obey the rules," he advised.
On April 15, the Ghana Health Service reported that 66 more persons have fully recovered from coronavirus in Ghana.
This brings the total number of recoveries to 83 from the initial 17.
Ghana records 83 coronavirus recoveries, case count increases to 641
As of April 14, 2020, 11:00pm, Ghana had recorded 641 cases of COVID-19.
The breakdown of the 641 positive cases are as follows: seventeen (17) have been treated, reverted to negative on repeat tests and discharged.
Also, 66 have tested negative once and awaiting second test, bringing together a total of 83 cases that have been recovered or discharged.
548 cases have been categorised as mild disease and are on treatment, two are categorized as moderate to severe cases, none in critical state currently and eight have died.
Regions that have reported cases are Greater Accra, Ashanti, Central, Eastern, Western, Volta, Northern, North East, Upper East, and Upper West.