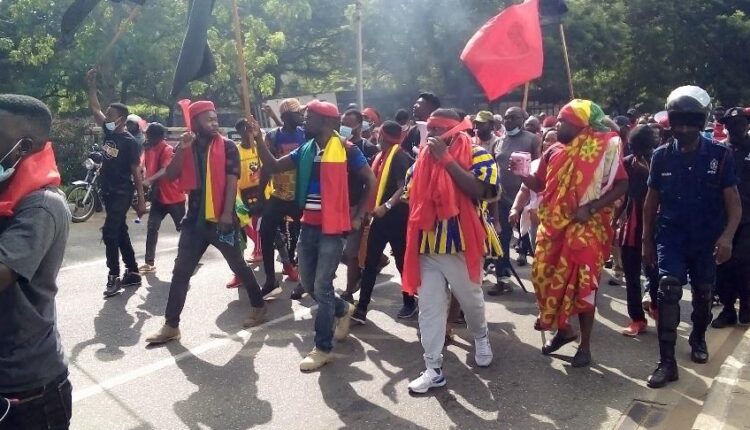 'FixTheCountry' protesters hit the streets over 2022 budget
Some disgruntled citizens have hit the streets with protests dubbed 'FixTheCountry' to register their displeasure over the 2022 Budget and Economic Policy of the government presented by Finance Minister Ken Ofori-Atta.
The protestors are calling for a complete rejection of aspects of the 2022 budget, particularly, the 1.75% Electronic Transaction Levy.
They massed up at the Tema Station near the Hockey Pitch in Accra on Friday, November 26, to march to Parliament House where a petition is expected to be presented to the Speaker, Alban Bagbin.
The National Spokesperson and a convenor for the 'FixTheCountry' movement John Ekow Koomson, who spoke to the media, said the E-levy will bring more hardship to the populace.
"The E-levy is just one of the things that we want to talk about.  We want Parliament to sit down and look at the budget and disapprove it because they (government) need to go and come again. We have been approving budgets for some time now and we realized that all these budgets have not had any positive effect on the ordinary Ghanaian.
So we are looking for a budget that would give a positive reference and a total transformation in the lives of the ordinary Ghanaian," he said.
The hashtag #FixTheCountry has dominated news headlines for months.
A group of unhappy Ghanaians hopped on to the social media platform Twitter sometime in July to vent their frustrations after inflation jacked up prices in goods and services.
These price hikes were coupled with frequent power cuts and an increment in taxes.
Other concerns highlighted included unemployment, a wobbly healthcare system, housing deficits, poor road networks, etc.
What the 2022 budget said
The government abolished all road tolls and replaced them with a 1.75% electronic transaction levy.
Electronic transactions covering mobile money payments, bank transfers, merchant payments, and inward remittances will be charged at an applicable rate of 1.75%, which shall be borne by the sender except for inward remittances, which will be borne by the recipient.
This is aimed at boosting domestic tax mobilization efforts to infrastructure needs to accelerate economic transformation.
Mr Ofori Atta said the move is to safeguard efforts being made to enhance financial inclusion and protect the vulnerable.
All transactions that add up to GH¢100 or less per day (which is approximately GH¢3000 per month) will be exempt from this levy.
The E-Levy is expected to generate an estimated amount of GH¢ 6,96 billion in 2022, GH¢7.89 billion in 2023, GH¢8.92 billion in 2024 and GH¢10.09 billion in 2025.
A portion of the proceeds from the E-Levy will be used to support entrepreneurship, youth employment, cyber security, digital and road infrastructure among others.
The new policy is expected to come into effect from 1st February 2022.