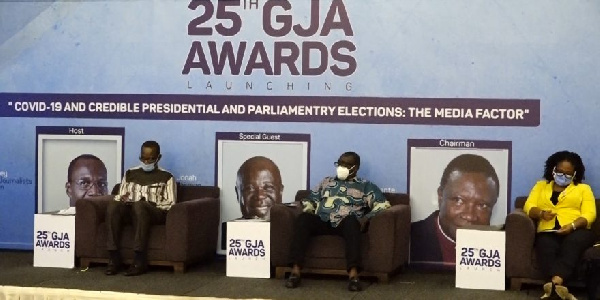 GJA launches 25th awards. Here are the categories
The Ghana Journalists Association, on Wednesday, officially launched its 25th awards ceremony at the Movenpick Ambassador hotel in Accra.
The awards ceremony, celebrating excellence in journalism, should have been launched in March but had to be put on hold due to the global crisis which has not spared the country.
The theme for this year's event is 'COVID- 19 and Credible Presidential and Parliamentary elections: the Media factor.'
The GJA President, Affail Monney said, "Despite the destabilising impact of the pandemic, we were, and are still, poised not to lose heart nor shrink back in our drive to honour journalists who excelled in a large swathe of areas in 2019.
"We intend to honour also, those who have distinguished themselves this year in the fight against coronavirus."
Mr Monney expressed gratitude to journalists who have remained committed to the call of getting people informed, educated and entertained amid the deadly coronavirus outbreak.
Adding his voice, the special guest at the launch, Sir Sam Jonah, reiterated the need to celebrate journalists and reminded them of the power and influence of the media.
"It is said that the pen is more powerful than the sword. It has enormous capacity to do good or create havoc," he added.
The 25th award ceremony has eight broad categories but one of the categories has a distinguishing feature.
The deadline for the filing of nominations is September 9, 2020.
Last year, the Graphic Communication Group's Doreen Hammond emerged the winner of the prestigious PAV Ansah Journalist of the Year Award.
Find below the full categories and entry requirements