Government extends free water policy to end of year
The government has extended its free water policy to the end of the year.
A release from the Ministry of Sanitation says the extension is to enable Ghanaians to continue observing the COVID-19 protocols especially "the washing of hands under running water"
Coronavirus: Gov't absorbs water bills for the next three months – Akufo-Addo
"The ministry appeals to consumers to use water judiciously in the observance of the protocols" it read.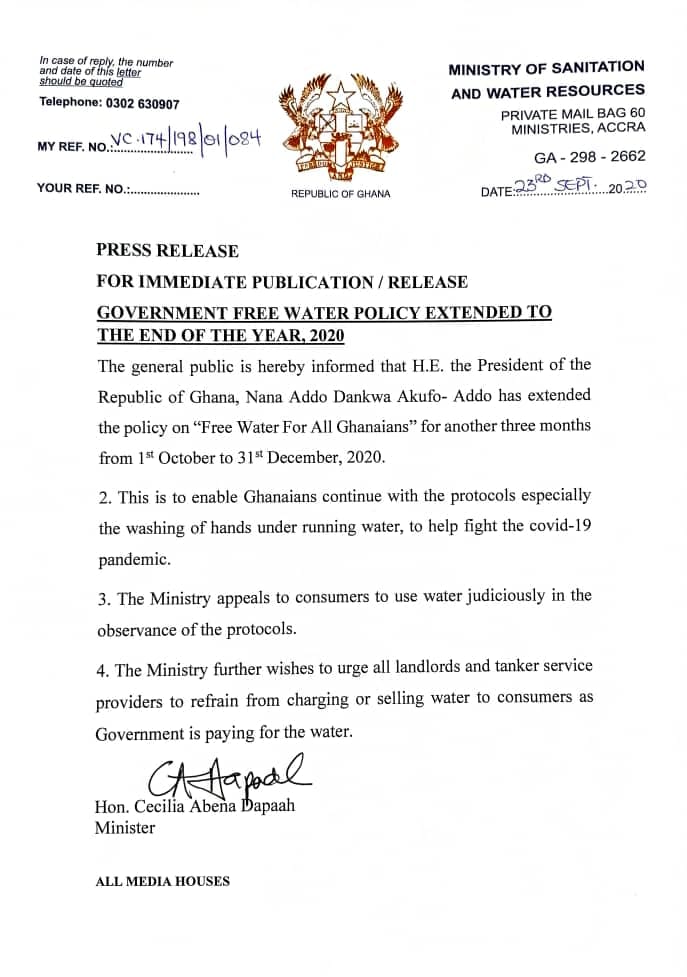 President Akufo-Addo in his address to the nation on coronavirus announced the first water reprieve for April, May, and June.
Later in July, the Finance Minister presenting the mid-year budget to parliament announced an extension of the relief for three months.
Lockdown freebies
During the lockdown in March, the government absorbed water and electricity bills for consumers from March, April, and May
The government intervention came on the back of complaints that a greater portion of homes in the country did not have running water, which undermined the World Health Organisation safety protocols of handwashing under running water.
In April, the government in response to the needs of industry and a section of the public announced an electricity relief package for Ghanaians.
It includes subsidies for businesses and free electricity for those who consume below 50 kilowatts.
The President at the time indicated that "the government will fully absorb electricity bills for the poorest of the poor."
He explained that "for all lifeline consumers, that is free electricity for persons who consume zero to 50 kilowatts a month for this period."
According to the Finance Minister, that initiative cost the government GHc 1.02 billion.