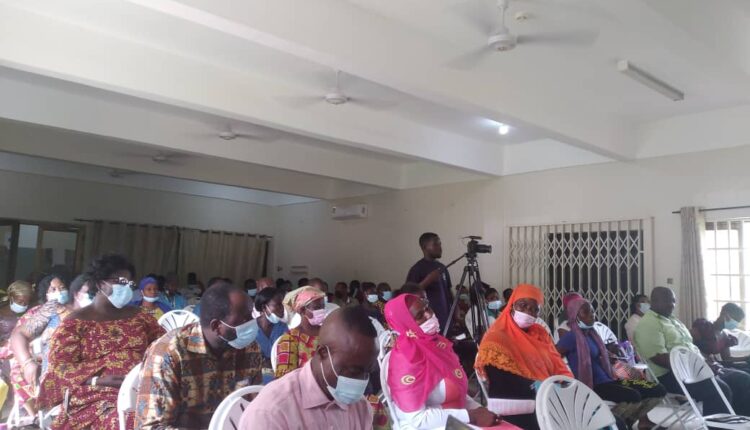 Make bylaws available to us – Madina vagrants to Assembly
Vagrants in the La Nkwantanang Madina Municipal Assembly have charged the assembly to make available the assembly's bylaws.
"Print out the bylaws for us so we can educate ourselves with it," a unit committee member for the Kotoku Area demanded at a sensitization programme on decriminalizing vagrancy laws.
The programme was held at the assembly on Tuesday, June 29.
A vagrant is a person without a settled home or work who wanders from place to place and lives by begging or hawking on the streets.
The participants were drawn from 17 electoral areas in the Madina Municipal Assembly (MMA).
They included traders' unions, 'truck pushers', waste managers, landlords, and hairdressers.
"The project has come about because of the draconian District Assemblies bylaws, which appear to have sent poor people into prison and continue to oppress the poor," Ibrahim Oppong Kwarteng, Executive Director of Crime Check Foundation, said in an interview with theghanareport.com.
On her side, the Municipal Chief Executive, Jennifer Dede Afagbedzi, admonished the participants to be law-abiding citizens.
According to her, the municipality can only become a beacon of development through the collective efforts of the assembly and its people.
"Be law-abiding citizens and let's make Madina a good example for others," she said.
On their part, the vagrants appealed to the distilling of gutters and the provision of toilets and waste bins at market centres.
They also appealed for a clampdown on noisemakers in the various electoral areas.
The first sensitization programme was held at the Accra Metropolitan Assembly.
The project is being implemented by the crime prevention organization, Crime Check Foundation (CCF), in partnership with the Open Society Initiative for West Africa (OSIWA).
Project Duration
The one-year project from May 2021 to May 2022 will be rolled out in 12 metropolitan assemblies in three regions; Greater Accra, Ashanti, and Central.
"We have begun with the mapping, and we are engaging with the various district assemblies in the selected regions and the leadership of vagrants," said Kwarteng.
The project will sensitize 1200 vagrants about their rights and responsibilities to prevent any misunderstandings with the assemblies.
"In order not to seem as we are inciting vagrants against the district assemblies and the central government, we will also educate them about their duties as patriotic citizens," he added.
Monitoring and Evaluation
To monitor the progress and effectiveness of the project, a contact centre will be created after the sensitization to address the concerns of vagrants at the partnering organization, Crime Check Foundation.
According to Mr Kwarteng, the police will also be engaged to monitor the progress of the project.