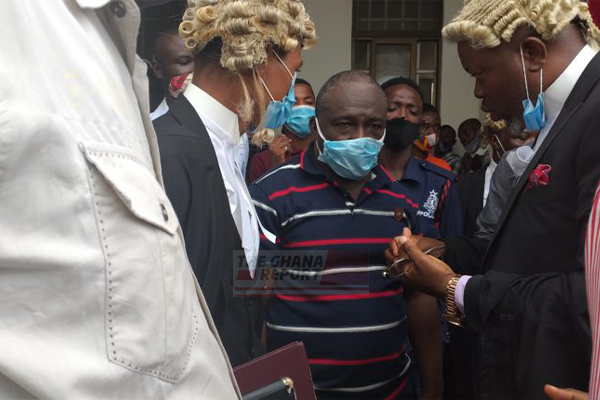 'My client has a pure heart' – 'Man of God' gets GH¢100k bail
The self-proclaimed 'man of God', Kwabena Owusu Adjei, whose threatening rants against the president went viral has been granted bail.
The bail was set at GH¢100,000 bail with three sureties.
Arguing for bail, Victor Adawudu, who is legal counsel for the 56-year old man, told the court his client is a 'good man with a pure heart'.
It was a statement that drew murmurs in court, theghanareport.com's court reporter Gloria Kafui Ahiable said.
Vile man of God who threatened Nana Addo, Jean Mensa arrested with 'weed'
Mr. Adjei faces three charges to wit; threats of death, offensive conduct conducive to the breach of peace and possession of narcotic drugs.
He has pleaded not guilty.
In the viral video, Kwabena Owusu Adjei threatened the chairperson of the Electoral Commission with death if she tries to go ahead with the new voter registration exercise.
The rant included a lot of invectives as the visibly charged man worked up a fit of rage. For the president, he suggested Nana Akufo-Addo would be overthrown.
The pastor referred to the overthrow of the president's father, Edward Akufo-Addo, who was president in 1970 and suggested a similar fate would happen to Nana Akufo-Addo.
"There are some people when you give them the power they cannot hold on to it and he is just like his father" he gesticulated violently.
"There is no way he can hold on to this power. God is my witness, hallelujah" he said to which an audience responded 'amen'.
At the hearing at the Accra Circuit Court judge, Emmanuel Essandoh heard the counsel's plea for bail and granted it.
He is to report to the police every two weeks and also submit his passport. The case has been adjourned to July 21, 2020.